Since the 2017 "Unite the Right" rally in Charlottesville many white nationalists have discovered that being a neo-Nazi in this day and age is detrimental to their social standing as well as their career prospects. Some have decided to quietly retreat from public racism, perhaps hoping that their involvement in hate movements will be overlooked or forgotten. Some of these people have ended up disappointed by taking this misguided attitude, since antifascists may forgive but we do not forget. To paraphrase the seminal New Wave band Blondie, "One way or another, we're gonna find ya, we're gonna getcha getcha getcha getcha…"
The neo-Nazi "Unite the Right" attendee who went by the alias "Mitch Hoob" was a serial harasser and internet troll who was part of a sweeping harassment campaign against journalists, posting their personal information online as well as the personal information of uninvolved relatives and loved ones (ie "doxing" them). While we expose racist creeps who would rather remain hidden behind their online aliases, we have standards, and we do so for the benefit of the public. "Mitch Hoob" was indiscriminate and put innocent people in danger by exposing their personal information to violent neo-Nazi extremists. We suppose that if you were "Mitch Hoob" it would make sense to keep your real identity secret. He tried to hide and you can't blame a guy for trying. But like the song goes, "One way or another…" This is our report.
"Mitch Hoob"
The neo-Nazi internet troll known as "Mitch Hoob" was once a member of the white nationalist group Identity Dixie, and we know this because prior to the 2017 "Unite the Right" rally "Mitch Hoob" stated that he would be hanging out with "Wade Garrett" (actually Mitchell Shane Rivers of Burlington, North Carolina) who then instructed him to inform "Erika" (Erica Alduino of Identity Evropa) that he was a member of Identity Dixie. This is detailed in Unicorn Riot's Discord Leaks, which exposes the communications of white nationalist groups prior to the event and after.


A Facebook post by "Musonius Rufus" (Bret Keylon Lynn of Cookesville, Tennessee), a member of Identity Dixie leadership, tells us that "Mitch Hoob" was a part of the security detail for Jason Kessler, the organizer of the event, a piece of knowledge that would prove to be useful later in this report.

Three years later, "Mitch Hoob" was still posting about the rally on Twitter. In one tweet, after saying that the murder of Heather Heyer by James Alex Fields at the event was "framed," he claimed that he was one of three people who "came up with the idea of doing it [the rally] in the first place" and the one who "picked the date."
"Mitch Hoob" seemed to be privy to some interesting details about other notable "Unite the Right" participants. During this time there was some speculation online by other white nationalists about one participant in particular whom they thought may have been a "fed" or a federal agent infiltrating their group, due to the fact that he was brazenly brandishing a Nazi flag among the Confederate flags, unconcerned about the negative image a Nazi swastika might bring to their movement. They felt this individual may have been acting as an agent provocateur. "Mitch Hoob" commented on Twitter that he knew who this person was and that "it wasn't a big deal at the time" to be carrying a Nazi flag because "most of the people there were nazis or cool and dont give a shit if a guy is a nazi."
Like a lot of racist creeps, Twitter was the go-to social media site for "Mitch Hoob" to "own the libs" (he also claimed that he coined the term "libtard," although we could not confirm this assertion!) and he used a number of screen names during his Twitter trolling. Racism, homophobia and other bigoted sentiments were par for the course on his timelines. "Mitch Hoob" went all-in on the antisemitism, frequently tweeting standard racist tropes and holocaust denial propaganda.
It's no surprise that "Mitch Hoob" was big fan of Adolf Hitler, which makes labeling "Mitch Hoob" a neo-Nazi completely accurate. He was also a big fan of post-war 20th century American neo-Nazis George Rockwell and William Pierce.
The rest of "Mitch Hoob"'s Twitter repertoire was the standard racist and homophobic posting typical of those in his circle. What made "Mitch Hoob"'s persona as an online racist remarkable was his prolificness and longevity, with some of his various Twitter accounts having over ten-thousand posts.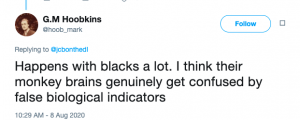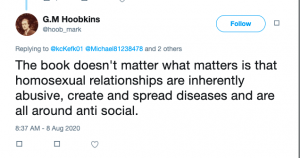 "Mitch Hoob" also adhered to some strange conspiracy theories, seeing organized Jewish intrigue behind events like Lee Harvey Oswald's murder and  9/11. One of the laughably debunk-able nonsense he promotes is a conspiracy theory about the alleged hidden tunnels from the McMartin Preschool abuse trials.
One particularly elaborate conspiracy was based around the preposterous premise that blind-deaf American author, disability rights advocate and political activist Helen Keller was "fake," surely driven by Keller's well documented feminism, socialism, and antifascism.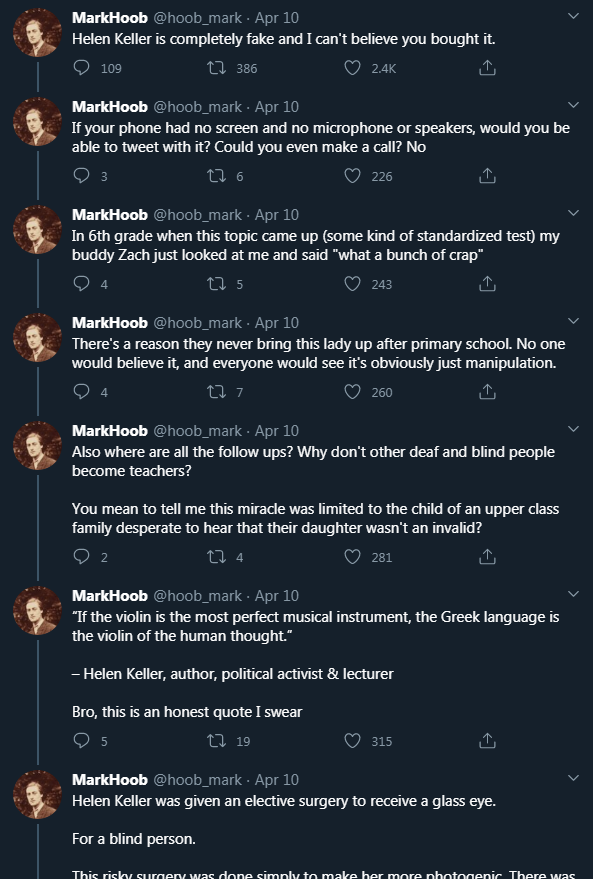 "Day of the Brick"
"Mitch Hoob" was also deeply involved in a widespread harassment campaign by neo-Nazis against journalists in retaliation for their reporting on right-wing, white supremacist activities. In 2018 Luke O'Brien of The Huffington Post reported on a prolific Twitter troll known as "Amy Mek," who had garnered over 200,000 followers over five years of activity, mostly featuring bigoted, Islamophobic posts. Before O'Brien's report, "Amy Mek" appealed to her followers to contact HuffPost, which she accused of "viciously harassing" her. To quote Jason Wilson at The Guardian: "Various rightwingers online felt that O'Brien had 'doxxed' Mekelburg by revealing her as @amymek's author. What followed was a concerted harassment campaign against O'Brien and his colleagues, where he and other journalists were actually doxxed, with their addresses and phone numbers published for the use of far-right trolls." This harassment campaign was dubbed "Day of the Brick" by right-wing trolls, an allusion to the neo-Nazi fictional work The Turner Diaries which had previously coined the term "day of the rope," a day when "race traitors," including journalists, are publicly hanged from lampposts in American cities.
There is no equivalency between the indiscriminate doxes by right-wing troll and those of antifascist researchers that expose hate extremists. Micah Lee of The Intercept put it thusly: "…there's an important distinction between doxing by neo-Nazis and antifa. Neo-Nazis target nearly anyone who vocally disagrees with their political worldview — which essentially means anyone who isn't a racist white person and is public about their views." We, as well as other antifascist researchers and activists, generally adhere to standards of conduct. The sole intent of neo-Nazi doxers is to harass, intimidate, and encourage potential harm to uninvolved parties. "Mitch Hoob" was an active participant in this campaign and distributed the personal information of journalists as well as their parents, siblings, and even grandparents.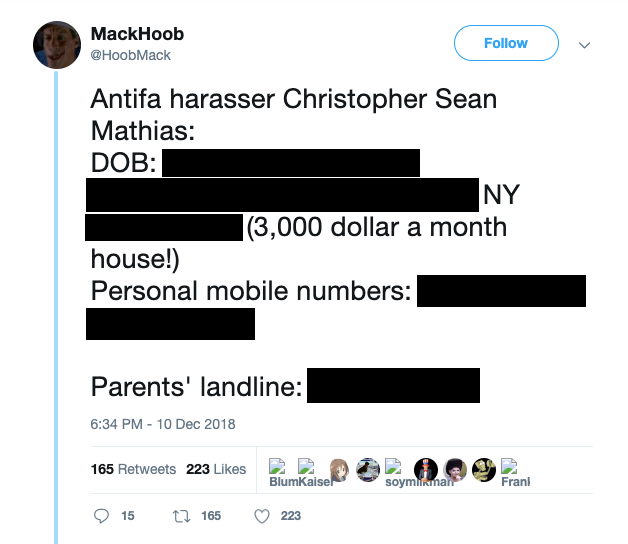 "Mitch Hoob" operated for a number of years under variations of the "Hoob" moniker on Twitter and Telegram messenger until late 2020 or early 2021 when he stopped posting for unclear reasons. Maybe he got tired of the racist, right wing meme routine. Maybe he had some life changes. Maybe he was worried about catching heat from his participation in the "Unite the Right " rally, the recent Sines v Kessler lawsuit against its various organizers, promoters, and participants being underway. One frequent associate of his on Twitter, "@almightygenie," speculated, "he deactivated to cool off on all the monkey business in the news."
Whatever the case, "Mitch Hoob" and his other aliases made a quiet exit. But although he used a number of Twitter handles, one in particular would prove to be his undoing. One of "Mitch Hoob"'s Twitter handles was "@MitchHoob." But before that, the same Twitter account was known as "@rulenumber0ne." We know this because of the unique Twitter ID number 168879691. This early Twitter handle would lead to "Mitch Hoob"s real name.

Rule Number One: Don't Get Caught
We also found a user name "rulenumber0ne" associated with the online game social video game service Zynga, the developer of a number of internet games, like "Words With Friends" and "Farmville." The service suffered a massive data breach in 2019 when over 170 million user email addresses, usernames and encrypted passwords were leaked. The username "rulenumber0ne" was one of these. We located this data set and found the information associated with this account, revealing the email address "mnewidomy@gmail.com." Investigating this email address told us it belonged to "Michael N," Google ID 105895843576912457653. It was also associated with a Skype ID "mnewidomy" belonging to the name "Mike Newidomy." This was a good lead, but more verification was necessary.

We discovered that Michael Newidomy used another email address, "geenoh@gmail.com" (Google ID 117613849163031391870). While this email now appears to have the name "Charles H" associated with it, it was only recently updated. Previously the associated name was just the initials "M H" (presumably for "Mitch Hoob"). We know, however, that "geenoh@gmail.com" belonged to Michael Newidomy since it also previously appeared in a major data breach. In 2016 a 2008 data set of Myspace accounts was leaked, compromising over 350 million accounts. This data set is now easily located on the internet. When we examined the data set we found that the email "geenoh@gmail.com" was associated to a Myspace account "michaeltherule" with the screen name "Michael Newidomy."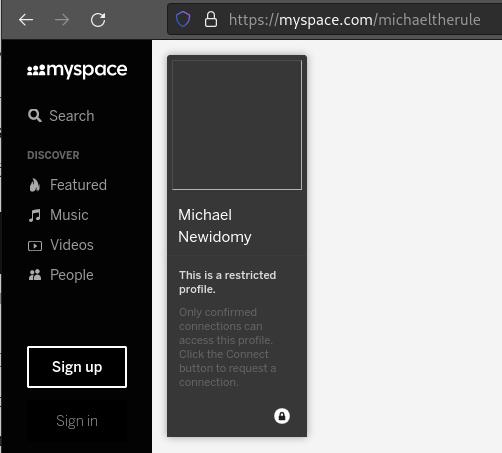 Another instance in which we found the same username was a Soundcloud account belonging to "Michael Newidomy" having the username "rulenumber0ne." When we looked into Michael Newidomy's background we found several correlations between him and what we knew of "Mitch Hoob."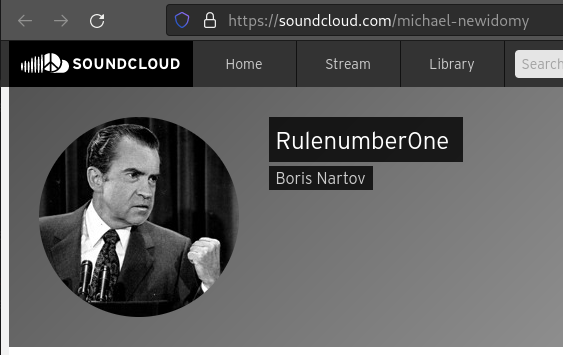 From what we knew about "Mitch Hoob," we figured he was a North Carolina person, judging by his association with Mitchell "Wade Garrett" Rivers (also a North Carolina person) and a social media post "Mitch Hoob" once made in which he posted an image of his ballot at an electronic voting booth, which displayed his voting state, North Carolina. Public records confirmed a "Michael Newidomy" in North Carolina during the time of this election.
Michael Newidomy
But Michael Newidomy was not originally from North Carolina. Born November 14, 1986, he was originally from Oswego, New York where he graduated from Oswego High School in 2004 and Cayuga Community College in 2008. Around 2011-12 he relocated to Cornelius, North Carolina, as indicated by public records.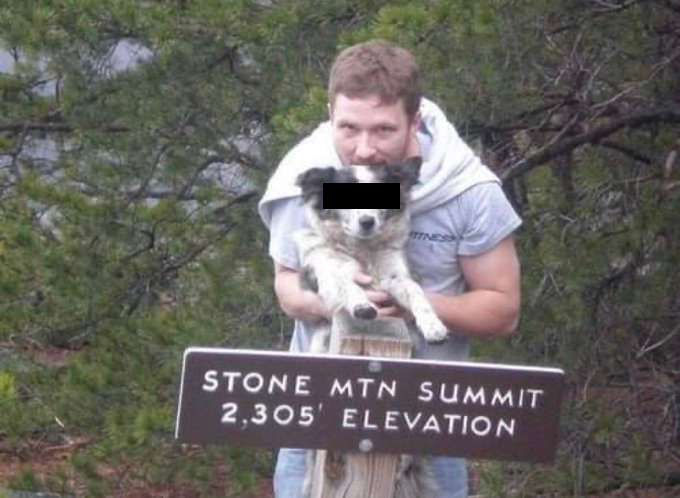 Since we now knew what Newidomy looked like from photos of him found on the internet, and knew from the leaked Discord conversations that he had acted as a part of Jason Kessler's personal security detail and that he hung out with "Wade Garrett" at Charlottesville, we could locate him in photos of the rally. We found photos of Newidomy (albeit ten pounds or so heavier appearing than his 2014 photos) as he accompanied Kessler during the opening tiki-torch parade of the "Unite the Right" rally.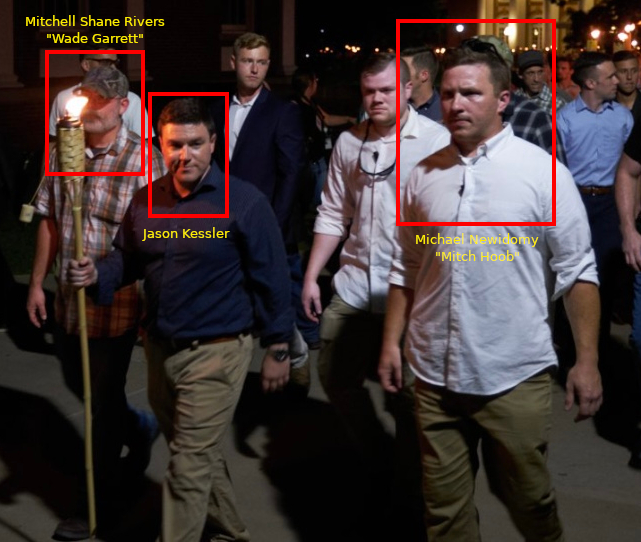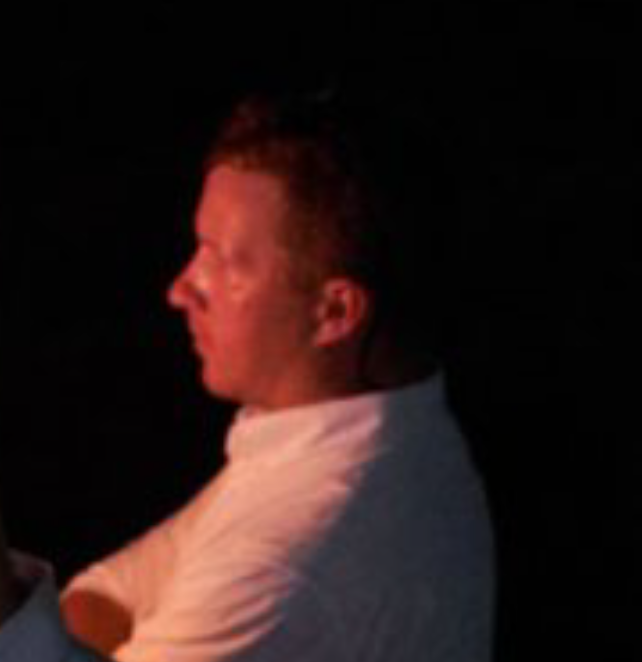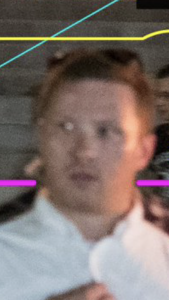 We can also place Newidomy in other area events, like a "Confederate memorial celebration day" in Graham, North Carolina organized by the neo-Confederate group ACTBAC NC on May 20, 2017.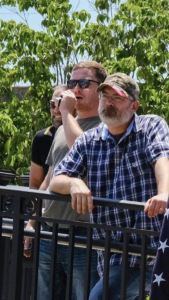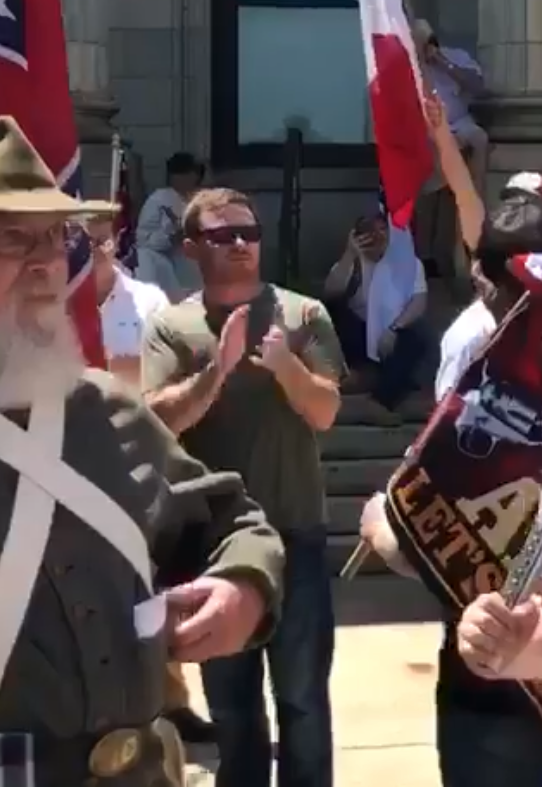 Current Whereabouts
We have received various tips regarding "Mitch Hoob" over the years. It appears that despite his loyal online neo-Nazi friends and followers, in daily life he has made some enemies. Some of the information we received we could not confirm through open sources, but is perhaps worth mentioning. Several tipsters have claimed that "Mitch Hoob" is "addicted" to pornography and abuses ADHD medications as well as cocaine.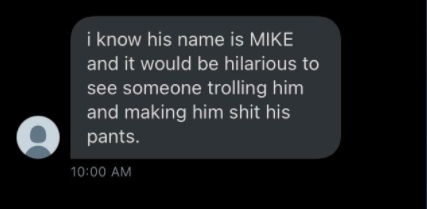 Michael Newidomy is believed to have relocated in the past year or so to Bismarck, North Dakota. Although we could not confirm the address of Newidomy's current residence, Google Maps provided an interesting result. The Google Streetview of October 2021 for that location was blurred (which Google will do if requested). However other dates for this location have not been blurred. Since the address is unconfirmed, we are not revealing it, and don't normally reveal residential addresses anyway as a rule, but we can say with a high degree of confidence that Michael Newidomy is now in this area.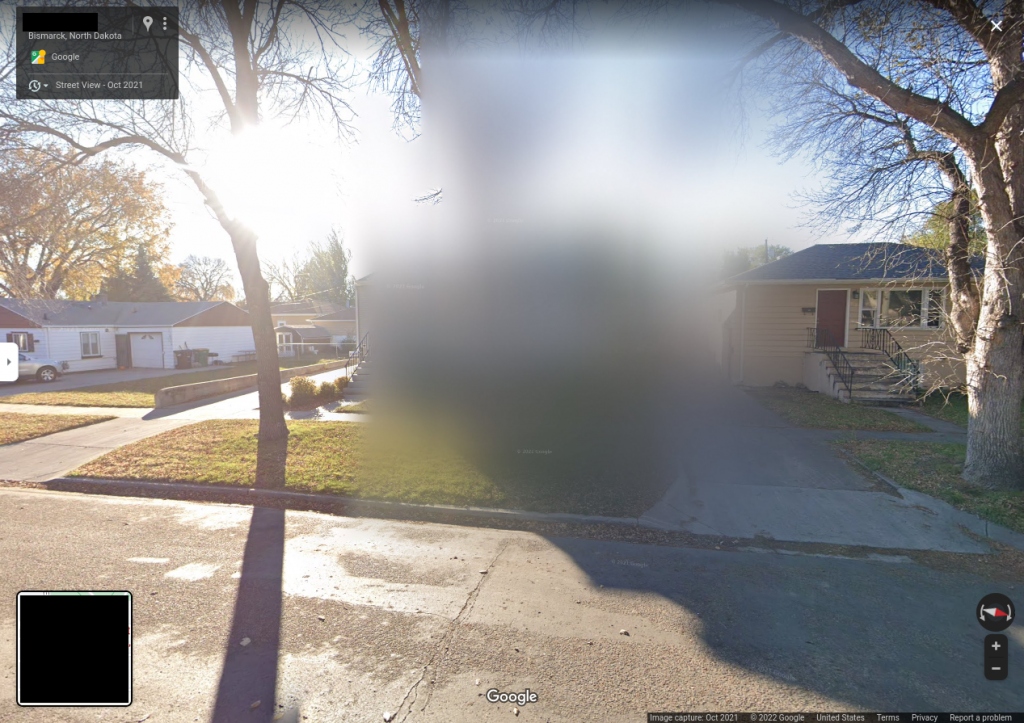 ---
Special thanks goes out to @ShermanMarching on Twitter for their contributions to this work, and to NC Antiracist for their photographic contributions, as well as other anonymous comrades.