Content warning: racism, slurs, violent imagery
On the morning of June 17, 2015, a young white man named Dylann Roof walked into the Emanuel African Methodist Episcopal Church in Charleston, South Carolina and murdered nine African-American worshippers. It was a calculated act of racial violence. Roof was apprehended and convicted for the crimes, but there are those among a particularly repugnant circle of white supremacists who celebrate Roof and others who commit racial violence in order to spur on others to commit such acts. They called themselves the "Bowl Patrol," in homage to Roof's distinctive bowl cut hair style.
The self-proclaimed leader of this group is a person who goes by the pseudonym​ "Vic Mackey."​ As "Vic Mackey" this person has networked and organized with other white supremacists and has produced an irregularly released podcast entitled "The Bowlcast," which is the Bowl Patrol's main medium for the distribution of their propaganda. While other members and associates of the Bowl Patrol have been exposed by antifascists and journalists, "Vic Mackey" has proven to be unusually elusive– until now. After months of extensive investigation, the identity of "Vic Mackey" will finally be revealed.
Part I: The "Bowl Patrol"
First, a brief overview of the "Bowl Patrol." The Bowl Patrol is a loosely organized group of neo-Nazi racists who promote the philosophy of "accelerationism." That is, they advocate the use of violence to accelerate the collapse of society in order to achieve their white supremacist goals. Most of their work is conducted through propaganda using internet memes and podcasts. While they claim this is mere "shitposting," or idle, crass humor, it has real world consequences. Journalists, researchers and other innocent people have suffered from their threats and harassment.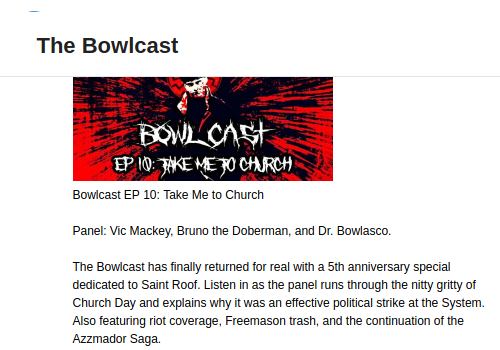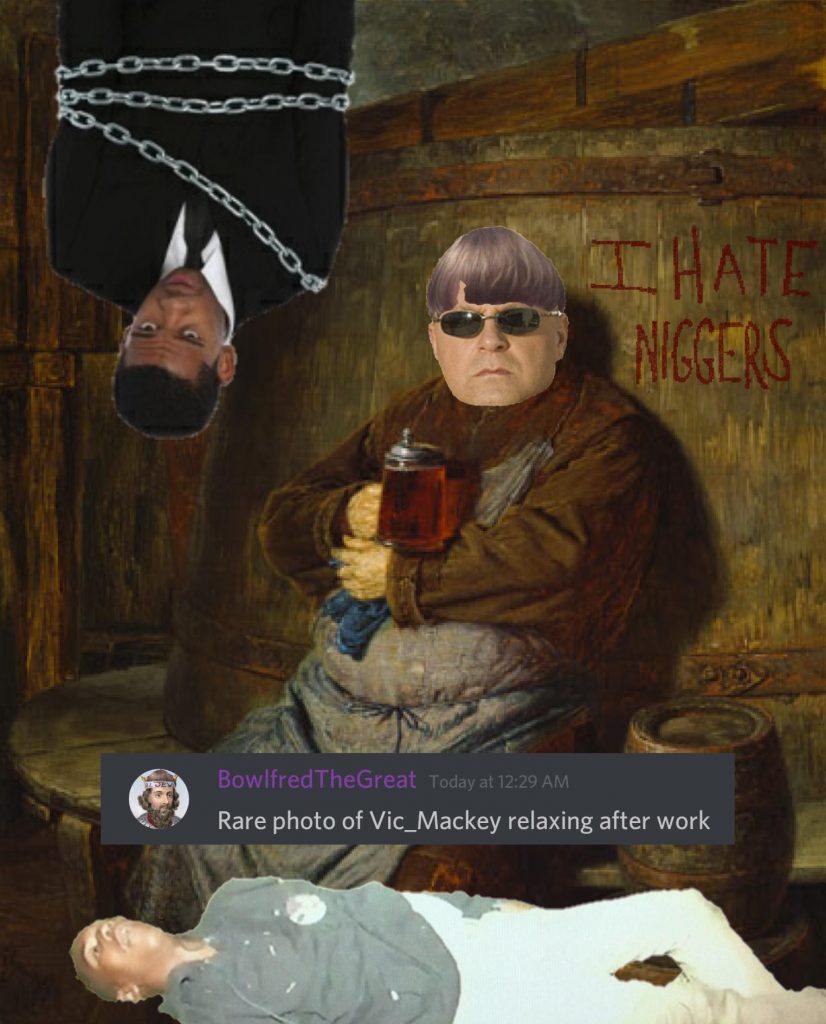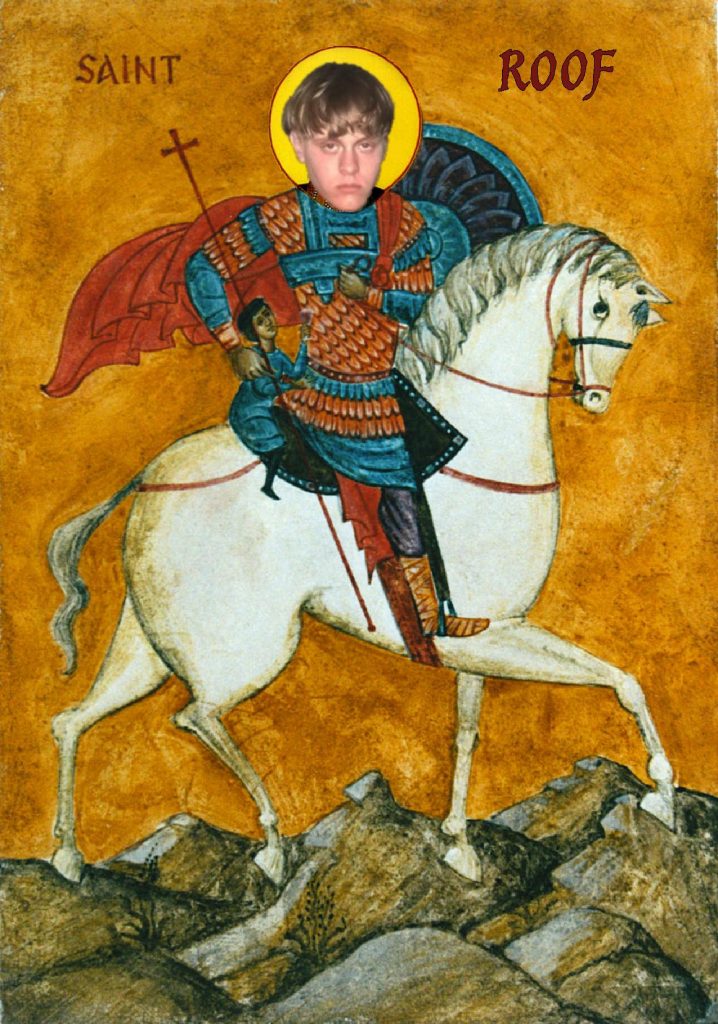 More information on the Bowl Patrol may be found here:
[Unicorn Riot: 'Bowl Patrol': Dylann Roof Fans Hope to Inspire More Mass Shootings]
Additionally, "Vic Mackey" and the Bowl Patrol have extensive ties to other neo-Nazi groups, such as Atomwaffen Division.
During the course of our investigation, we have identified several high-profile members of the Bowl Patrol, often with the inadvertent help of other neo-Nazis who are at odds with them. Last year the Bowl Patrol had a dispute with "Crying Nazi" ​ Christopher Cantwell​ that resulted in federal charges against Cantwell for making interstate threats against a member of the Bowl Patrol known as "Cheddar Mane" in an attempt to extort the identity of "Vic Mackey."
We have identified "Cheddar Mane" as Benjamin M Lambert, a resident of the St. Louis, Missouri area.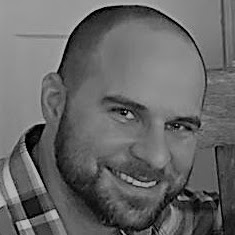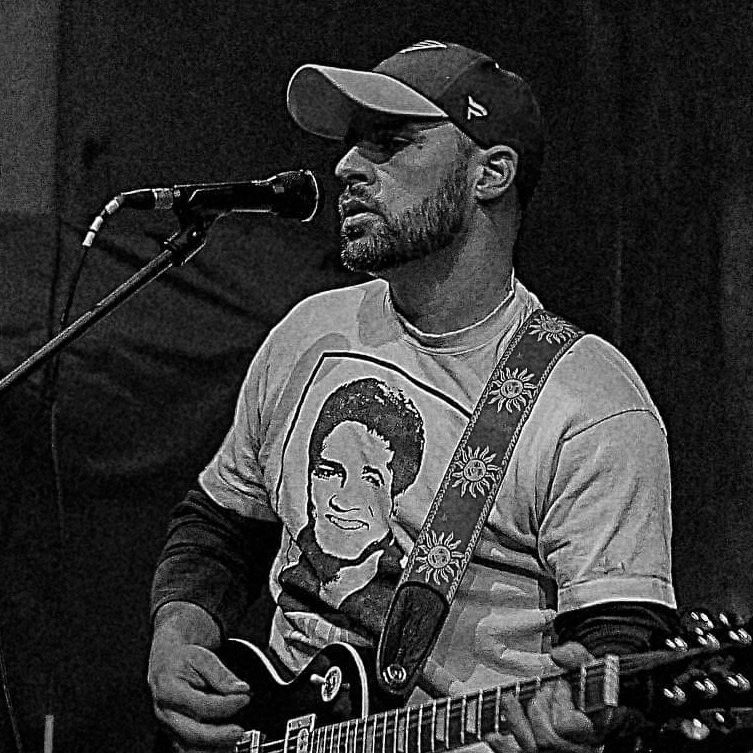 https://twitter.com/anonymouscommie/status/1253413622119727108
[Angry White Men: Member Of Neo-Nazi 'Bowl Patrol' Outed As Head Of IT Consulting Company]
Before we uncovered "Cheddar Mane's" identity, Cantwell did our work for us by exposing another Bowl Patrol member "Mosin-Nagant" as Dallas Medina of Ravenna, Ohio.
https://twitter.com/anonymouscommie/status/1179494200179593218
Daniel Harper and Jack Graham have provided an excellent overview of this, which may be found on their podcast "I Don't Speak German."
[I Don't Speak German, Episode 29, Siege Pill 2: Fascistic Boogaloo]
We also identified a frequent associate of the Bowl Patrol who goes by the alias "Hardmous" or "DJ Hardmous" as St. Louis area resident​ Thomas Gipson​.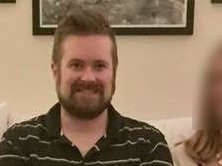 https://twitter.com/anonymouscommie/status/1266231669511593984
[IdaVox: Twitter Threat Leads to Regular Caller to Chris Cantwell's Podcast, aka This Guy]
Other members and associates of the Bowl Patrol have also been identified. Journalist Nate Thayer identified ​ Cody Moreash​ of Tempe, Arizona, who went by the aliases "Frank Castbowl," "Patrick Bowlman" and "Akashic Wrecker."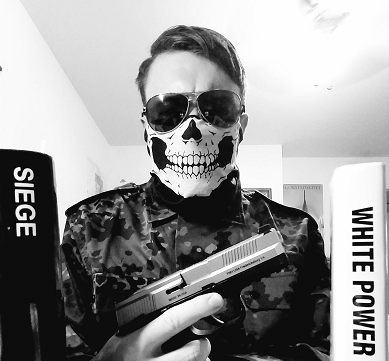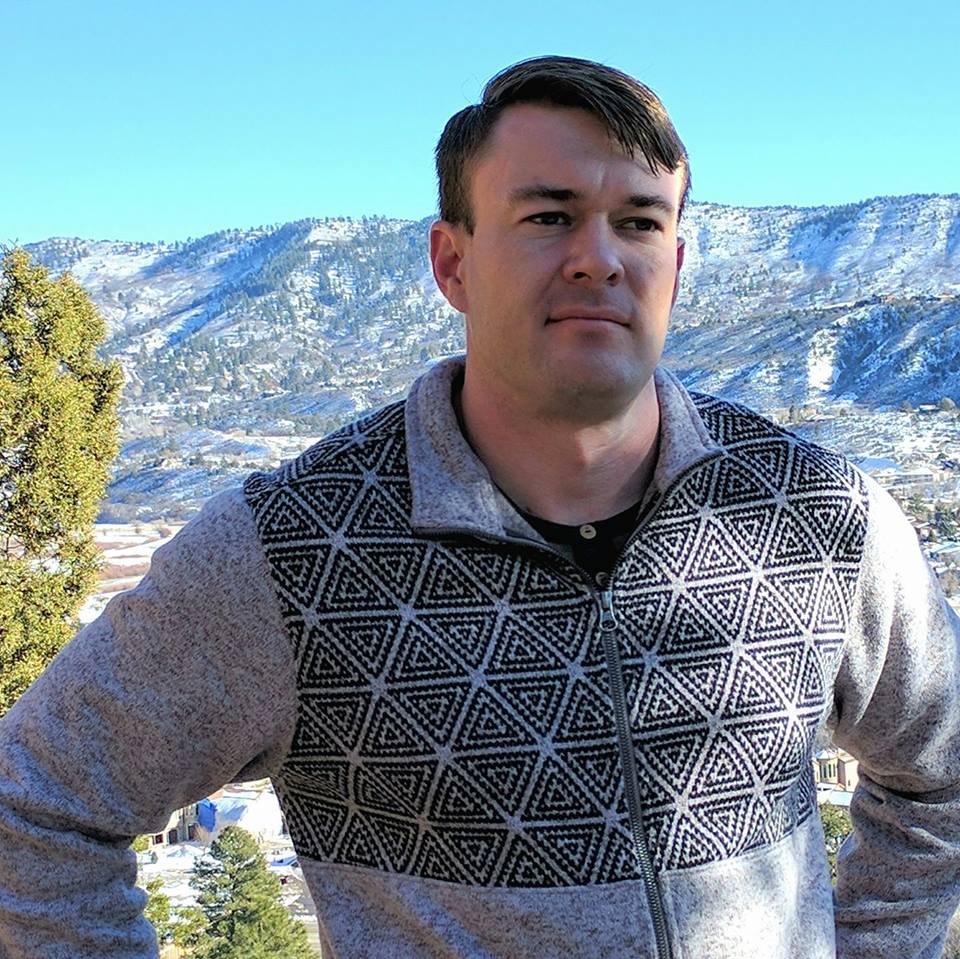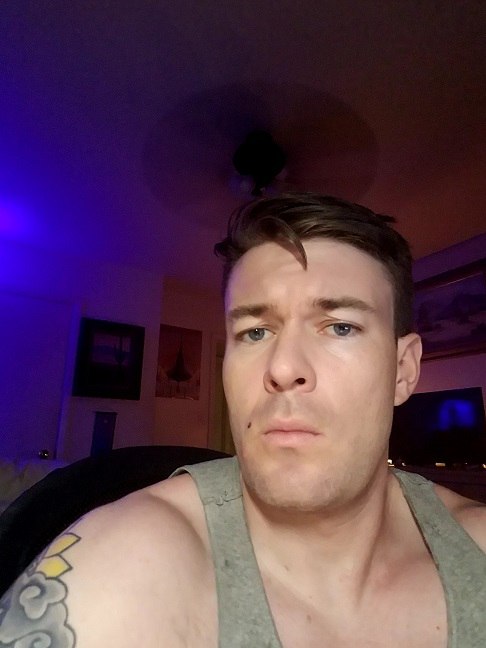 [Nate Thayer: White Supremacist Stolen Valor: A New Leader of Neo-Nazi Atomwaffen Division Terror Group Identified]
"Tactical Bowlcut" has been identified as ​ Robert Kehne Moeller​ of Florida.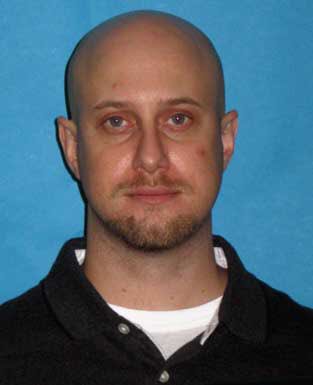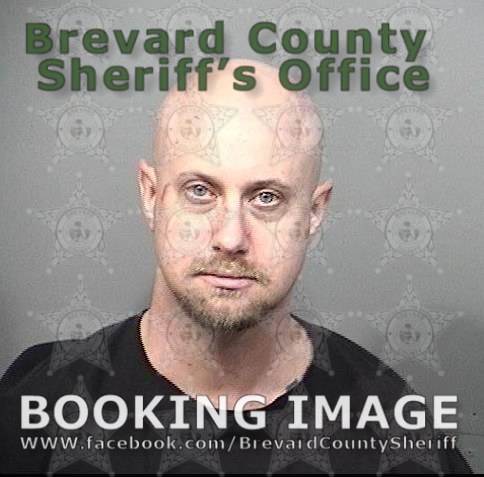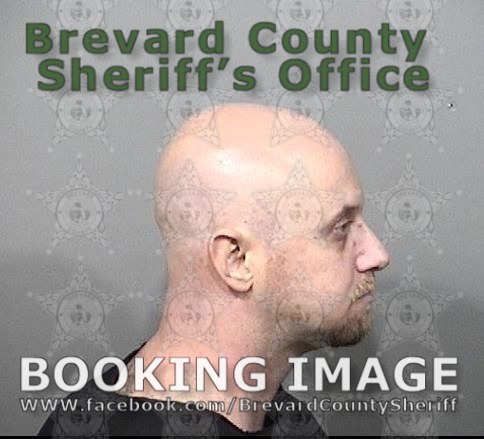 https://twitter.com/EmilyGorcenski/status/1052300424261378049
The "Head Bowl In Charge"
There are other members/associates that have been identified and others yet to be identified, but the big fish is the de-facto leader who hides behind the alias "Vic Mackey," a reference to a character from the popular cop show The Shield, ​ noted for his corruption and racism. "Vic Mackey" refers to himself as the "HBIC" or "Head Bowl In Charge" and has earned a position of respect in some racist circles and notoriety in others.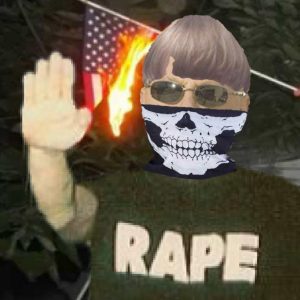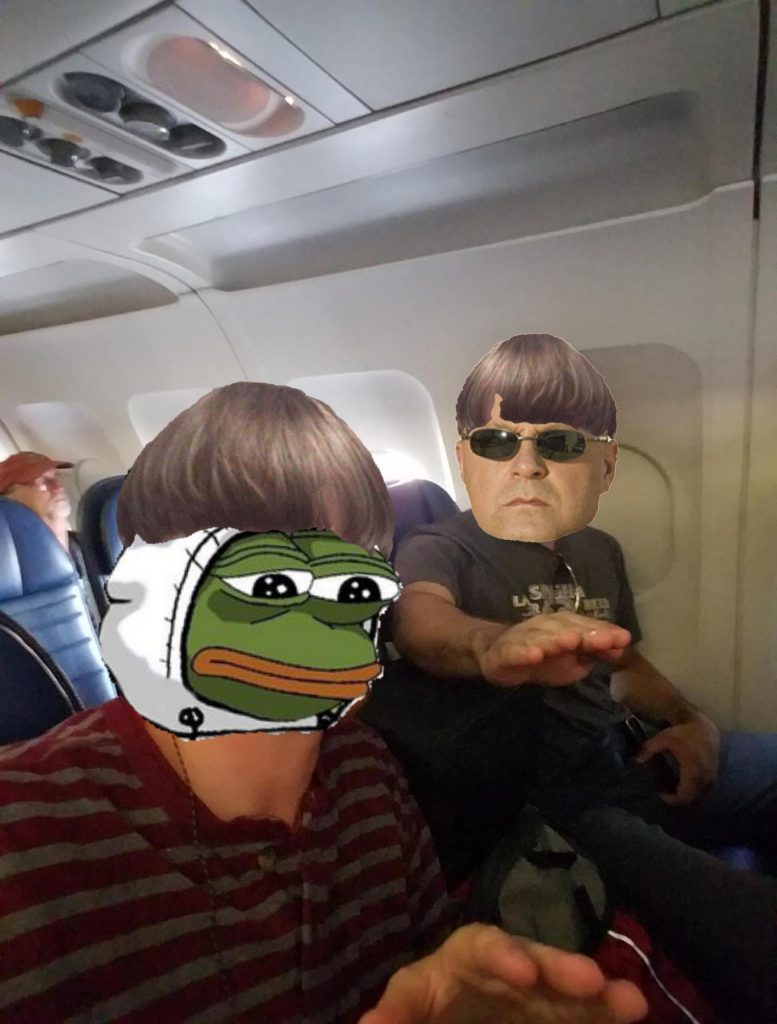 "Vic Mackey" has led harassment campaigns against journalists, activists and researchers. In September of 2019 the Bowl Patrol's online harassment activities got frighteningly personal when an innocent family was terrorized after the Bowl Patrol incorrectly attempted to dox an antifascist podcaster.



"Vic Mackey" and the Bowl Patrol were obviously very proud of this dubious "victory," but the fact that they were so embarrassingly inept doesn't make them any less dangerous.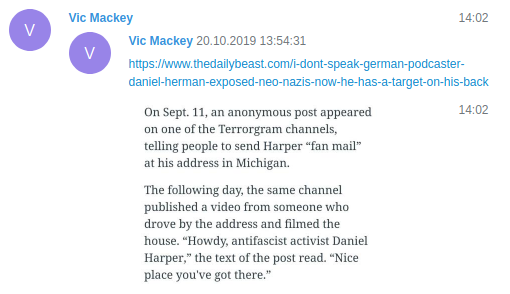 [The Daily Beast: This Podcaster Dug Into the World of Neo-Nazis. Now They've Put a Target on Him]
[The Informant: The wrong house]
If there is any doubt about "Vic Mackey's" views on racial violence, a look at a few of his posts on Telegram messenger makes them perfectly clear.


It would be too much to catalogue every instance of racism, anti-Semitism and anti-LGBTQ sentiment that "Vic Mackey" expresses, but examples are plentiful.
While "Vic Mackey" has long been considered "dox-proof," over the course of over five thousand leaked chat room posts collected by Unicorn Riot [link] he inadvertently revealed numerous personal details about his location, family, employment, and education that would lead to his exposure.
In casual conversation, "Vic Mackey" revealed that he lived in California, specifically northern California, and had attended university in Stockton. He claimed that he was paternally Hispanic and that his maternal side was German/Irish. He lamented his "mediterranean" appearance and wrote: "I'm only half Spanish half German/Irish but I look 125% Spaniard so that is even more of a bummer to me." He gave specifics on his family, such as having a married sister living in San Francisco and a father that was both a "politically liberal" army veteran and had been a firefighter with specialized training. He even posted on Discord while he accompanied his mother at a local casino.
When asked about his occupation on the leaked chats, "Vic Mackey" stated that he was a manager at a restaurant and complained about and wished death to his "boomer" boss. At the time of the post he had been working there for three-and-a-half years.
Despite "Vic Mackey's" paranoia, or perhaps because of it, he is supremely arrogant regarding his ability to maintain cover. This braggadocio will prove to be misguided.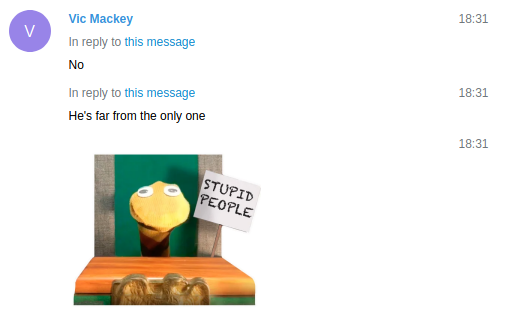 "Vic Mackey's" hubris prompted him to expose his own criminal behavior as well as his hometown when he boasted implied involvement in the vandalization of a local synagogue. On November 4th, 2017, racist flyers were posted at the Temple Or Rishon in Orangevale, California, just outside of Sacramento (article here). The incident was declared a hate crime and became a major regional news story. "Vic Mackey" posted several links to local news coverage in the Bowl Patrol Discord chat room which featured the security camera footage. In a back-and-forth with Atomwaffen Division member Conor Climo (aka "Sir88") [more information on Conor Climo at this link] "Vic Mackey" posted a YouTube link to news coverage of the crime [link].
The two male figures in the video were not clearly identifiable and "Vic Mackey" gloatingly posted his own screenshots featuring the signature Dylann Roof bowl haircut graphics.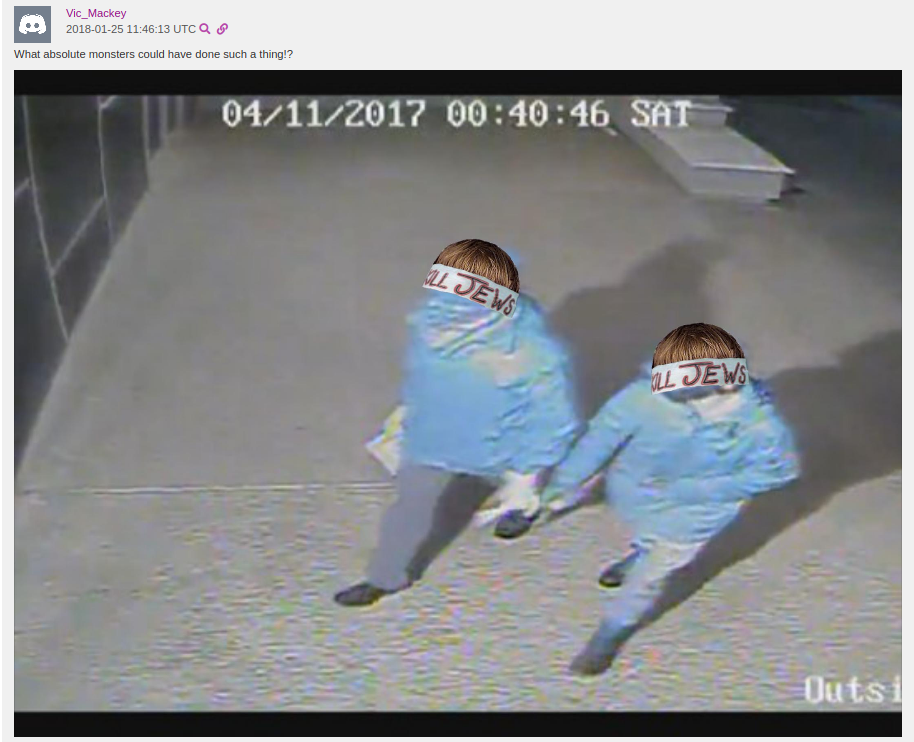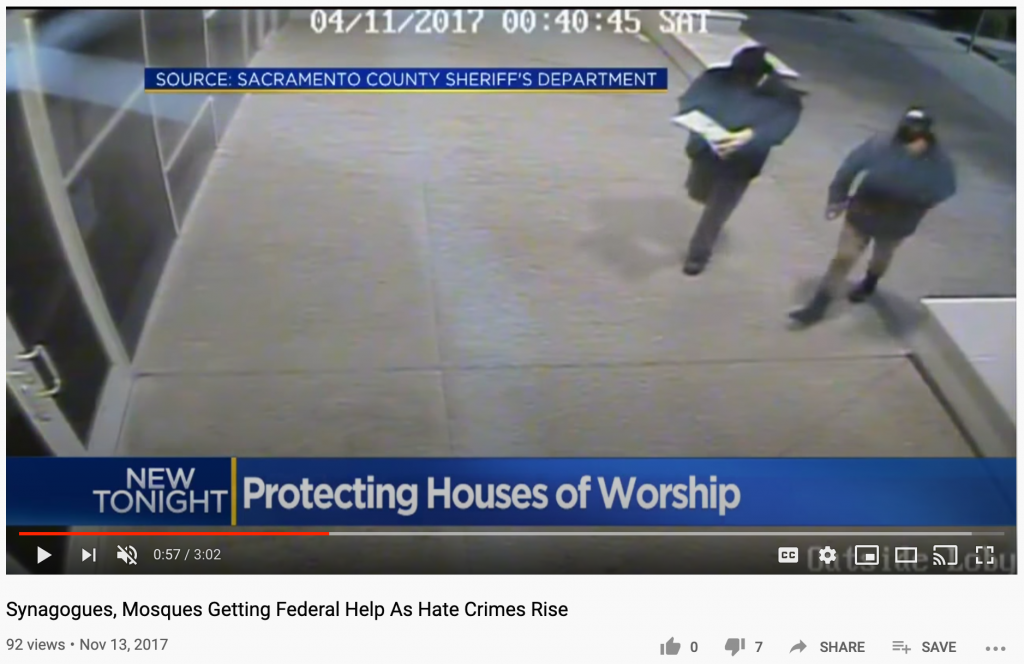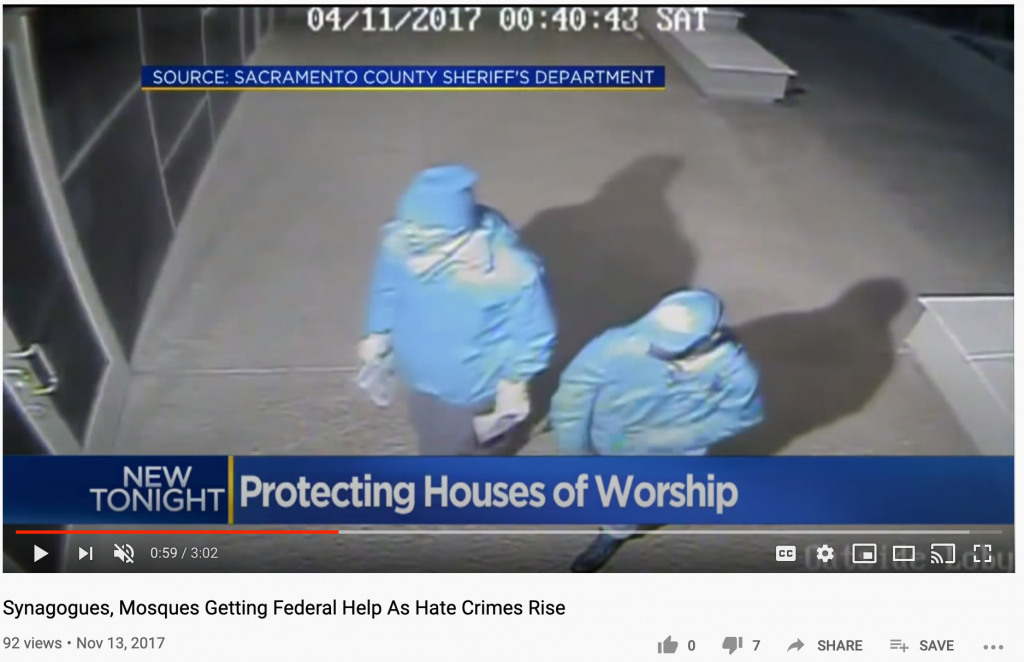 "Vic Mackey" also indicated in the leaked Discord chats that he attended the infamous 2017 "Unite the Right" rally in Charlottesville.

And before that, the "Battle of Berkeley."
To be clear, "Vic Mackey's" hate is not confined to online harassment. However, the reason he can threaten and harass without repercussion is that he acts pseudonymously. Take that pseudonym away, what power will he have?
Part II: Identifying "Vic Mackey"
In the over five-thousand leaked Discord posts, "Vic Mackey" provided a clue that seemed trivial initially, but eventually proved to be critical in identifying him. In one occasion he attempted to make friends online by providing a link to his Steam account.

Steam is a popular online vendor of computer games and an online community where users can connect with other players. Steam users are able to change screen names at will, but in an effort to prevent cheating there are publicly accessible databases that maintain a history of screen name changes and other data. The custom URL "Vic Mackey" gave out doesn't exist anymore, but we were able to trace that historical custom URL to a current Steam account.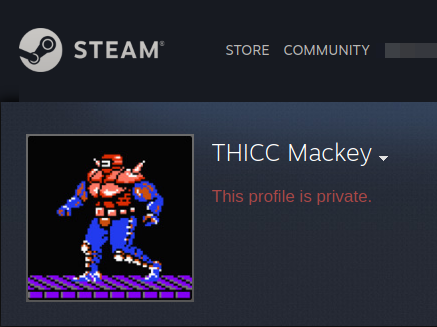 We were able to trace that account to a previously used account that was over nine years old.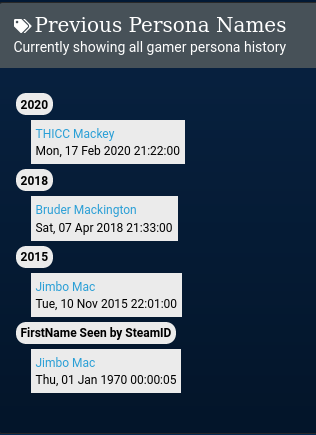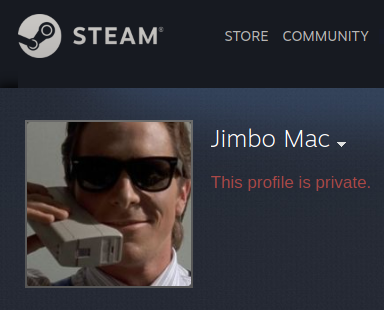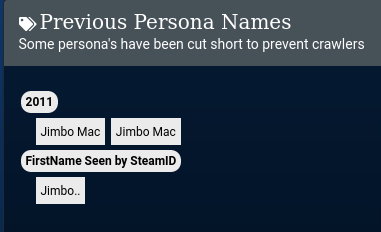 While these profiles have a visibility set to "private," we also found historical information on these accounts prior to them becoming private, such as profile bios, status updates and friends. We knew that there was a high likelihood that these accounts belonged to the same owner due to the shared screen names and shared friends.
Furthermore, by researching this network of Steam friends we were able to expand upon that and state with high confidence that the owner of these two Steam accounts was also the owner of the Facebook account below.
https://www.facebook.com/andrew.richard.75
fbid 100000799175303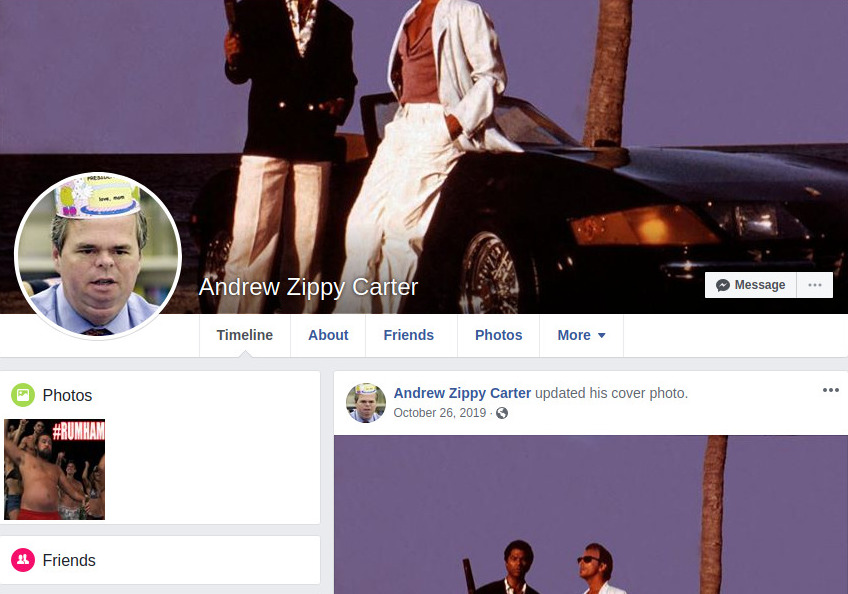 Although his friends list is not publicly visible we got an idea of associated accounts by checking who "liked" certain posts.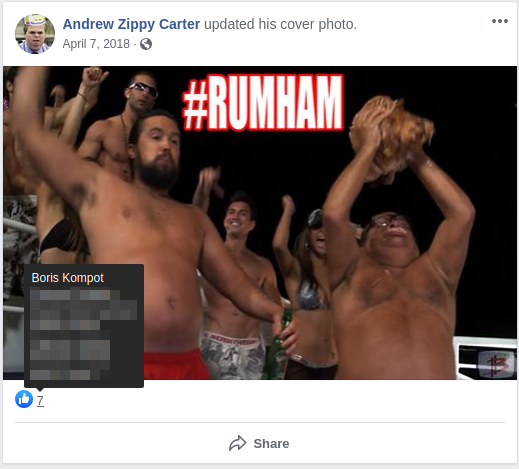 "Andrew Zippy Carter" also "liked" one of "Boris Kompot's" posts.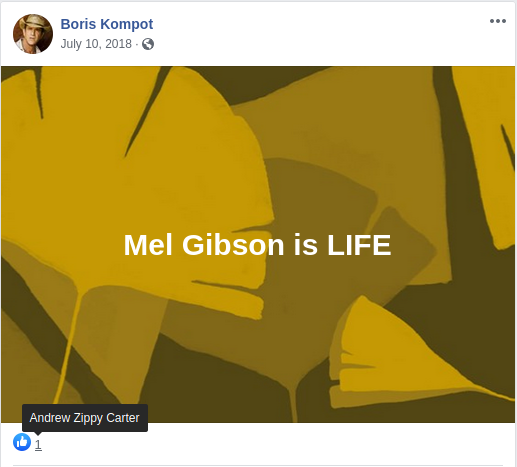 Another post in "Boris Kompot's" timeline solidified the likelihood that "Andrew Zippy Carter" or "andrew.richard.75" is the Facebook account for "Vic Mackey." In this post is an anti-Semitic cartoon and "Andrew Richard" is named specifically, along with another, "Keen Molar."
"Keen Molar," of course, refers to Robert Kehne Moeller, mentioned earlier in the article. Moeller, writing under the pseudonym "Tactical Bowlcut," has extensive association with "Vic Mackey" on Discord servers and also produced a Bowl Patrol video in which "Vic Mackey" harassed residents of San Francisco under the guise of "citizen journalist."
In one Facebook post we found, "Andrew Zippy Carter" posted to the page of the rock band Whirr, who at the time was dealing with criticism to transphobic comments they had made on their Twitter account. This was his attempt to troll in support of the comments they had made.
One of the replies posted a selfie of "Andrew Zippy Carter" that is no longer on his profile page.
For some reason the photo is reversed (note the "Ray Ban" logo at the top right of the sunglasses). This is the photo as it should appear.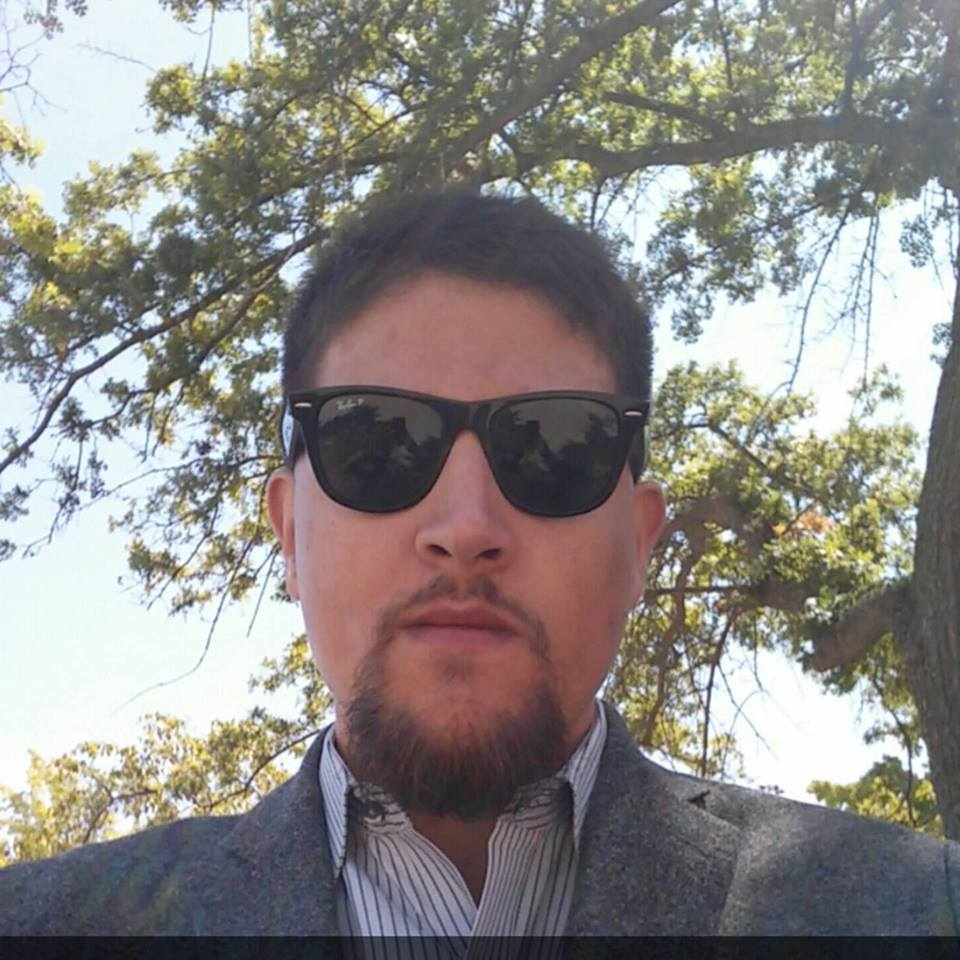 This will come into play later in the article.
Suffice to say, we had a good amount of information to piece together, eventually leading to the true identity of "Vic Mackey."
Online, "Vic Mackey" enjoyed presenting himself as a veteran of white nationalist movements with bulletproof operational security. In this exchange on Unicorn Riot's Discord leaks, "Vic Mackey" seemed to enjoy the reverence:


However, "Vic Mackey" was careless with many personal details in the chats and we were able to construct a picture of his life with very specific personally identifying information through these details. The person we identified matched all these data points, and we found his facade of age and experience to be a sham. He was just twenty-four when he started posting in the "Vibrant Diversity" Discord Chat.
Part III: Will the real "Vic Mackey" please stand up?
Andrew Richard Casarez​ was born on January 9th, 1993 in Sacramento County and is a resident of Orangevale, California. This is consistent with statements made in the Discord chats, perhaps most damningly with a photo he posted taken in front of Monroe Tattoo Parlor in Orangevale.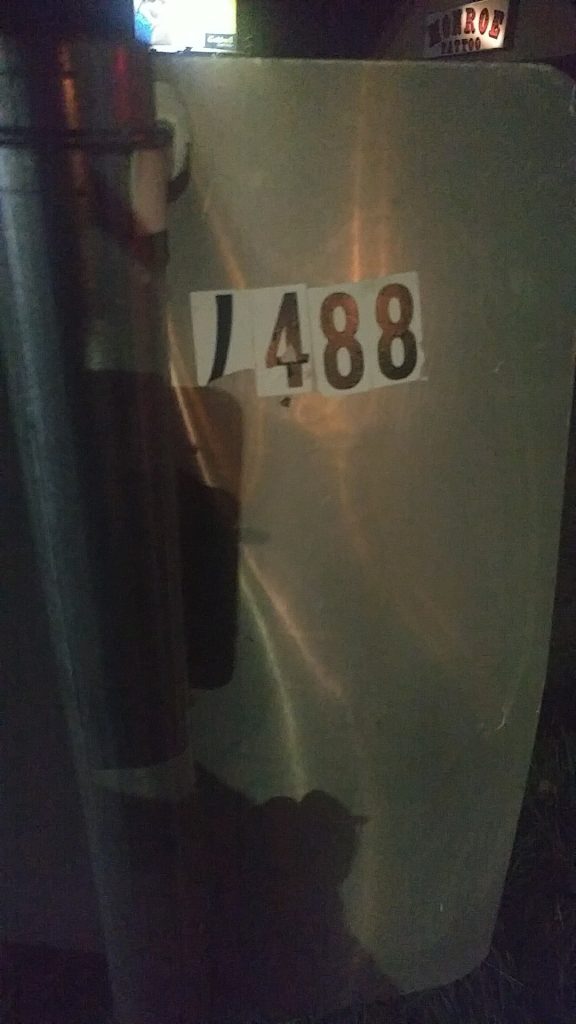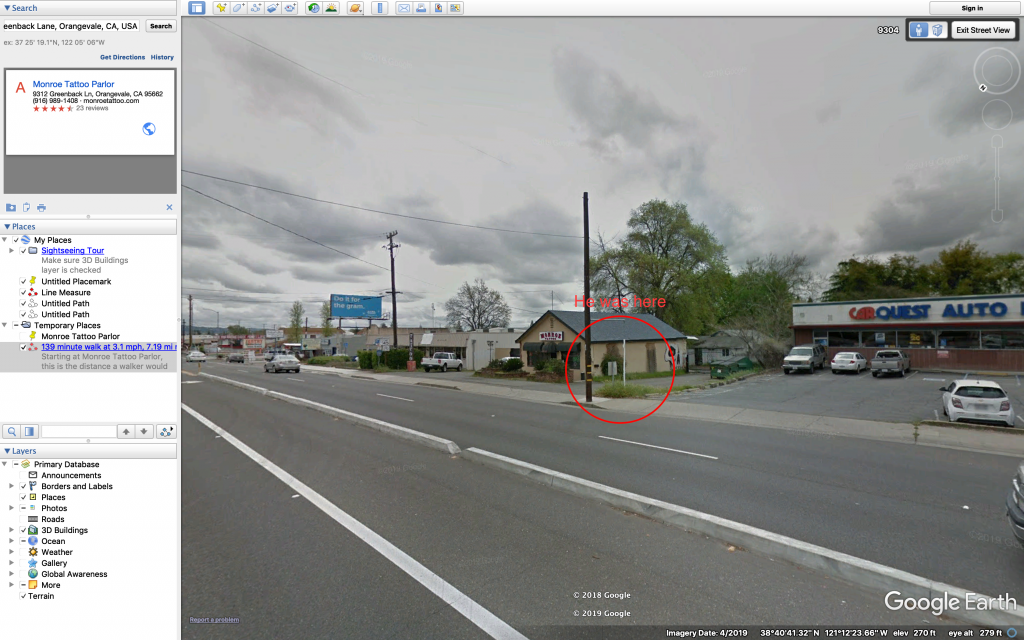 "Vic Mackey" also claimed to have attended college in Stockton, CA and had a roommate his first semester whose family did their laundry. The implication is that he lived in a dormitory. The University of the Pacific is Stockton's only four-year university with dormitories.




We found Andrew Casarez did indeed attend the University of the Pacific in Stockton, CA, in 2011, right about when he would have been eighteen years old. He was named as one of the participants of an event held at the university in a local news article.

"Vic Mackey" also stated that his father was a firefighter,

politically liberal,

and an army veteran.

"Vic Mackey" stated that he had a married sister living in San Francisco.
"Vic Mackey" claimed to be paternally Hispanic.


This is also reflected in a Telegram chat message from September 2, 2019 where he uses a slur to refer to his own name.
All these statements have proven to be true for Andrew Casarez as well. His father is an army veteran and a retired Sacramento firefighter and his sole sibling is a married sister residing in San Francisco. His mother's maiden name is of Gaelic descent. His family is also politically opposite of everything "Vic Mackey" stands for. We are not publishing identifying details out of respect for his family, who are likely quite disappointed with Andrew, but this is all verifiable information.
Furthermore, "Vic Mackey" claimed to have been working at a restaurant for the past three-and-a-half years at the time of the post.


By combing social media accounts of family and associates, we determined that Andrew Casarez had likely worked at a pizzeria in ​Roseville, California​, which is now under different ownership.  The current ownership has reached out to us to inform us that he is not employed by them at this time. His current employment is not known
Significantly, "Vic Mackey" had mentioned in the Discord leaks that he had also posted on the frat humor website "Total Frat Move" under variations of the name "Ned's Older Brother" or "Ned."
While the persona of "Vic Mackey" thrived on neo-Nazi Discord servers, it was earlier, on "Total Frat Move" that "Vic Mackey" was born. Inspecting archived pages of the website, we found that "Ned-s Older Brother" had used images of the "Vic Mackey" character from the television show The Shield on his profile page. "Ned-s Older Brother" had been banned from the site for racist behavior several times, yet kept returning with variations of his previous screen names.

A still shot from the television program was also later used as a meme by "Vic Mackey" and posted on Discord with a bowl haircut and text added to the image.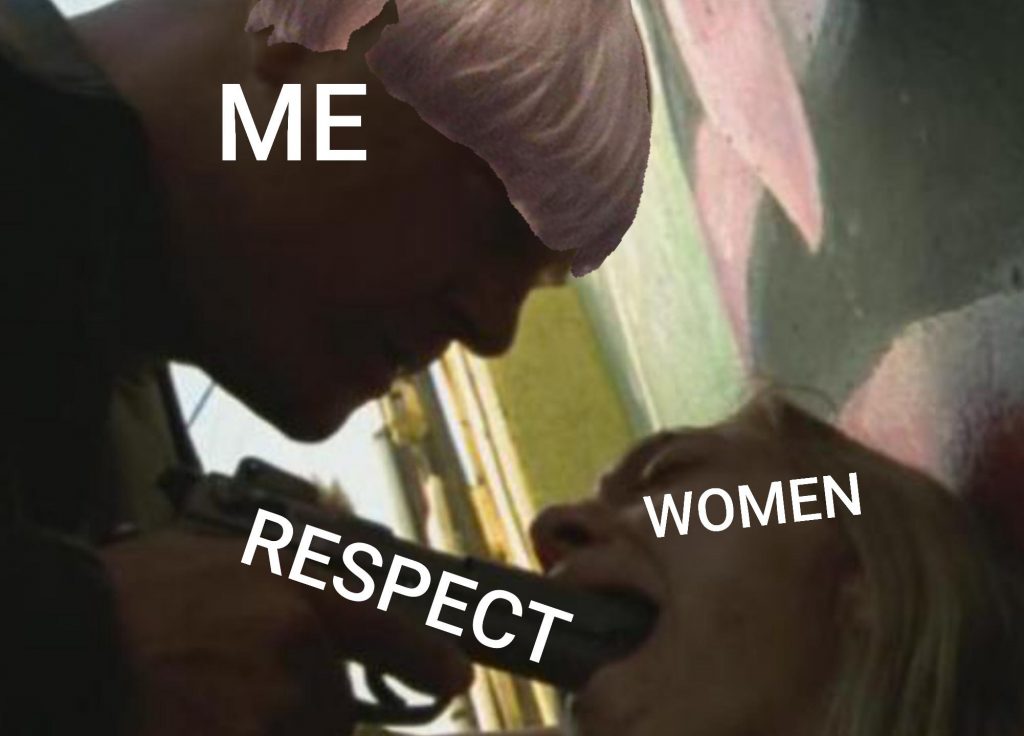 At one point "Ned-s Older Brother" related a story about being charged with DUI. Unbeknownst to "Ned-s Older Brother," this admission would play a significant factor in the future.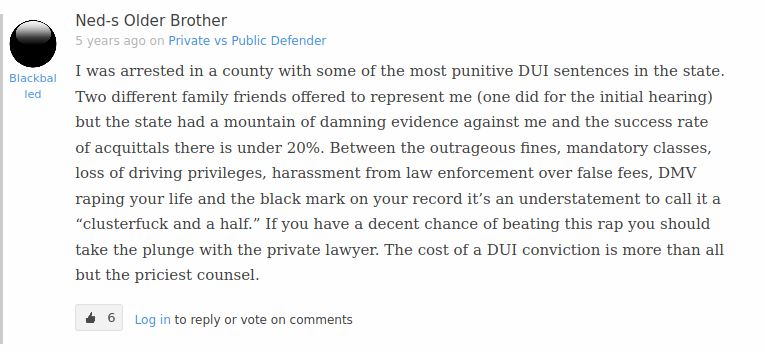 It is no coincidence that Andrew Casarez was also charged with DUI.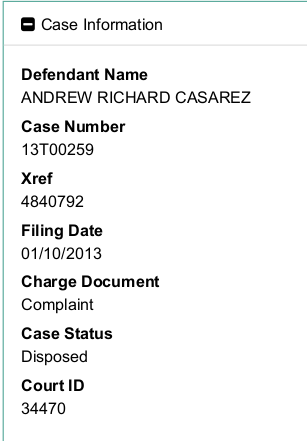 (VC 2315 is the California statute pertaining to operating a motor vehicle under the influence of alcohol [link] )
There's not much in the way of normal social media for Andrew Casarez/"Vic Mackey" himself. He had enough sense to reduce his footprint across the internet, although we were able to locate another unobscured photo from 2014.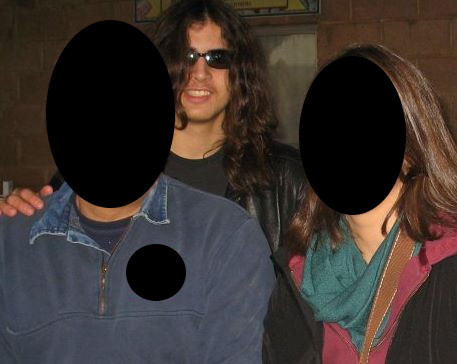 If we compare this with the photo mentioned earlier we can see that they are likely the same person.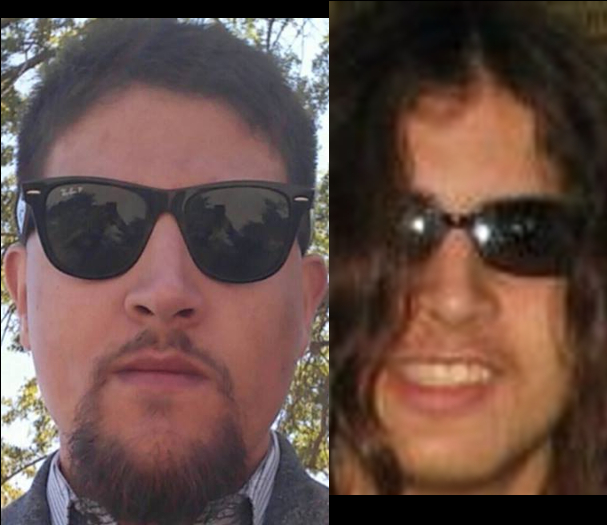 We contacted "Vic Mackey" through Telegram messenger to ask him about our findings. Unsurprisingly, he denied everything. He also denied things he had admitted to in the Discord leaks, such as attending the University of the Pacific in Stockton. While we could find no evidence that Andrew Casarez was an actual member of the Sigma Chi fraternity at the university, "Vic Mackey" implied membership in the Discord leaks.

In our chat with him, however, he denies this.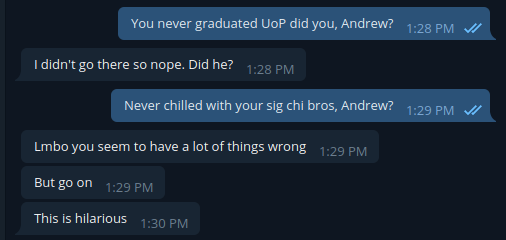 He also resorted to his ruse of attempting to seem older than he really is.

"Vic Mackey"/Andrew Casarez seemed to be in full panic mode, attempting every trick in his meager repertoire.
Soon after our initial contact with him on Telegram, the photo that we had found of him above was removed from the social media account on which it was posted. Also, the social media accounts of immediate family were newly set to "private," whereas before contact they were publicly visible.
He also attempted to clean up his Facebook activity. In the post by Facebook user "Boris Kompot" mentioned earlier we found that "Andrew Richard" was un-linked from the post and the "like" removed.
Note the timestamp of the edit: July 2 at 2:40 AM. We contacted him on July 1 at 1:11 PM.

While we were already confident that we had positively identified "Vic Mackey," these things confirmed it. It was too late for him to cover his tracks.
Conclusion
There is much about "Vic Mackey" and the "Bowl Patrol" that we haven't covered here for sake of brevity and there is much more about Andrew Richard Casarez​ of​ Orangevale, California, the twenty-seven year old pizzeria worker and online stochastic terrorist, that will be uncovered in the future. One thing is certain: if Andrew Casarez continues to spread his hate he won't have the "Vic Mackey" name to hide behind any longer.
Update:
The kind folks at the pizzeria have reached out to us to inform us that while Andrew Casarez worked under the previous ownership he is not employed by the current ownership. We had mistakenly stated that he did. This article has been edited to reflect that. Sincere apologies to the pizzeria in question for any inconvenience caused.
Update, 7/24/2020:
More on Andrew Casarez aka "Vic Mackey"  by Sebastian Murdock and Christopher Mathias of The Huffington Post: Exclusive: Leader Of Dylann Roof-Worshipping Neo-Nazi Group Exposed Andrew Richard Casarez is a 27-year-old pizza delivery driver and the leading voice in a confederation of neo-Nazis, HuffPost has confirmed.
Update, 7/28/2020:
Andrew Casarez is under investigation by local law enforcement agencies.
From The Jewish News of Northern California by Gabriel Greschler: Suspected neo-Nazi leader under investigation in Sacramento
From CBS13 Sacramento: Alleged Leader Of Neo-Nazi Group Identified As Orangevale Resident Andrew Casarez
From The Sacramento Bee by Sam Stanton: Orangevale man accused of leading online white supremacist group devoted to Dylann Roof