In our last article we reported on Benjamin Welton, a white nationalist who was a prolific freelance writer, PhD candidate and private school teacher and who recently had a pseudonymously published book by the white nationalist small press Antelope Hill Publishing. The subject of our report today also had a book title published by Antelope Hill Publishing, but also has a much higher profile and longer history in white nationalist circles.
Using the alias "Borzoi Boskovic," our subject today escaped exposure for years, building a strong following amongst neo-Nazis and white nationalists on internet social media as he produced widely-followed podcasts and authored scores of articles. But like many who attempt to maintain a secret neo-Nazi life, "Borzoi" overestimated his abilities and leaked information that would lead to his exposure. Perhaps he didn't even realize it, or perhaps he thought no one was watching, but we were.
"Borzoi Boskovic"
"Borzoi Boskovic"'s main claim to fame has been as a prolific white nationalist blogger and podcaster who since 2017 has hosted a number of shows as well as made guest appearances on countless others. Under the banner of Mike "Enoch" Peinovich's "The Right Stuff" media network, "Borzoi" hosted such shows as "The Third Rail" with exposed alt-right podcaster Norman Asa "Trey" Garrison III, aka "Spectre,"   "The People's Square" and "The Poz Button" with other well-known white nationalists like "Larry Ridgeway" and Joseph Jordan (aka "Eric Striker").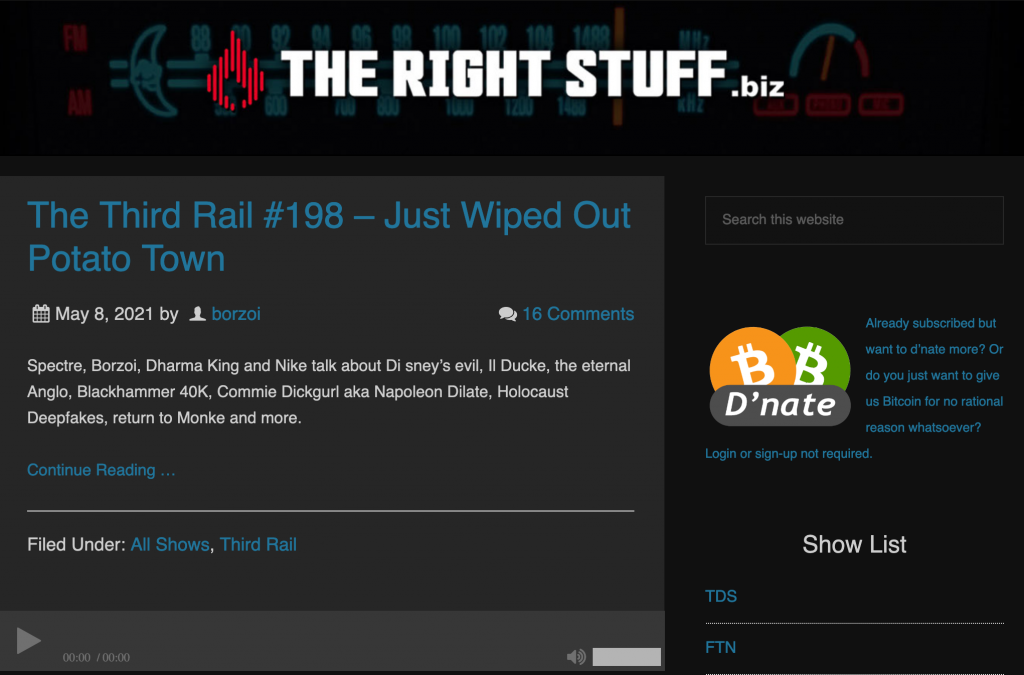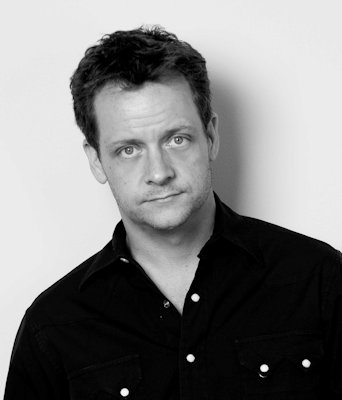 In "Borzoi"'s long-running podcast "The Poz Button" he and "Spectre" Garrison basically review movies, TV shows and other forms of popular entertainment media from an extreme right-wing perspective. In the October 13, 2018 episode "Borzoi" and Garrison mention The Man in the High Castle, a science fiction TV show that posits a dystopian future in which the Nazis won World War II, only they note that this future is not "dystopian" to them; this is the future they want.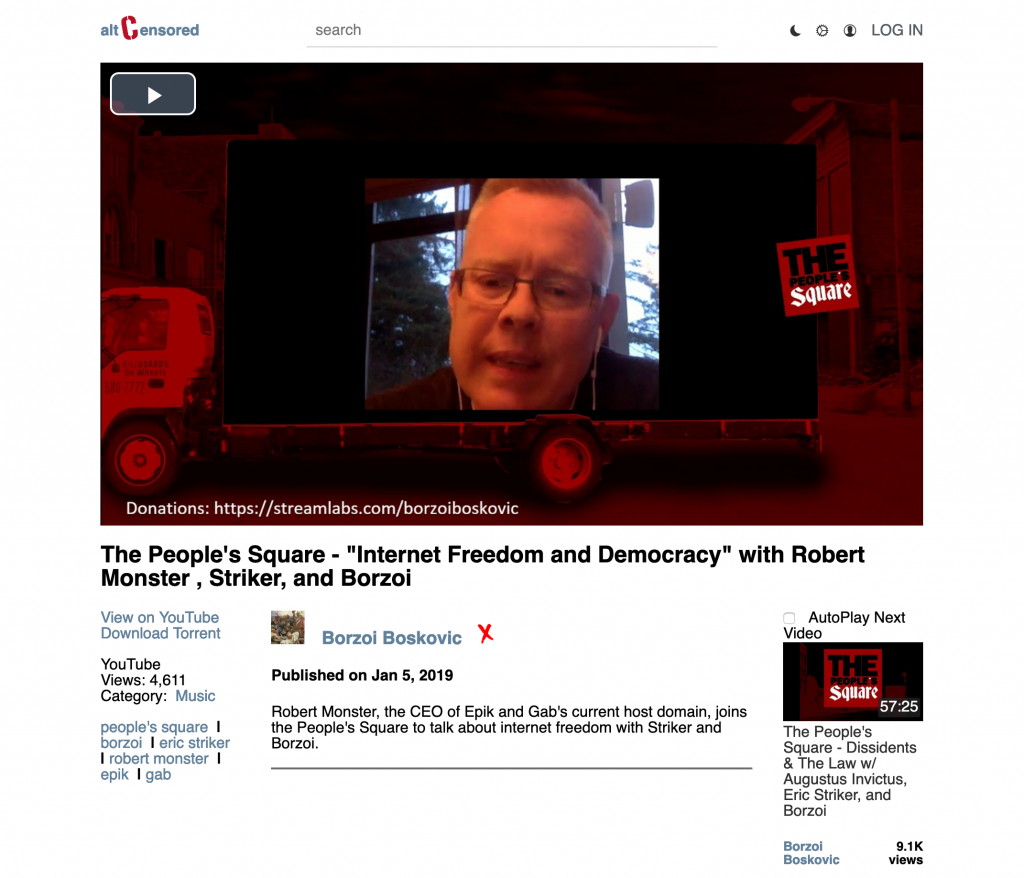 In addition to his podcasts, "Borzoi" has also maintained a troubled presence on Twitter, where he has had to run through scores of screen names to evade Twitter's policies on acceptable behavior.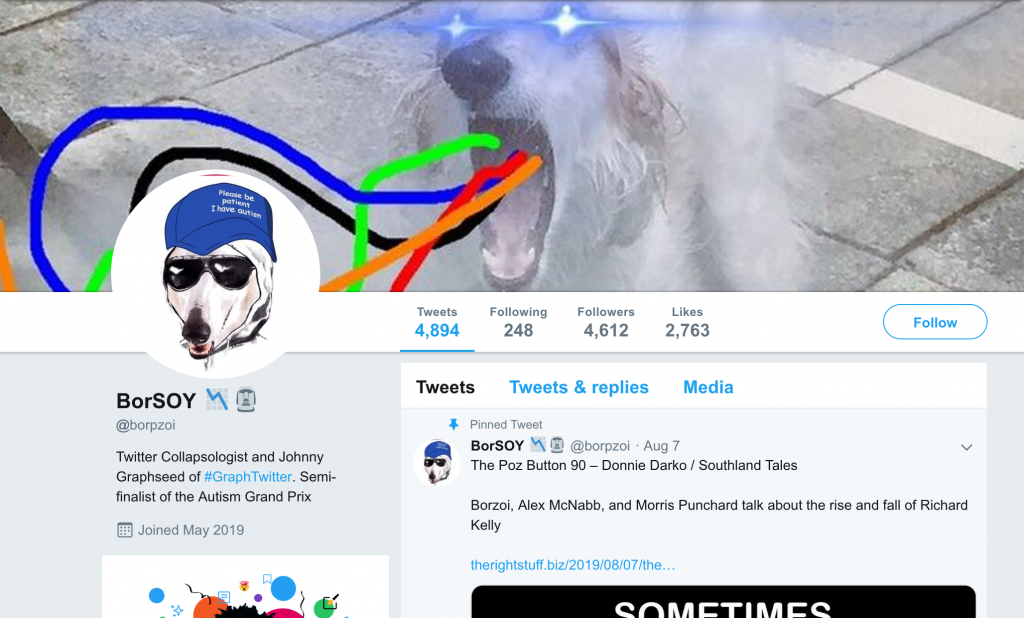 Strangely, "Borzoi" spent a great deal of time on Twitter masquerading as an Asian man named "Tedward Wang."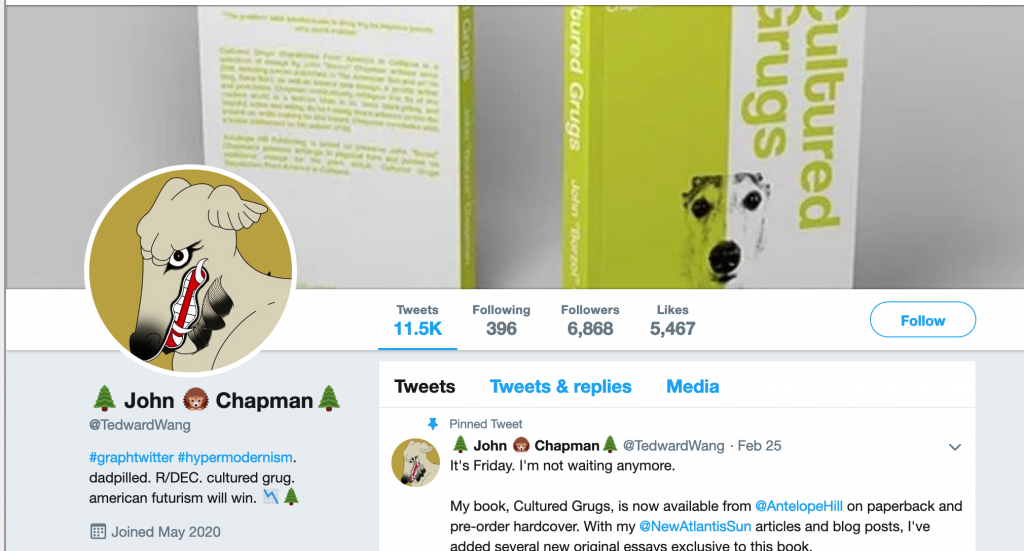 He eventually explained it as a joke that he simply decided to run with, enjoying the speculation among his followers that he may have been Asian in real life:
What caused it to blow up was when Media Matters posted a clip from Third Rail. The person who did it must have checked my Twitter at one point or found a cache of it from the brief period I called myself Ed Chang, and printed my name as Ed "Borzoi" Chang, like it was my name
He concluded his explanation with:
People believe what they want to believe and I'm not averse to helping that along and throwing disinformation out there, so who really knows.
Disinformation would prove to be a common tactic in "Borzoi Boskovic"'s secret career as neo-Nazi podcaster, occasionally throwing out believable tidbits of information to throw off those speculating on his real identity. In one recent post on his personal blog, "Borzoi" explained how he was building an outdoor exercise area so he wouldn't have to go to a gym to get his workout in.  He posted a photo of a man resting next to a weight bench set up.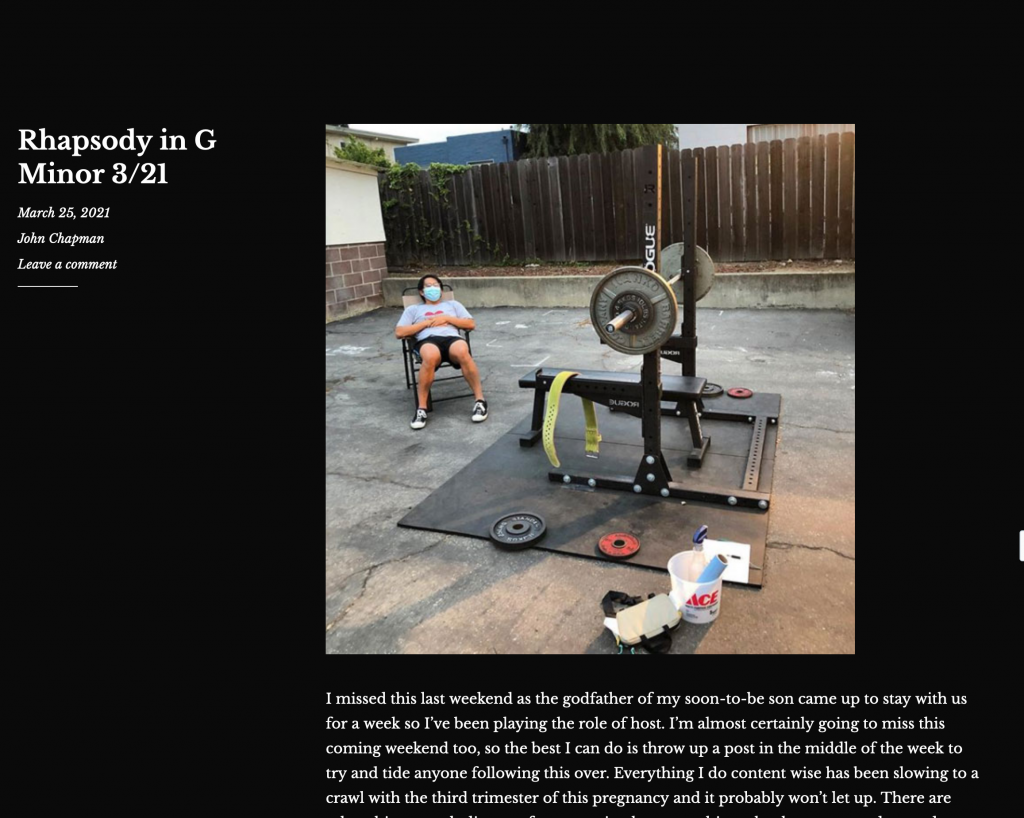 We found this exact same photo, however, posted on Instagram. After researching the original poster of the photo we concluded that this individual was not "Borzoi" and had nothing at all to do with "Borzoi." "Borzoi" has simply stolen this person's photo to use as his own.
This was just one example of how "Borzoi Boskovic" attempted to use disinformation to hide his real identity and continue his online racism undisturbed. However, as often is the case, what began as paranoia would eventually turn into arrogance and over-confidence, and "Borzoi" would make catastrophic errors in attempting to hide his secret.
Some of these errors took place on a new internet social network called "poa.st" that caters to neo-Nazis, white nationalists and other extreme-right wing users. "Borzoi" is a fan of poa.st because it allows and even encourages hate speech with no moderation. In one post he stated: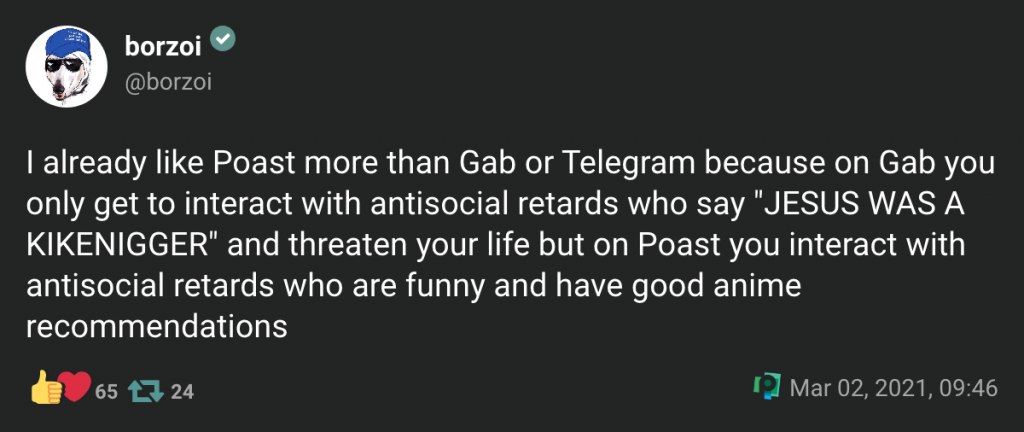 In another: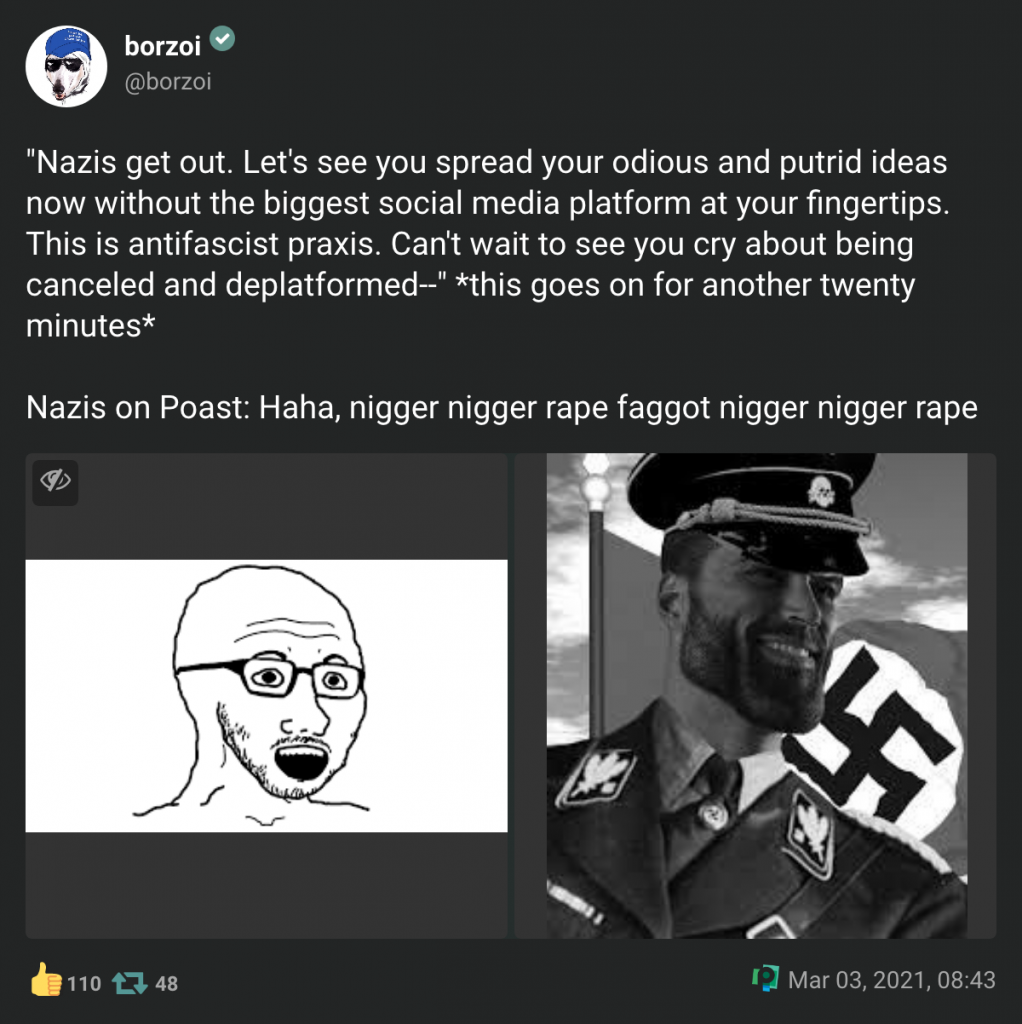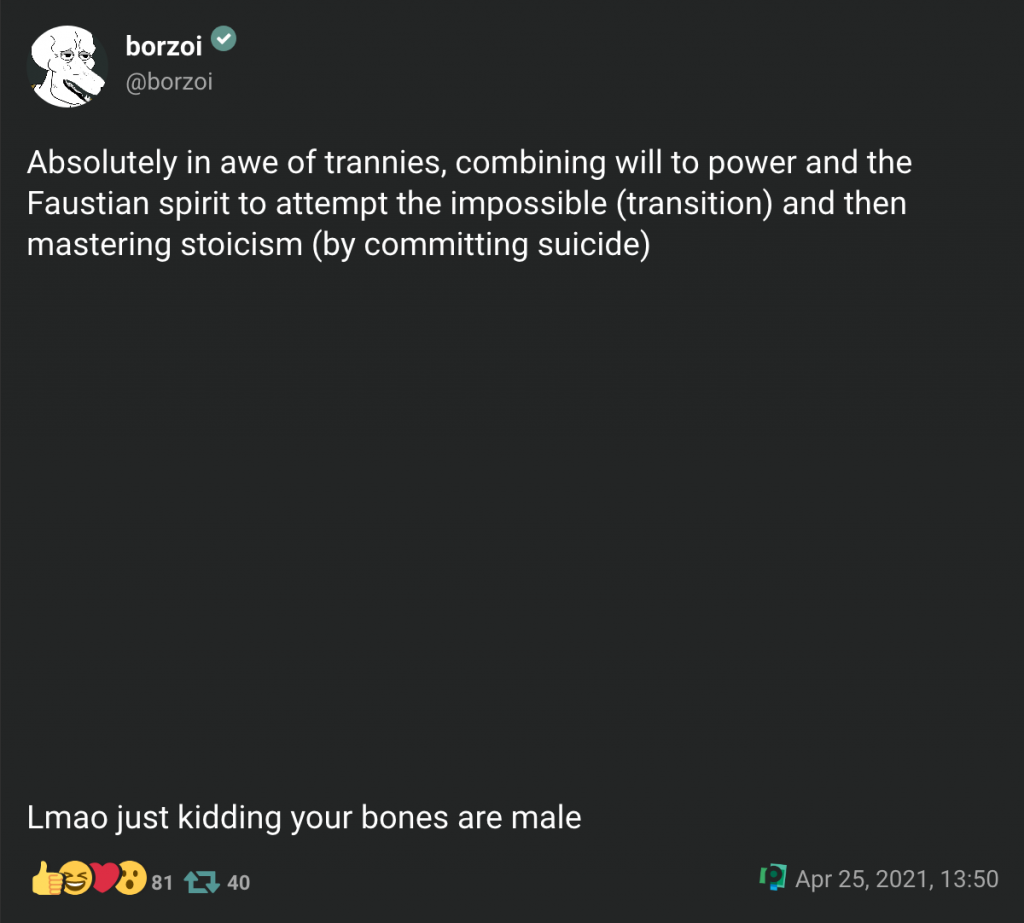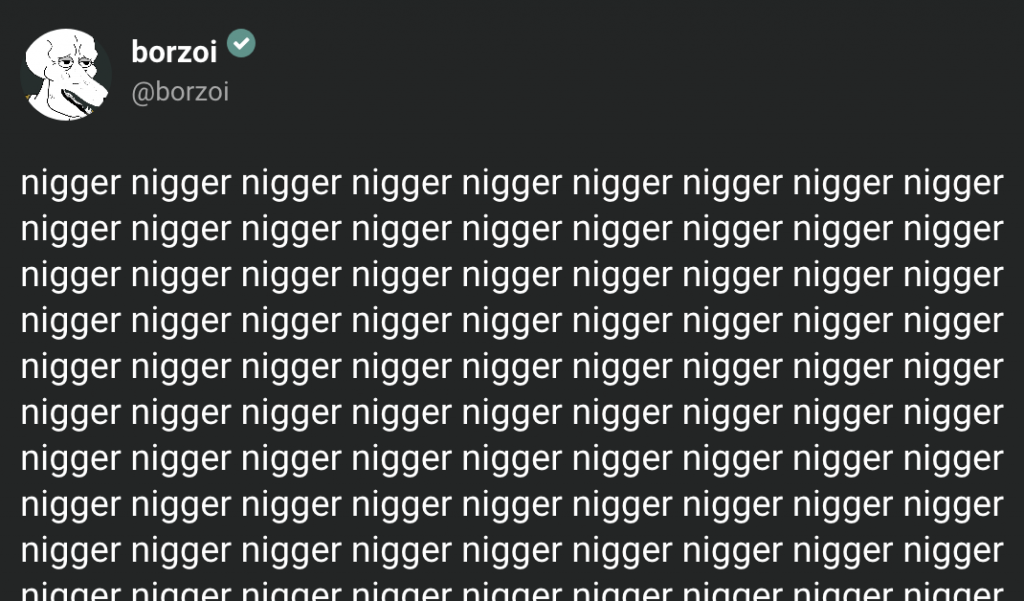 One comment that "Borzoi" made on poa.st that was particularly prescient was this one where he provided advice on keeping private:
The best advice I gave to someone on opsec is nothing is irontight especially if you know any women but you'll know you're doing it right when your own friends are confused about what is and isn't true about you

But "Borzoi Boskovic" is a married man and he loves talking about it. Furthermore, he doesn't seem to mind that his wife does also.
"Claire Nightingale"
"Borzoi" once told the story on Twitter in great detail on how he met his wife, whom he referred to using the pseudonym "Claire Nightingale." As touching as his story may have been, what interested us was that he encouraged her to write a piece for the extreme right wing blog "The American Sun":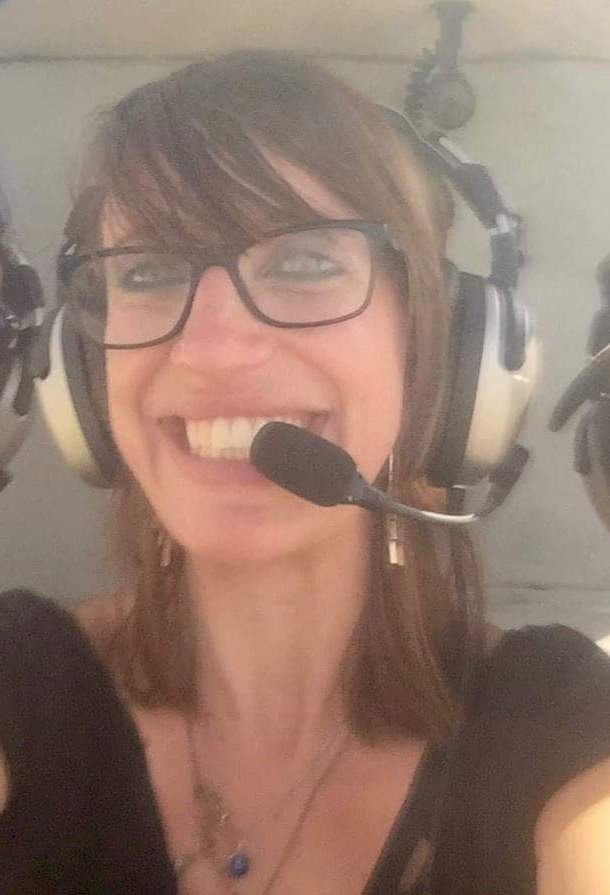 "PorcFest" is the Porcupine Freedom Festival, an annual event held by the Free State Project, a libertarian organization that advocates for the relocation of libertarians to New Hampshire in order to make the state a stronghold for their movement. While Rachel Carter had previously identified as a conservative libertarian, her views grew more extreme. Getting together with the (right-wing internet) famous "Borzoi Boskovic" was just another step toward right-wing extremism.
In an interview on the now-defunct right-wing blog The Republic Standard, "Borzoi Boskovic" stated "My background is in literature. I'm a writer at heart." Indeed, we found an old blog belonging to Jesse Ogden in which he stated that he intended to major in college in English with a creative writing emphasis and to minor in religious studies.
Recently, Ogden has been heavily promoting a book he authored for Antelope Hill Publishing, again under the "John Chapman" pseudonym, entitled Cultured Grugs: Dispatches From America in Collapse. It is described thusly:

Cultured Grugs: Dispatches From America in Collapse is a selection of essays by John "Borzoi" Chapman written since 2018, including pieces published in The American Sun and on his blog, Race Borz, as well as several new essays. A prolific writer and podcaster, Chapman meticulously critiques the ills of the modern world in a fashion that is at once black-pilling and hopeful, sober and witty.
[Notably, Antelope Hill Publishing also published a title by the subject of our last report, Benjamin Welton. It seems that Antelope Hill Publishing has had some bad luck of late keeping the pen names of their authors under wraps.]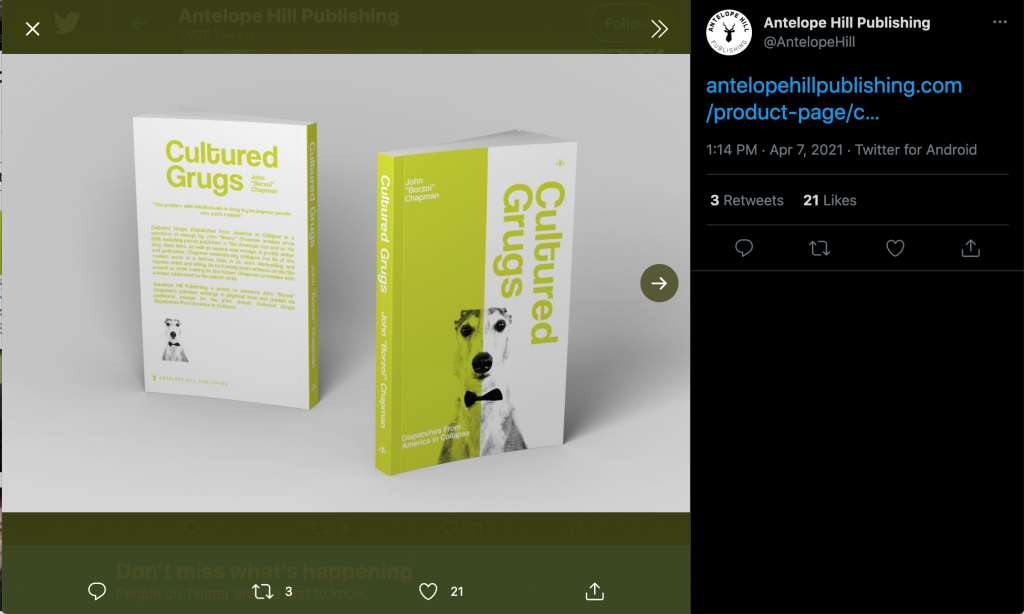 Despite having a secret identity as a white nationalist and ne0-Nazi, Jesse Ogden is very proud of his book. He is, in fact, so proud of it that he has multiple copies of it on his bookshelf. On poa.st "Borzoi" made a comment about an "ultra-liberal relative" asking about "all the Hitler books I wrote the foreword to on my shelf."