The subjects of our last two reports had a few things in common. Besides both being racist neo-fascists, both were also authors who had been published by the neo-Nazi small press Antelope Hill Publishing. And both were avid users of a new internet social network called Poa.st that aims to be as racist as it can be and whose creator once bragged:
in a month, poa.st got nearly 1.3 million unique visitors

thats pretty based and a major w for racism worldwide
Following our reports, the creator and administrator of this website who commonly goes by the online name "Anime Graf Mays" or simply "Graf," seemed to be a tad upset about the exposure, particularly about the article in the Huffington Post following our exposure of Ben "Spooky Nationalist" Welton,  writing:
we got our first HuffPost hitpiece
reminder journos aren't human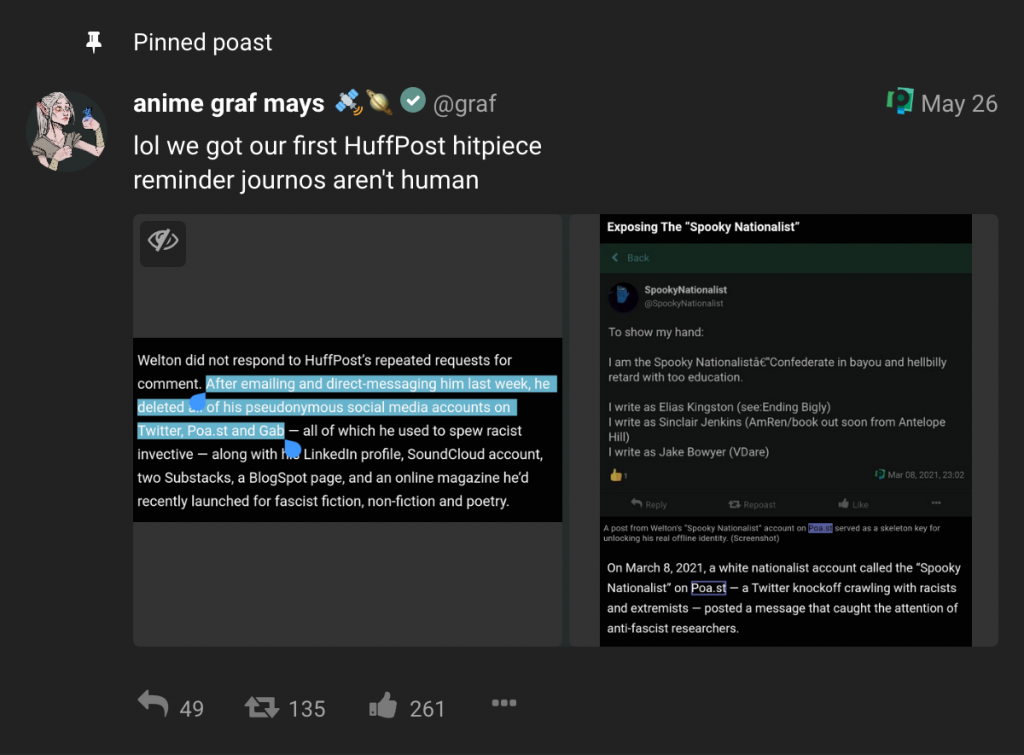 While it is easy to threaten journalists and spew racism from behind the cover of a screen name, we are curious to know how well "Anime Graf Mays" does it once his true identity has been exposed.
Neo-Nazis in the Fediverse
The Fediverse is an ensemble of interconnected servers that are used for social networking, microblogging, blogging, or other purposes, but which, while independently hosted, can communicate with each other. One of the main Fediverse platforms is Mastodon, which was intended to be a self-hosted, open source alternative to Twitter with a solid stance against hate speech. As is often the case, Nazis came in and began to ruin it for the rest of us. In July 2019 the Nazi-friendly social network site Gab changed its software platform to a fork of Mastodon and became the largest Mastodon node.
Since then the Fediverse has had its challenges dealing with hate speech. Poa.st was created in January 2021 by Twitter user "Anime Graf Mays" who was dissatisfied with Twitter's policy on hate speech and has been supported by software developer and Fediverse advocate Alex Gleason, who wrote the Soapbox software used by Poa.st. Gleason himself is not a stranger to controversy, being expelled from Mastodon's main server, todon.nl, for making transphobic statements.
Gleason went so far as to state, "poa.st is horrible, but I like it."

Supporting free speech is one thing, but actually supporting a site that is littered with racial slurs and Nazi rhetoric is entirely another.
It is clear that Poa.st is intended to be as racist as it possibly can be, something that is a point of pride for the site's creator "Anime Graf Mays" (or simply "Graf"). In one post he referred to his site as "the most racist social media site on the planet."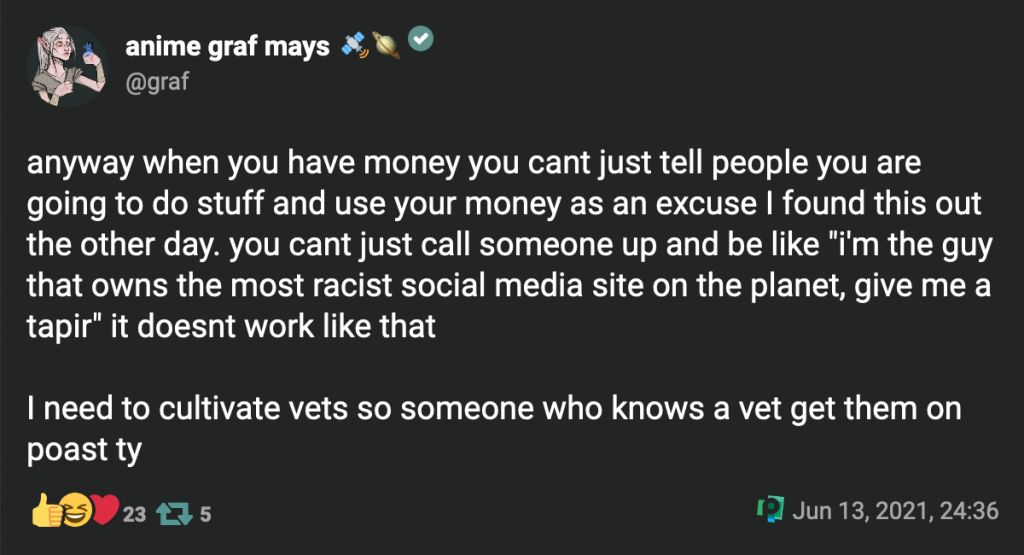 Use of racial slurs is common and encouraged on Poa.st, examples of which are pictured below.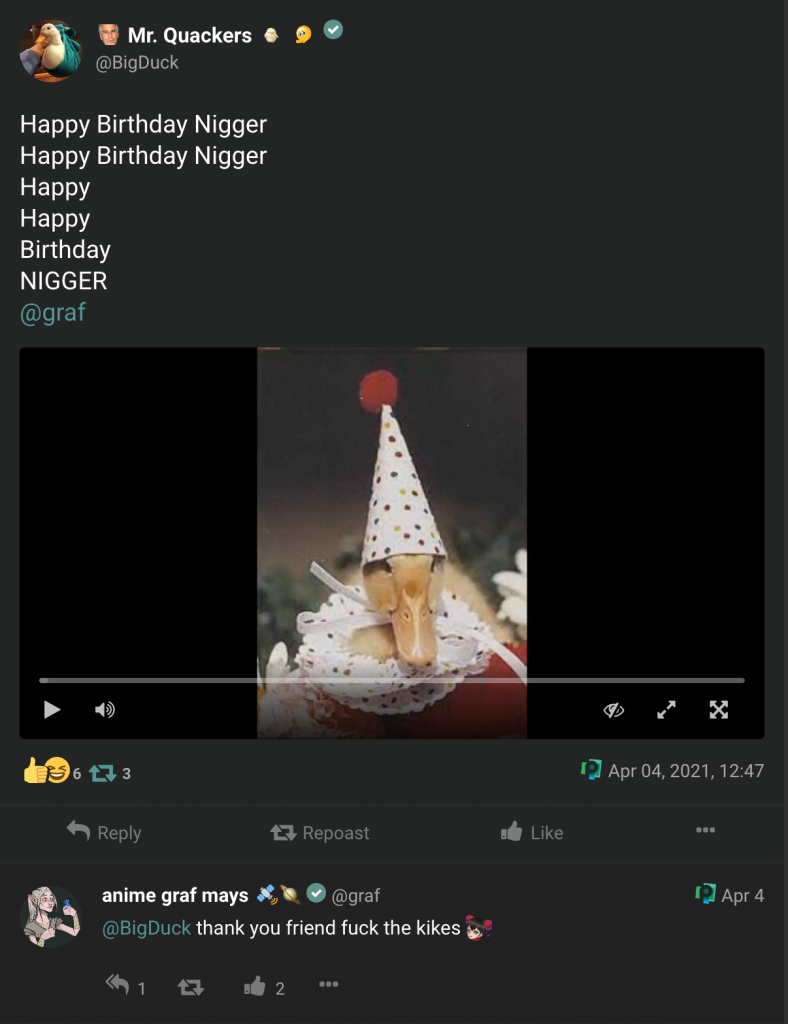 Even before our exposé on the fascist author and school teacher Ben Welton and the Huffington Post's follow-up, the users of Poa.st already had it in for journalists, as demonstrated by this post featuring an image of the live-on-camera murder of Alison Parker and cameraman Adam Ward of Virginia station WDBJ-TV.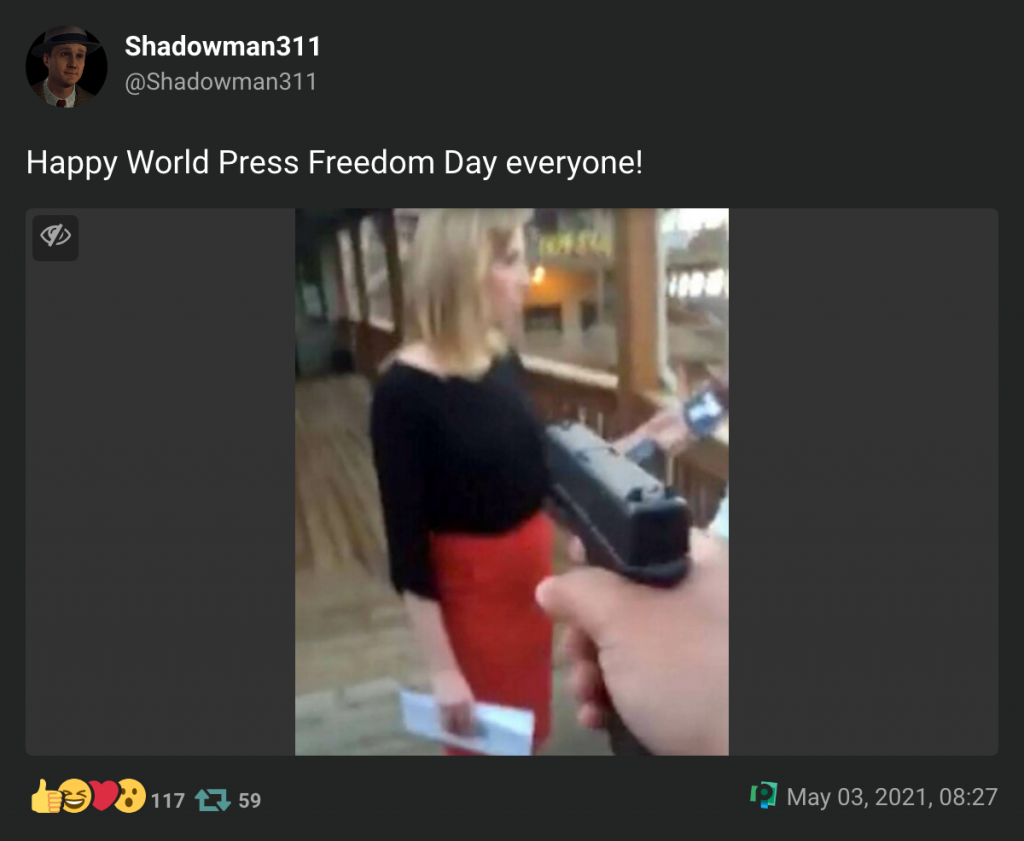 And, of course, making racist and inflammatory statements is also sport for "Graf," who consistently uses an anime or video game character as his profile image across platforms.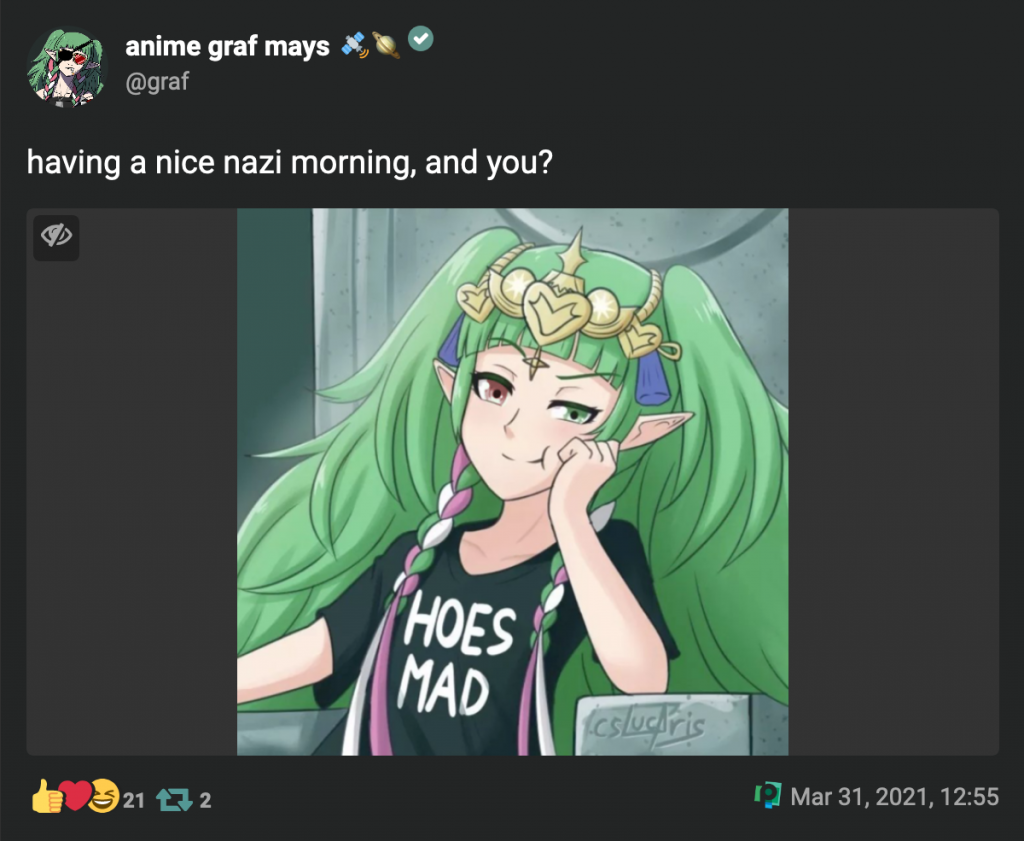 In one post he featured a Nazi swastika emoji available for use on Poa.st.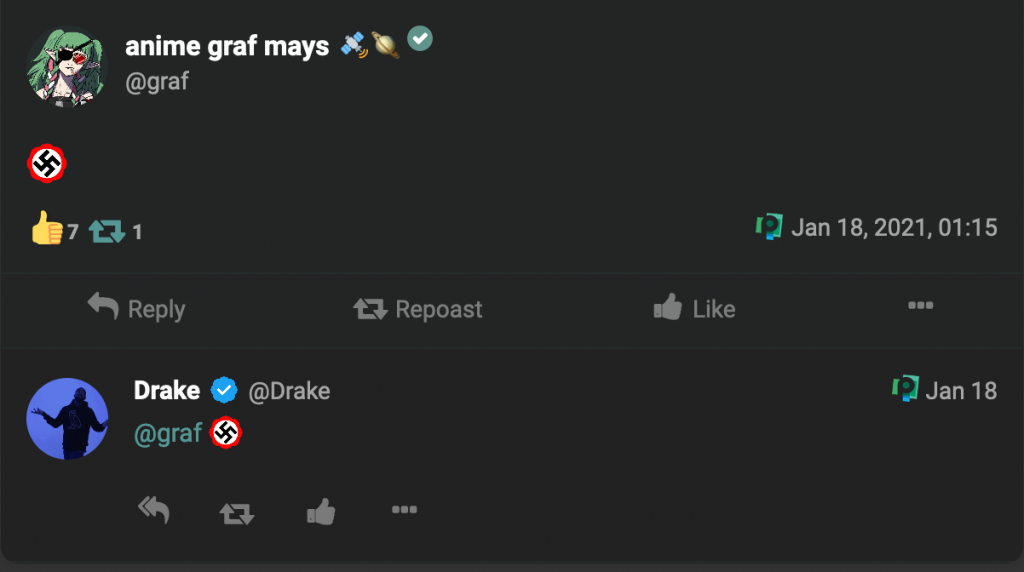 In another he showed off a "1488" emoji ("1488" being neo-Nazi code for the "fourteen words" and "Heil Hitler").

In another post "Graf" joked in poor taste referring to the Auschwitz Nazi death camp.

In these next two posts pictured below, "Graf" mocked the murder of George Floyd.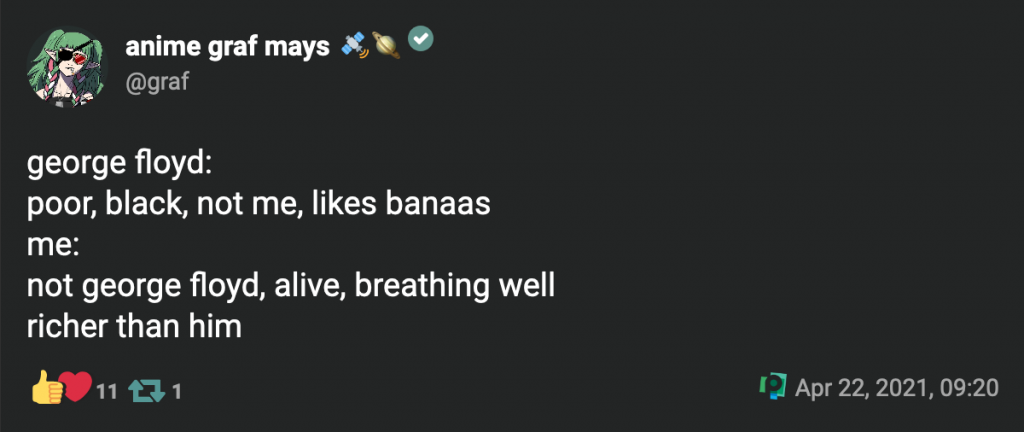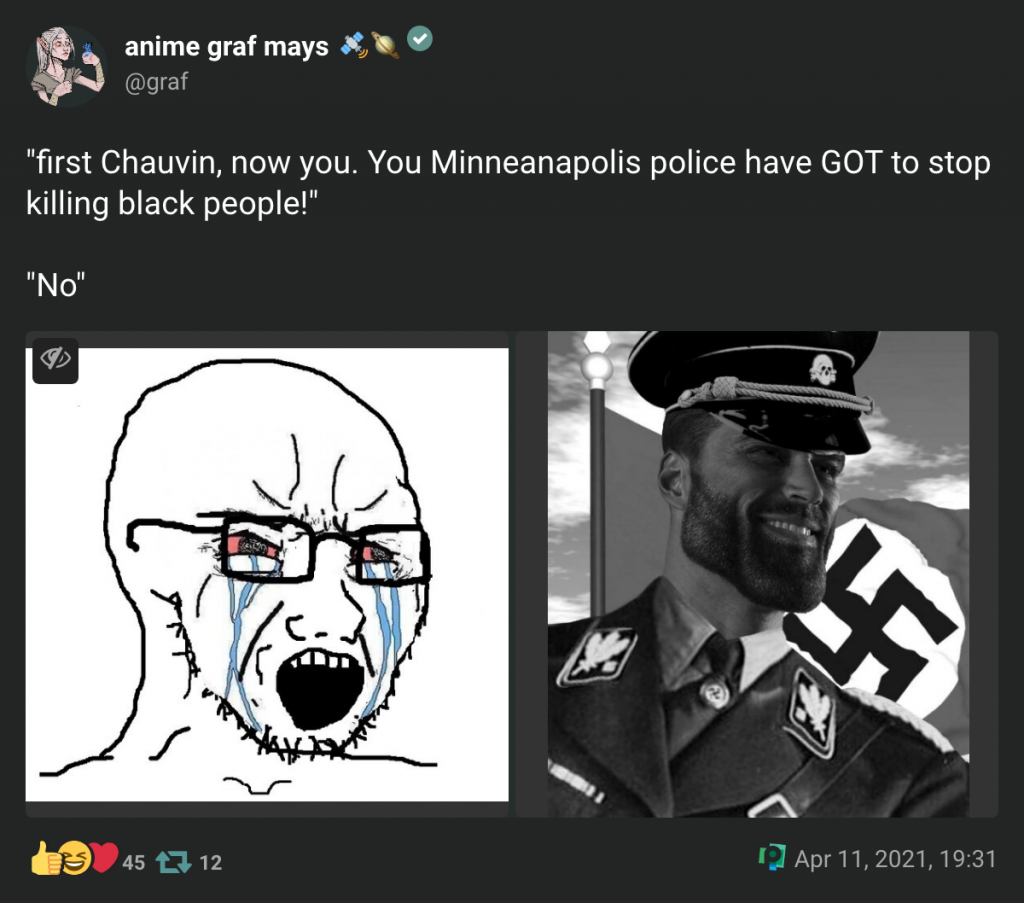 The slurs "n_gger" and "f_ggot" are frequently in "Graf"'s vocabulary.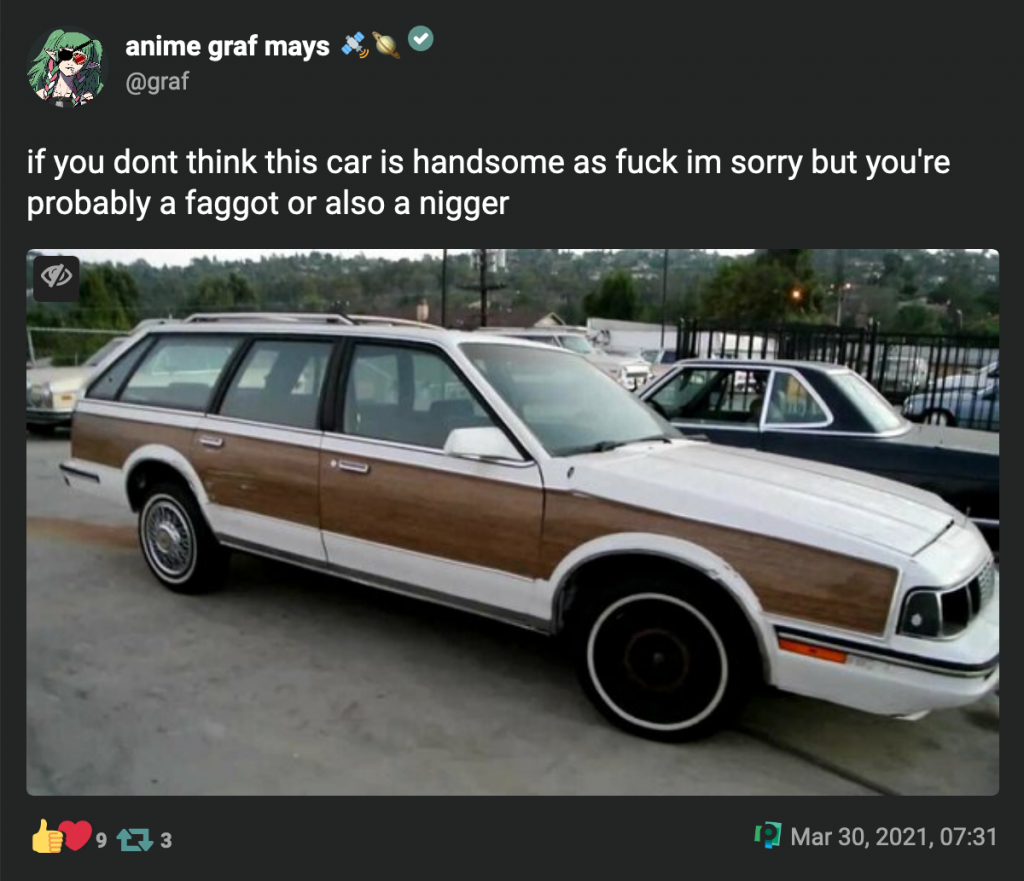 As we look into "Graf"'s background we see that he has a long history of racist behavior that extended to the several Twitter accounts he operated before Poa.st. In the Twitter post below "Graf" explains:
my father was a racist
and his father before him
and his father before him
it's in my lineage…
This probably explains some of "Graf"'s outlook as he stated on Poa.st:
i'd like to point out that racism has existed for as long as man has and it's a defense mechanism against others and natural but being gay, trans or gender dysphoric only happened mainstream once all of the insane asylums were ordered to be closed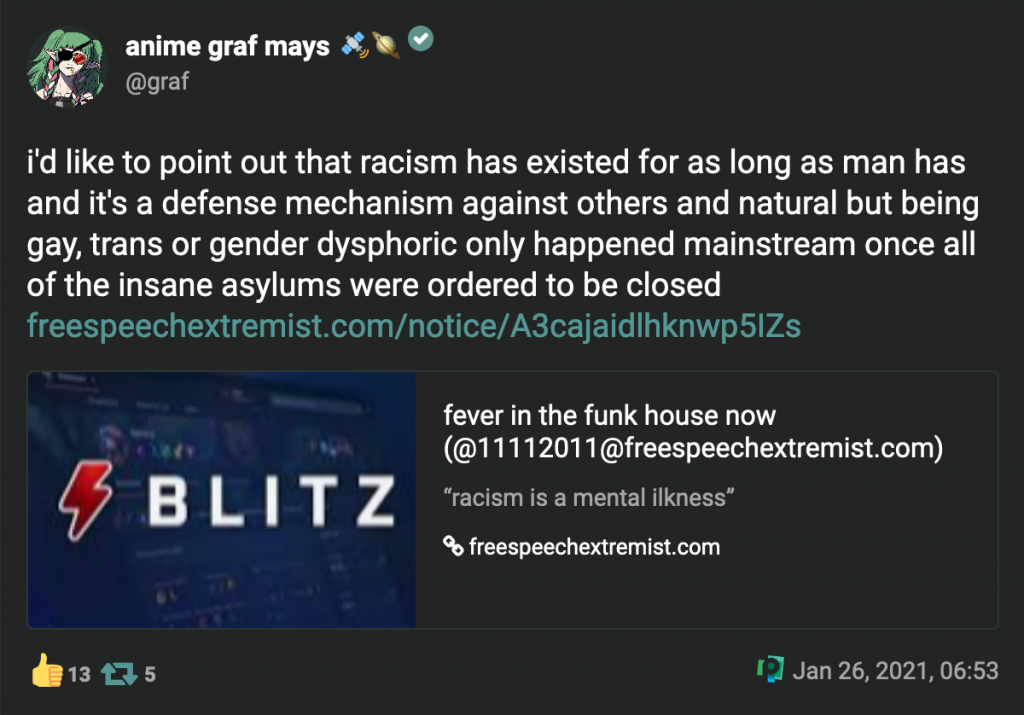 And:
racism is cool and necessary
letting another race tell you you're oppressing them is a trophy not a battle wound dont let them bring you down

"Anime Graf Mays"
"Graf" likens the current state of Poa.st to the early internet when people exercised their racism with relatively little repercussion. When Graf is not busy making racist, antisemitic, homophobic and transphobic statements, he likes to talk about himself and his life. After identifying a number of his previous Twitter accounts and examining his archived posts we found that he volunteered many clues to his personal identity.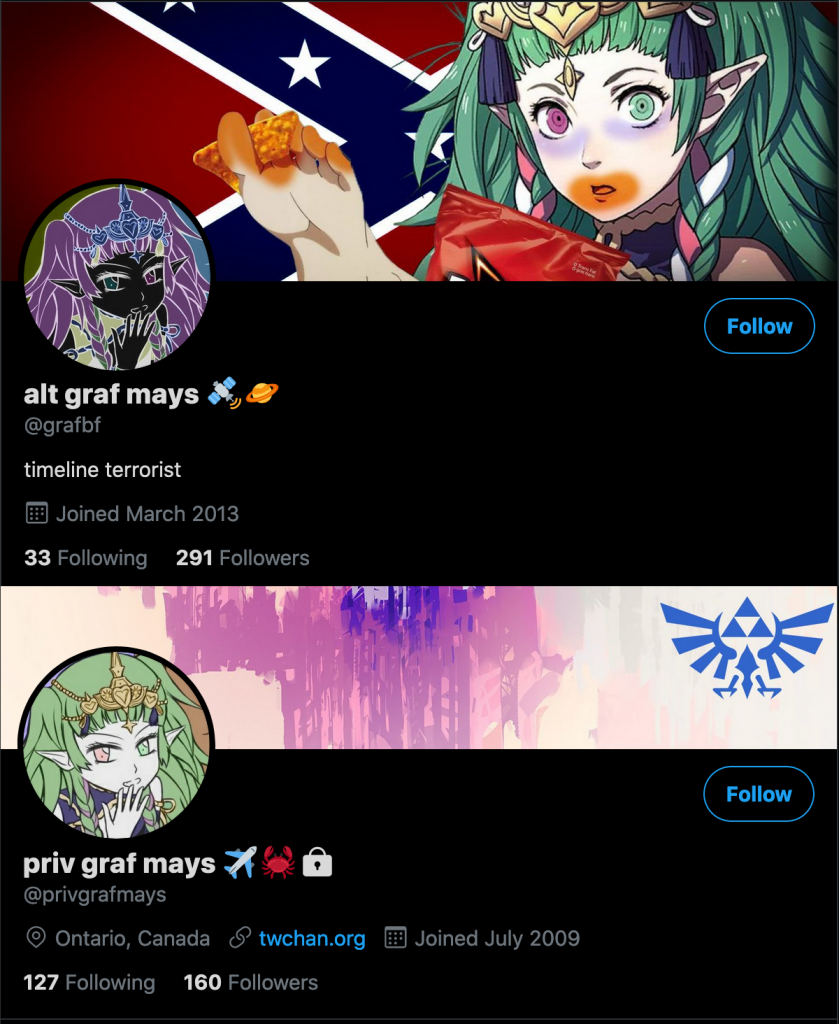 In previous Twitter profiles "Graf" consistently noted his location to be "Ontario, Canada," something we assessed to probable, judging by the time zone settings found in archived Twitter posts. In one profile he described himself as "passionate about racism."
Understandably, "Graf" did not want his full name out there for all to see, as indicated by this tweet in which he stated that he was credited for an Associated Press photo.
But he was less concerned about his given name, noting in Twitter posts across several Twitter accounts that his first name was "Dan."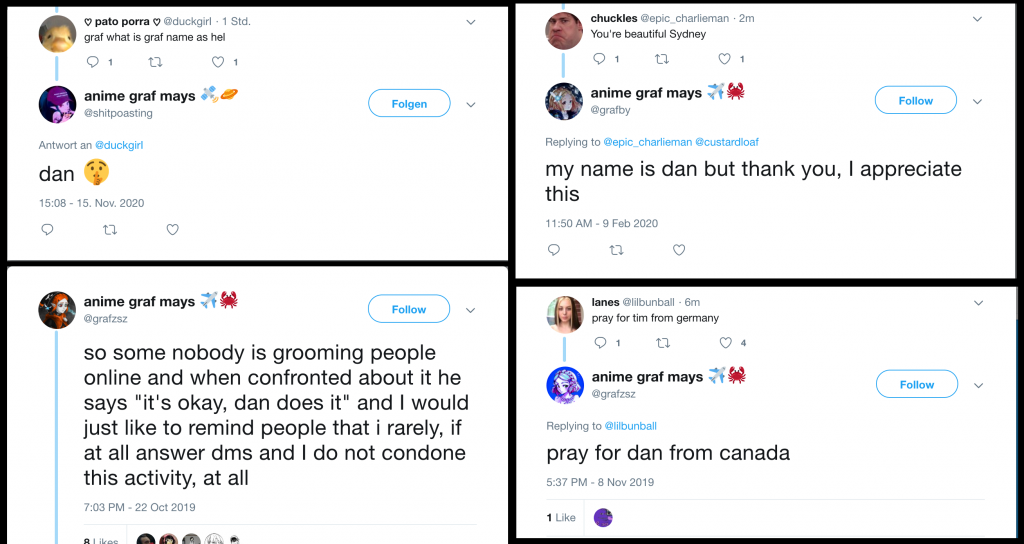 "Graf" also wrote comfortably on Poa.st about aspects of his personal life. For example, in one post he noted that his brother and mother may have been aware that he had started a social network website.

Also on Poa.st, "Graf" wrote about an ex-girlfriend who had just joined his website.

We found the Poa.st profile of "Graf"'s ex-girlfriend and her other social media accounts, one of which was a Facebook profile with a post that indicated the date she started a relationship with a new boyfriend: Daniel Stevens.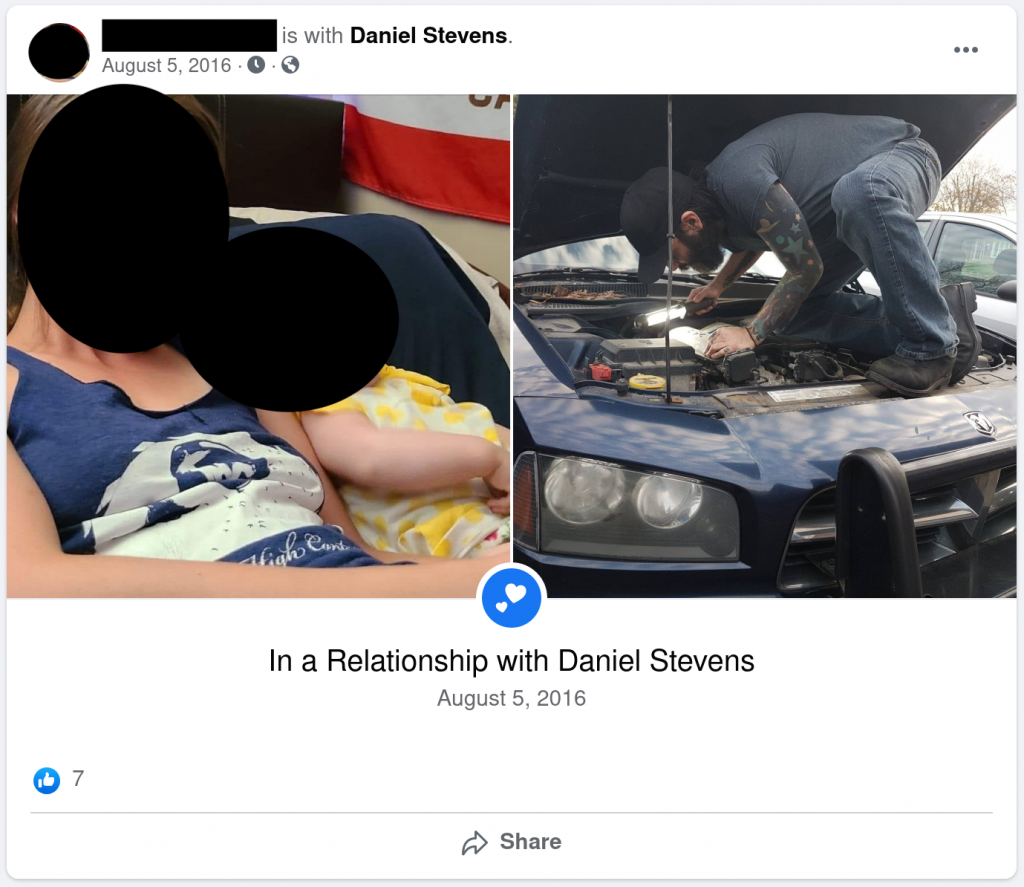 According to statements made by "Graf" in his previous Twitter posts, the first name fit. Photos and descriptions that "Graf" had posted of his own tattoos were consistent with the photo in the Facebook post.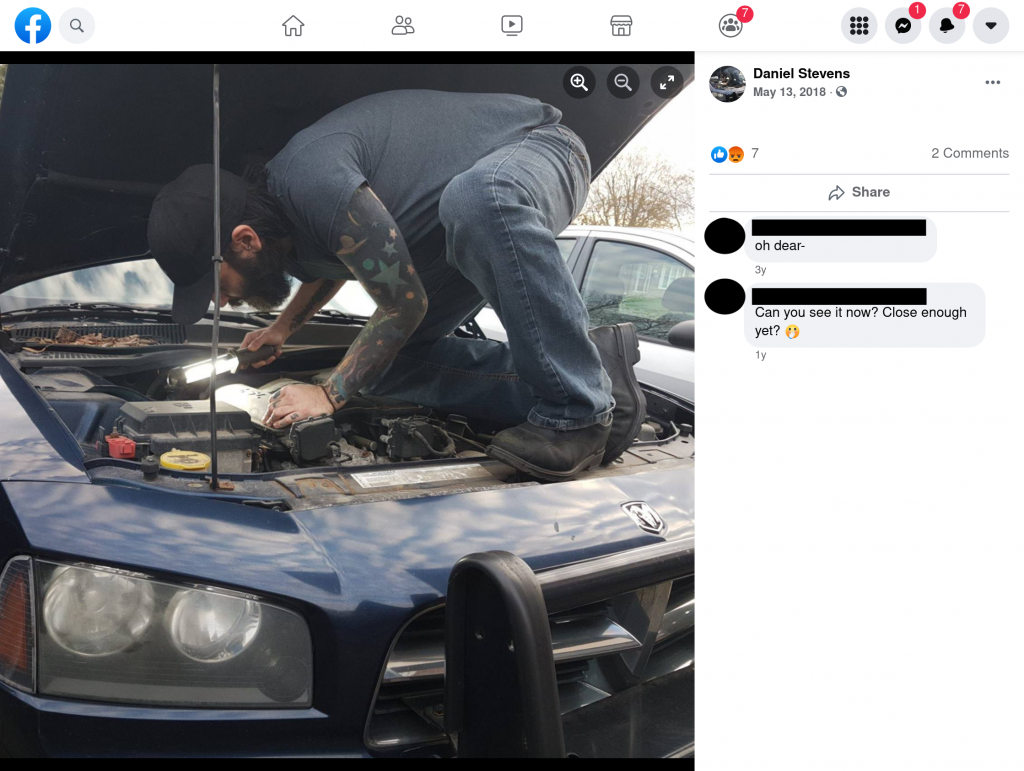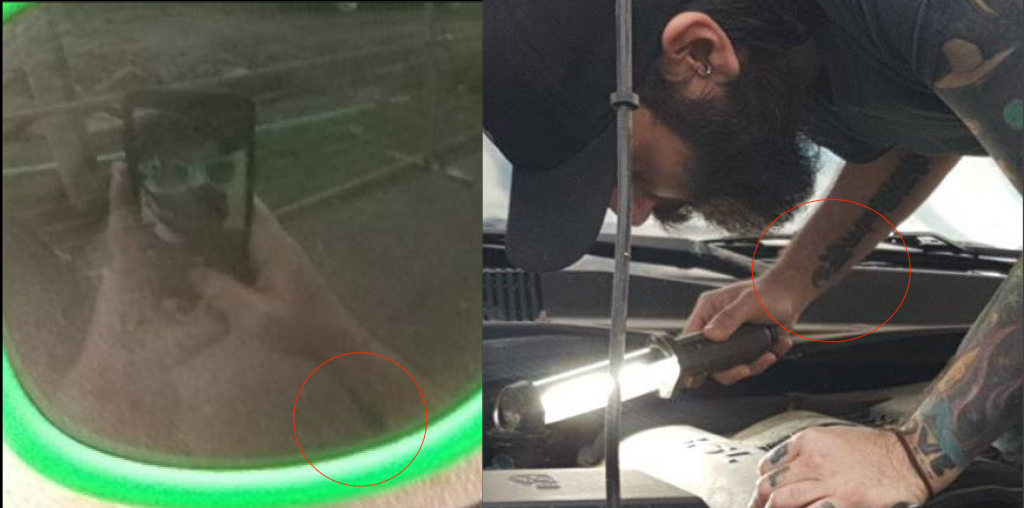 We were able to locate social media accounts for relatives of Daniel Stevens that were consistent with the many statements made by "Graf" about his family on Twitter and Poa.st that further confirmed our finding. In our previous article Jesse "Borzoi" Ogden made a comment, "The best advice I gave to someone on opsec is nothing is irontight especially if you know any women." But the fact of the matter is that "Anime Graf Mays," or rather Dan Stevens, has no one to blame for his exposure except for himself, and now he can he held accountable under his real name.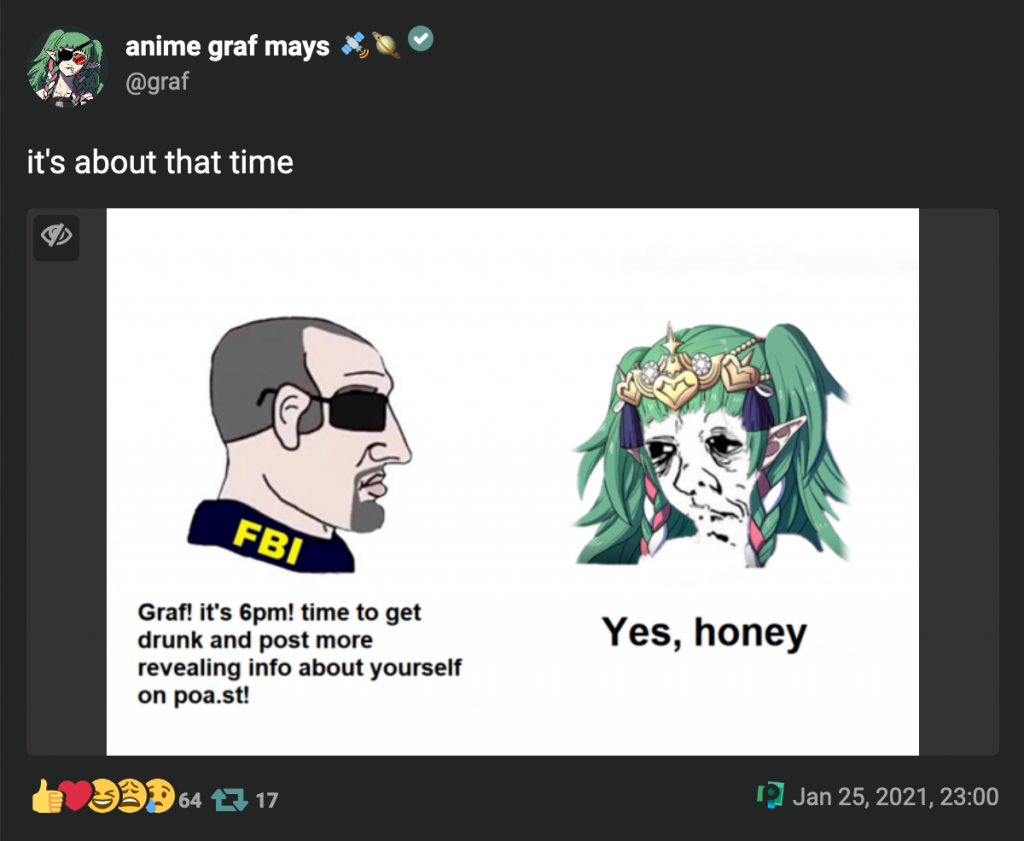 Say Hello to Daniel Stevens
Daniel "Dan" Stevens was born on April 4, 1986, as he frequently noted on both Twitter and Poa.st.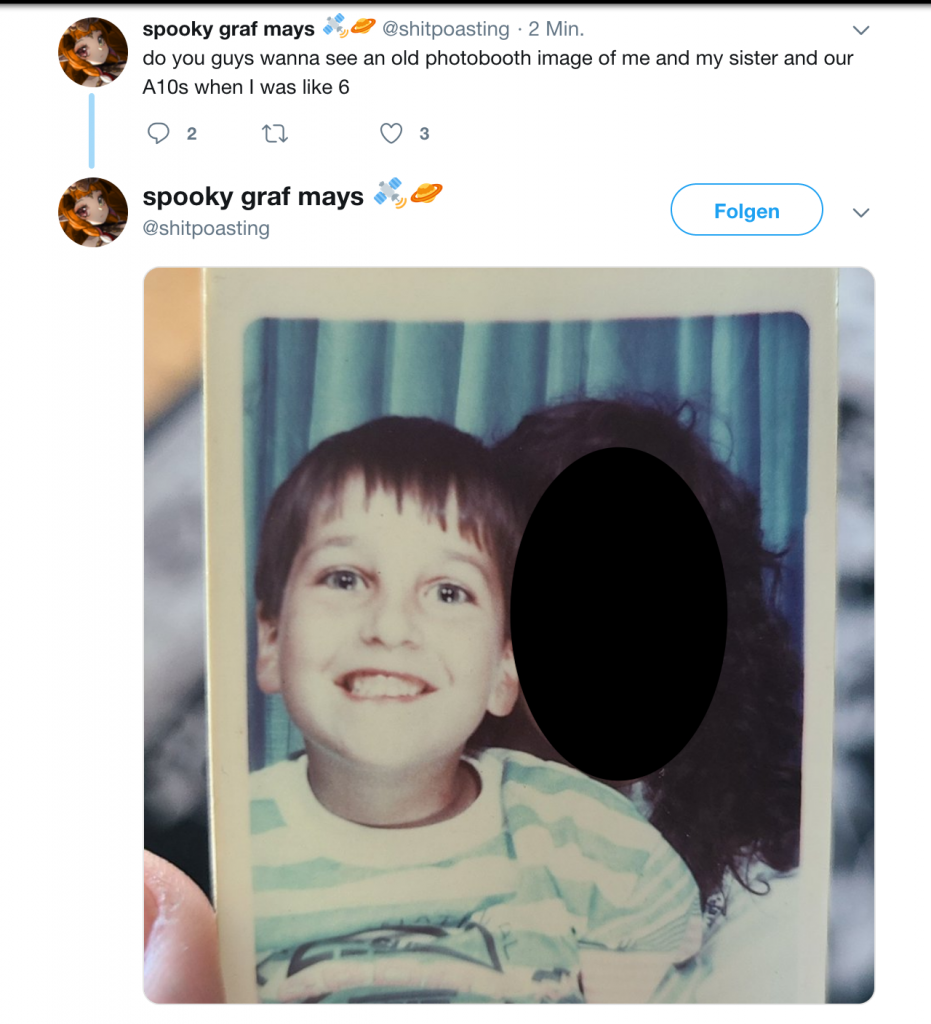 While he previously worked as a "mechanical engineer" for Denso, his primary career is that of a software developer, having developed games and was even once a developer for the controversial website 4chan.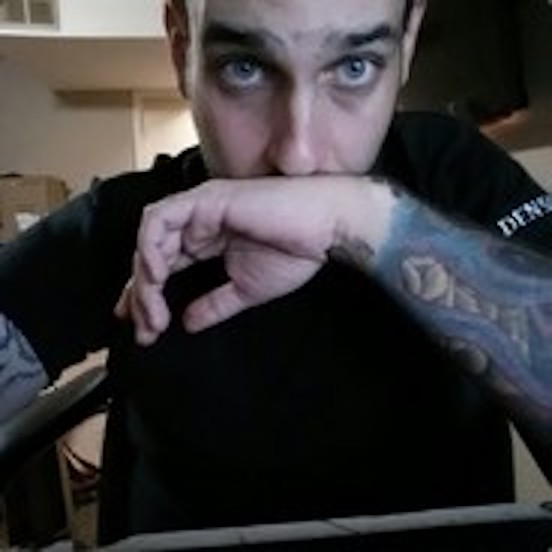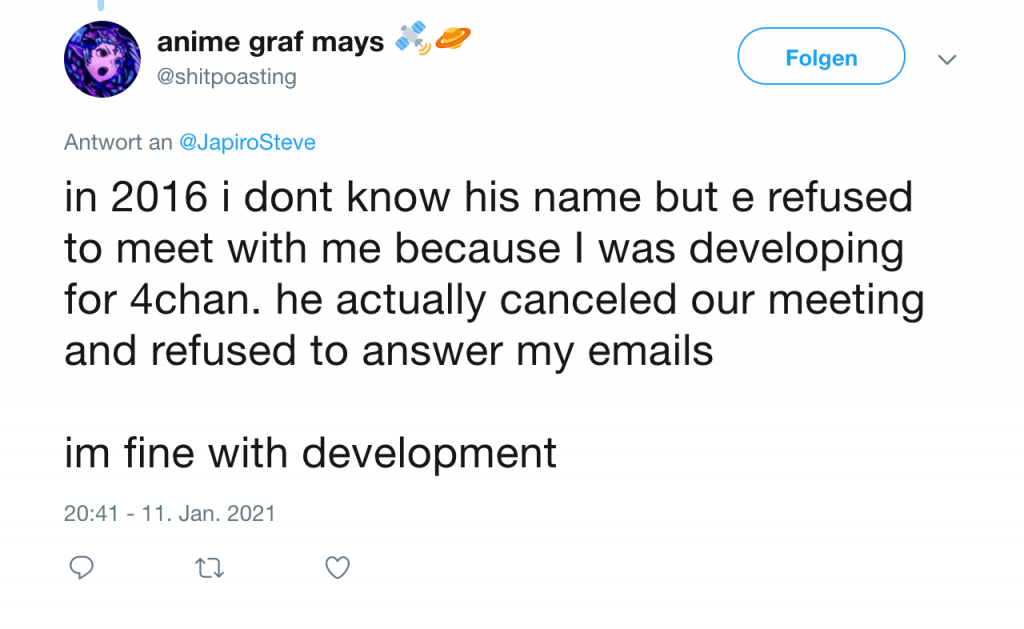 His latest venture was developing software for satellites launched by Canada's Department of National Defence and Arianespace, a job he got from his brother.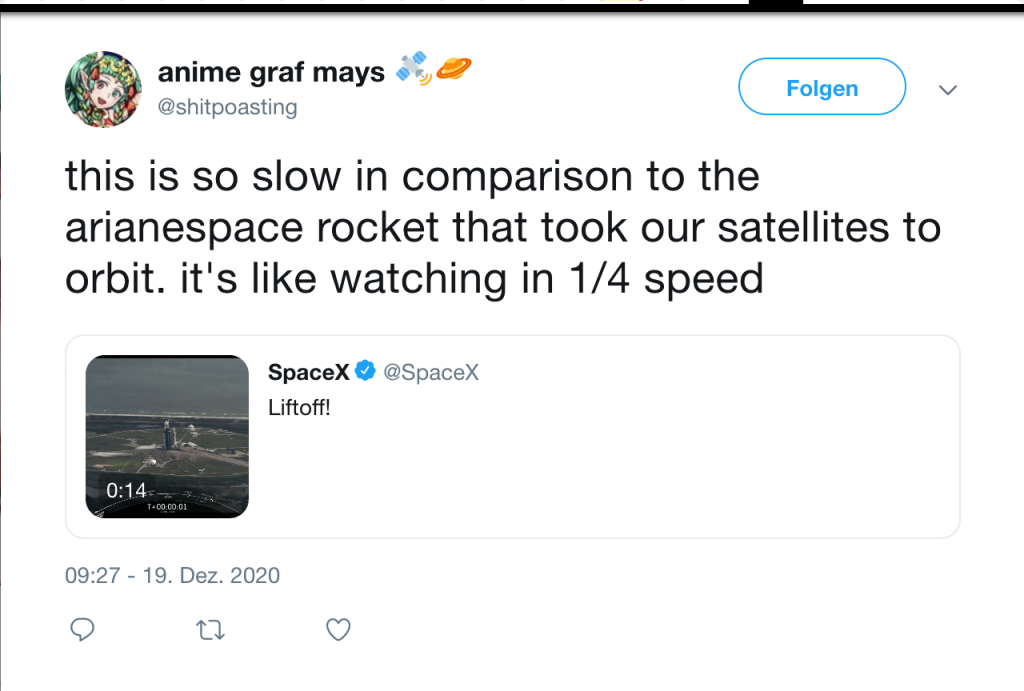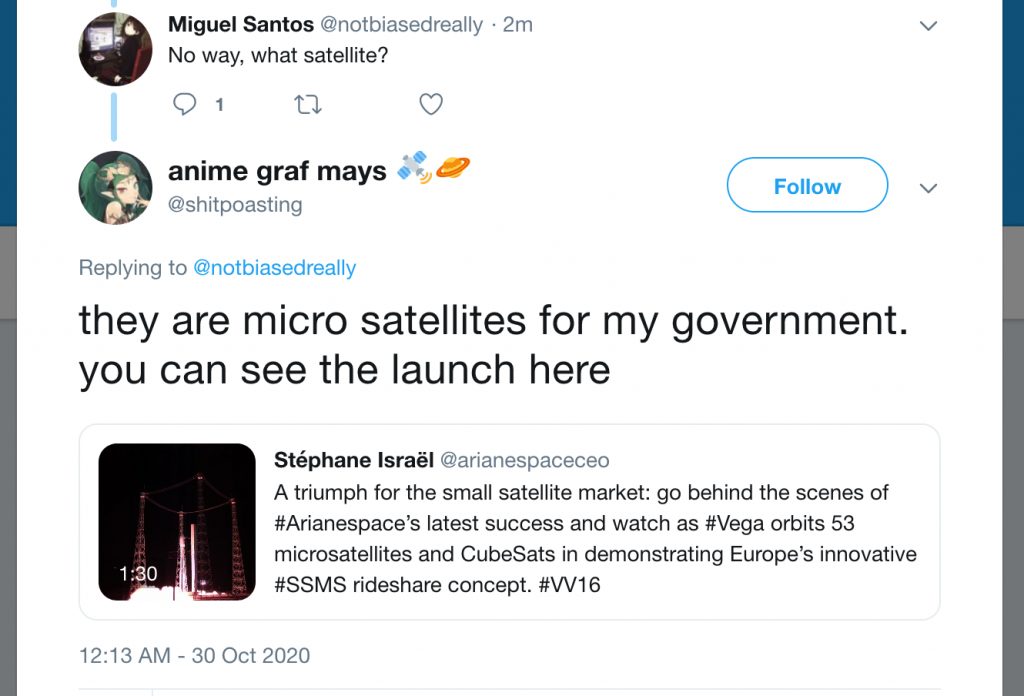 Stevens doesn't seem very appreciative to his brother for getting him the gig, but he was quick to brag about the money he's made from it on Twitter, as well as the value of his cryptocurrencies.
Stevens claims to have quit this job, choosing instead to live off of his earnings.

Stevens is also the owner of a number of domain names, some of them (unsurprisingly) purchased from Rob Monster's Nazi-friendly domain registrar Epik. Some of these domains include:
and a recently acquired domain that he seemed proud of
Stevens also stated that he was in the music production business and claimed to be mastering the audio for the new album from Toronto-based rock band Die Mannequin. We could not verify these claims, but if true Die Mannequin may wish to reconsider working with a antisemitic, homophobic, transphobic racist.
Daniel Stevens claimed to be a dual-citizen, but lives in Canada. While we won't disclose his precise residence, Dan can tell you himself: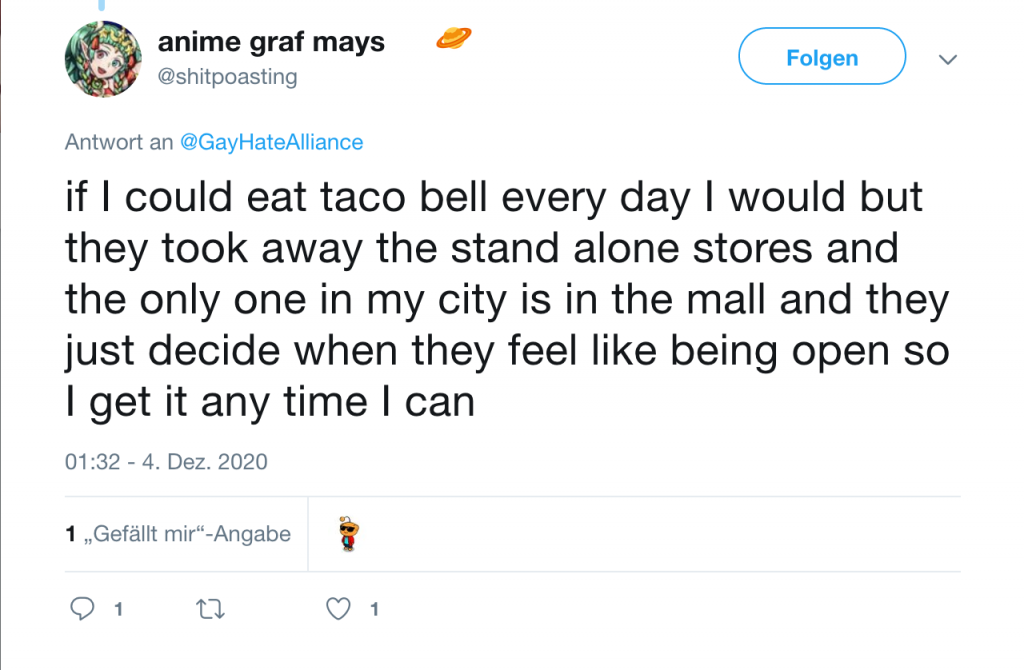 "P" for Poa.st; "F" for "Fail"
Daniel Stevens is an experienced software developer and network administrator and no doubt knows his business. However, it is quite apparent that Stevens is not as smart, as careful or as capable as he thinks he is. For one, he lost Cloudflare protection for the Poa.st domain for abusing their free tier.
This doesn't sound like the kind of thing a responsible website administrator would do. Additionally, Stevens proclaimed (incorrectly) that he had defeated the ability of archive websites to archive posts from his website.
Obviously, this isn't the case, evident by the many posts we have archived in this article. File this under "F" for "Fail."
In light of the new recent attention his self-proclaimed "most racist social media website on the planet" has received, Stevens posted:
i and by extension this website have no political leaning, this is not a 'dissident right' platform, this is a platform for people to speak on without fear of political censorship. if anybody tells you this website is right-wing they are wrong, including any publication that in future refers to this website as right wing — they are the most false and should be drawn and quartered for perpetuating this lie.

the reason all these websites appear as 'right wing' haunts is because they are the only voice silenced in any kind of media. you can thank the reporter who sent you here for that.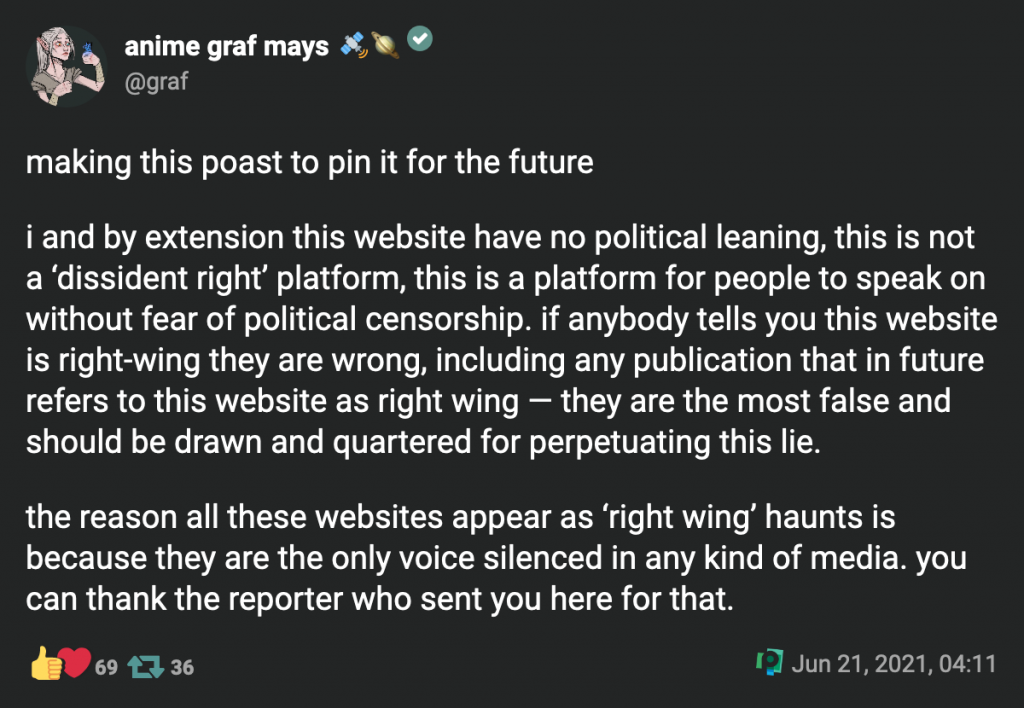 However,
posts like
this one:
i dont have a position on the holocaust because we all know it didnt happen the way it is constantly portrayed in media and 'history' but i will not censor debate about it for or against. denying the existence of something lacking credible proof =/= nazism

make it clear where Stevens' political convictions lie. Furthermore, Poa.st has attracted high-profile white supremacists like Matt Parrott of the now-defunct neo-Nazi Traditionalist Worker Party.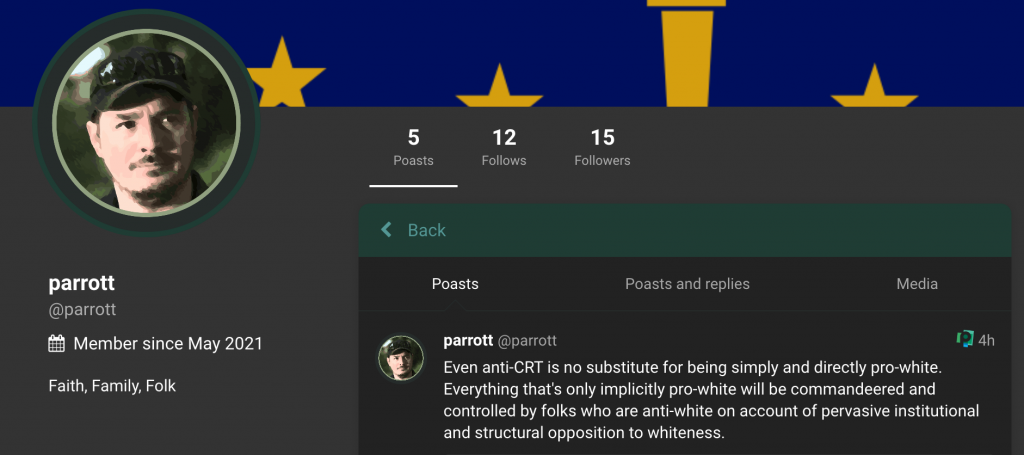 Frankly, it doesn't matter to us if the intent of Poa.st is explicitly "political" or not.  It's a vehicle for racism and we're putting it on notice.
So the next time someone thinks they can run "the most racist social media website on the planet" while hiding behind an anime profile pic and remain incognito, think again. Daniel "Anime Graf Mays" Stevens tried it and failed.