Isn't it funny how neo-Nazis and right-wing losers all seem to be connected somehow? First, we exposed fascist author and school teacher Ben Welton, a.k.a. the "Spooky Nationalist," who was an avid user of the hate-speech friendly social media site Poa.st. Then we exposed long time neo-Nazi pseudo-intellectual Jesse Ogden, known as Borzoi Boskovic in neo-Nazi podcast circles, also an avid user of Poa.st. Then we exposed the creator of Poa.st himself, Canadian Daniel Stevens, who likes to hide behind the alias "Anime Graf Mays" and an anime profile image. Crazy how this all works out.
In this report we expose another user of Poa.st, but this one also has connections to a neo-Nazi pedophile we mentioned in our exposé of the Romanian Jewish neo-Nazi Diana Brancoveanu, aka "Pikachu." While the neo-Nazi podcasting and social media world might know this neo-Nazi knucklehead as "Distolero," the city of Cleves, Ohio knows him as Matthew Marvin Distler. Let's begin.
"I got kinda scared …"
"Distolero" came to our attention when he responded to a message on Poa.st by Dan "Graf" Stevens who was working hard to make himself feel better about being so utterly owned by antifascists when we exposed him. "Distolero" responded with:
it's crazy they're allowed to just fuckin do that. I got kinda scared when they were taking down my old co-host and some people I knew

…which led us to wonder, which "old co-host" was he talking about?
We assumed when he wrote "co-host" he was talking about a podcast. But when he's not hosting a neo-Nazi podcast, "Distolero" enjoys spending time belittling and dehumanizing Jews, non-whites, LGBTQ+ persons and other minorities across the internet.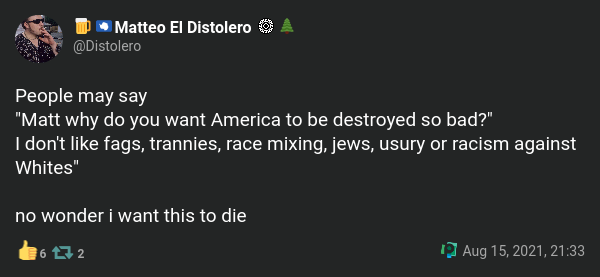 While Poa.st is "Distolero"'s favorite social media platform, since Dan "Graf" Stevens encourages racism on his site, he has had a frequent presence on Twitter as well, using the handles "@Distolero_Verde," "@RightWingRicky2" and "@Distolero88," among others.
"Distolero" is also a fan of Jesse Ogden, a.k.a. "Borzoi," and we found him boosting posts by Ogden when we located his Facebook page.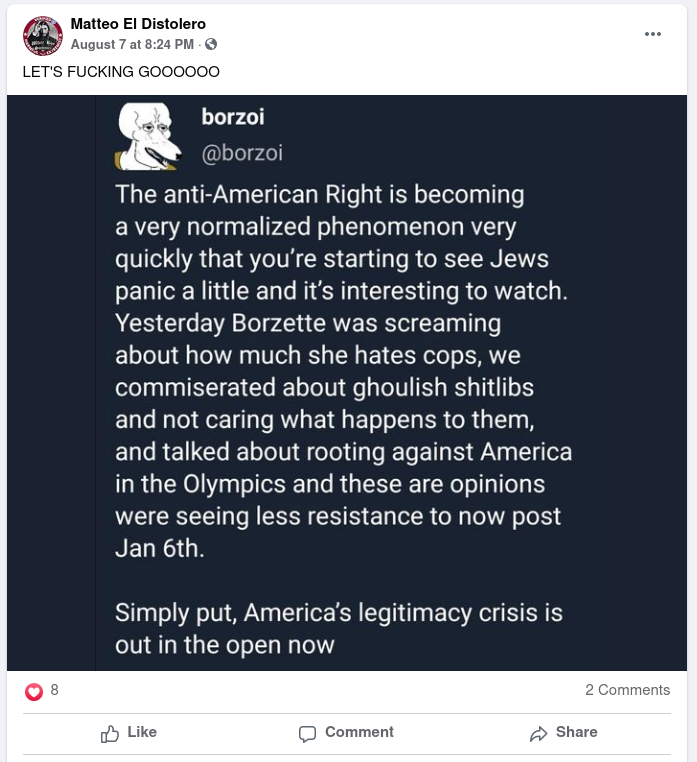 Clearly, the world of online, internet Nazis is a close-knit one. You kick over one rock and you're bound to find other rocks to kick over. In this case, "Distolero" was scared of something we had gotten close to earlier. Fortunately, we take copious notes.
" … when they were taking down my old co-host and some people I knew"
After examining our notes we realized "Distolero" was talking about the neo-Nazi knifemaker, podcaster and pedo-perv William Rehovsky, a registered Nebraska pedophile sex offender who goes by "@bigoldbladesmith" on Twitter and hosts the Exodus Americanus-affilated podcast The Skinwalker Tapes.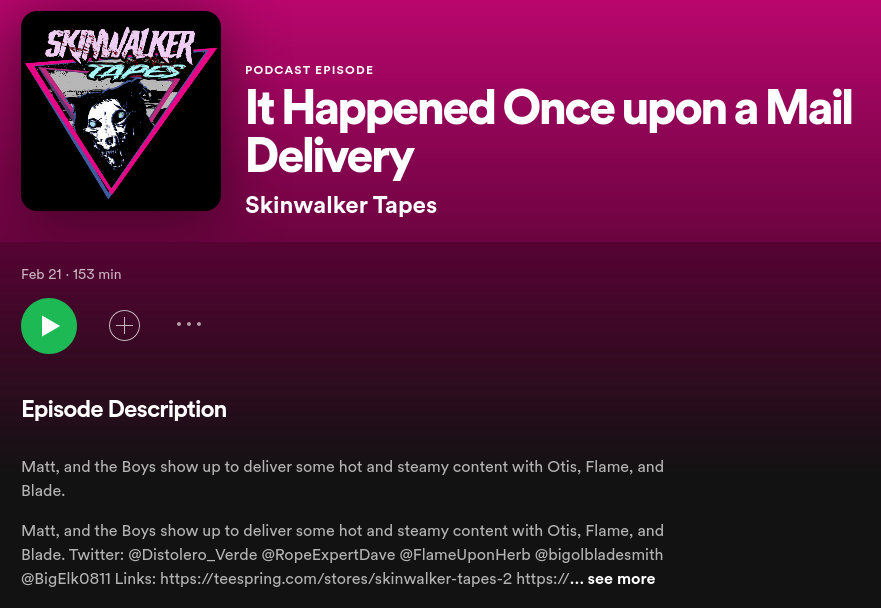 "Distolero" appeared as "Matt" in the show description of podcast platforms like Spotify. He has also made many guest appearances on other neo-Nazi podcasts under the name "Matt."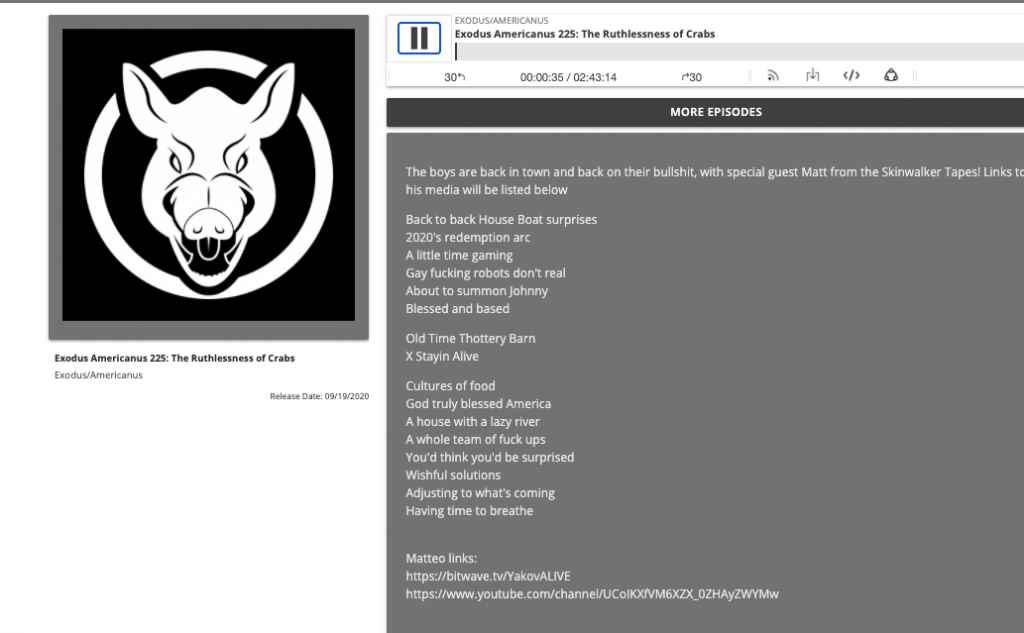 While fleshing out the details, Matt/"Distolero" very helpfully gave us a clue to his surname:
i had the Distillers pop up in my music feed with the song "Drain the blood" (Their band name is extremely close to my actual surname stop fronting faggots) and now i realize how 90s punk bands are such beggy faggots

Matt was generous with this clues. He even let us know that he was a long-time Ohioan:
Tell me Ohio isn't involved in everything…If my ancestors didn't come here in the 1800s and make this our home i'd fucking leave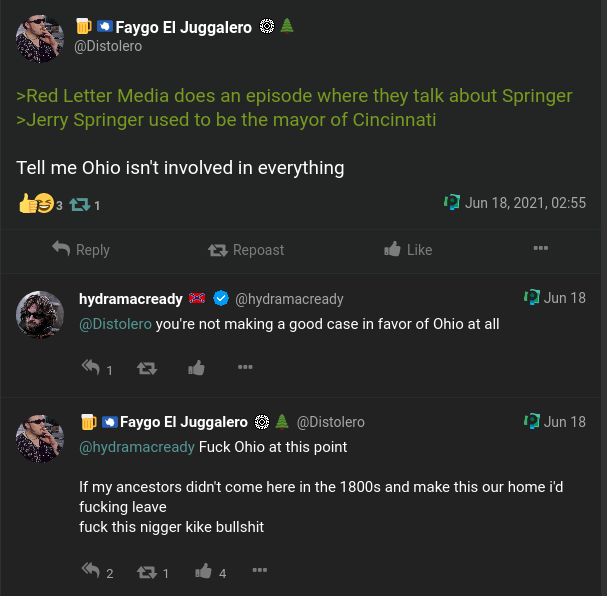 It took us a few seconds to find him on Facebook under one of his other aliases [pro-tip: aliases don't help when your real name is in the URL].
Matthew Marvin Distler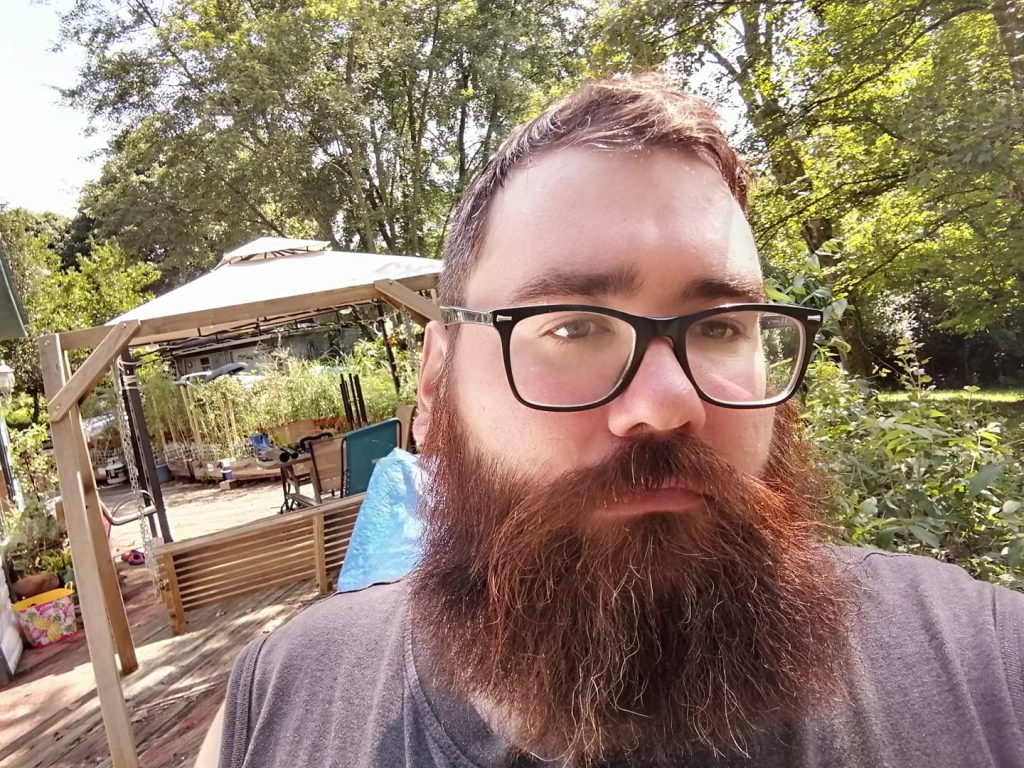 Matthew Marvin Distler, born May 5, 1989, is a Cleves, Ohio resident, according to public records. Examining a photo Distler had posted on his Instagram page confirmed that his residence according to public was fairly current.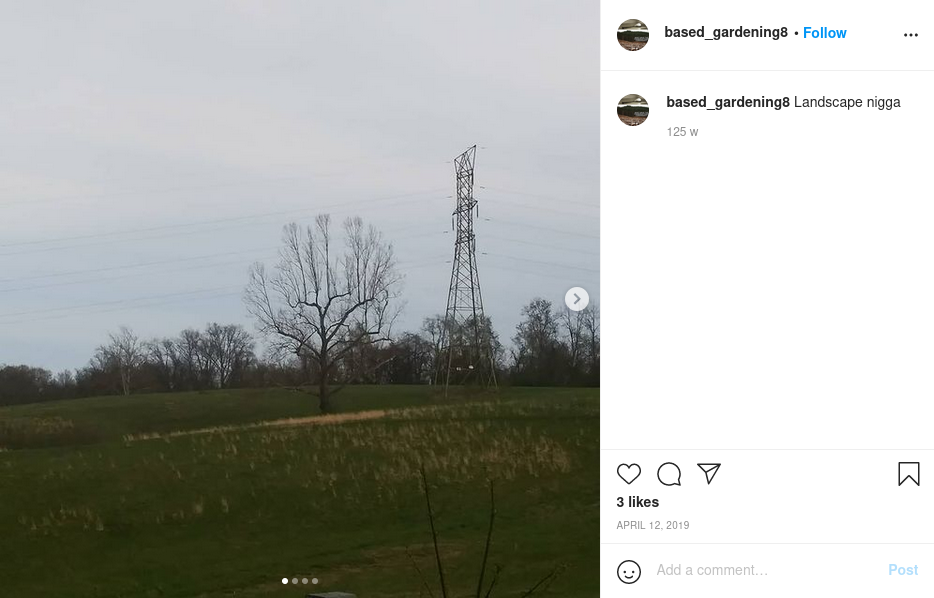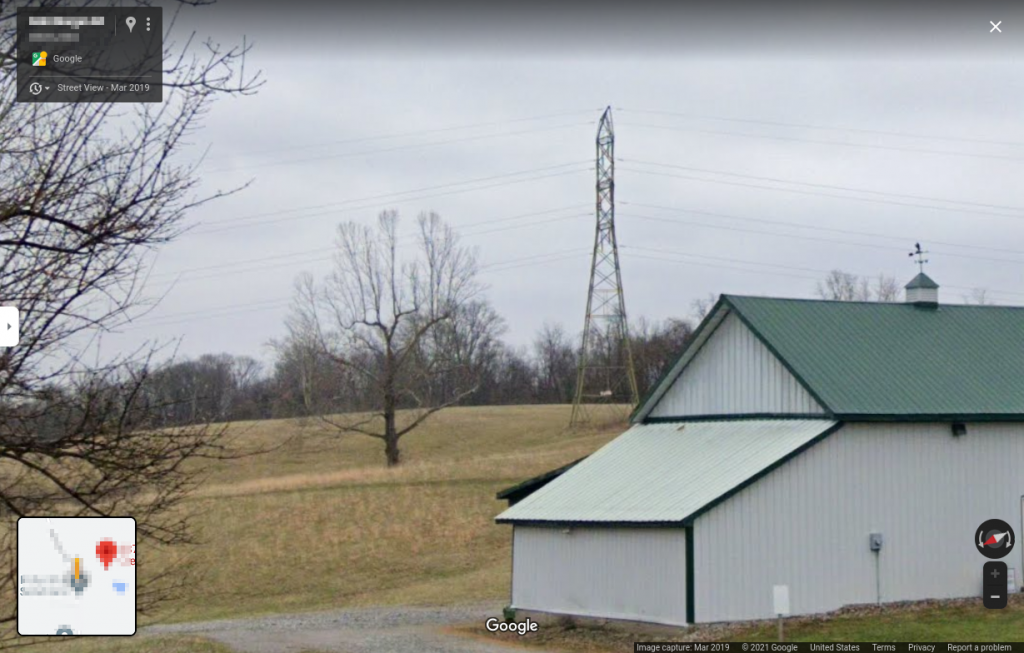 Not coincidentally, Distler's residence on record is not far from the published address of the post office box the Skinwalker Tapes uses to accept donations in Miamitown, Ohio.
We also located another Twitter account belonging to Distler. This one pointed to another Facebook page using the vanity URL "mattdstylee."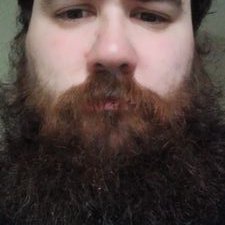 While this Facebook page appears to have been removed, "mattdstylee" was a common screen name used by Distler, as indicated by this post he made on the Bluelight.org forum [archive]: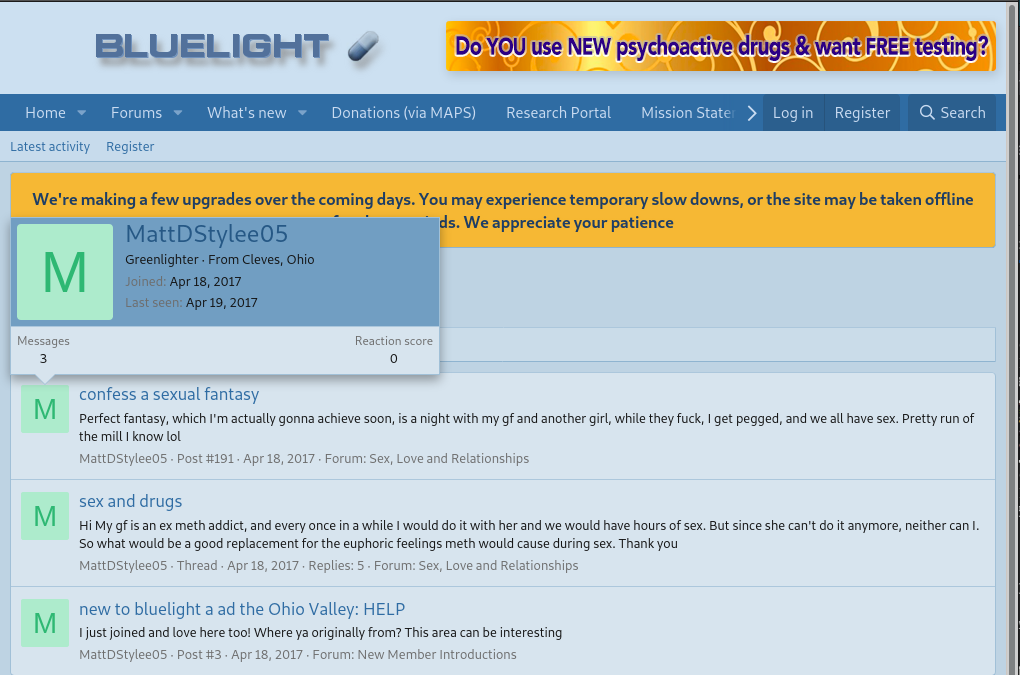 As you can see below, Matthew Marvin Distler has a very distinctive look.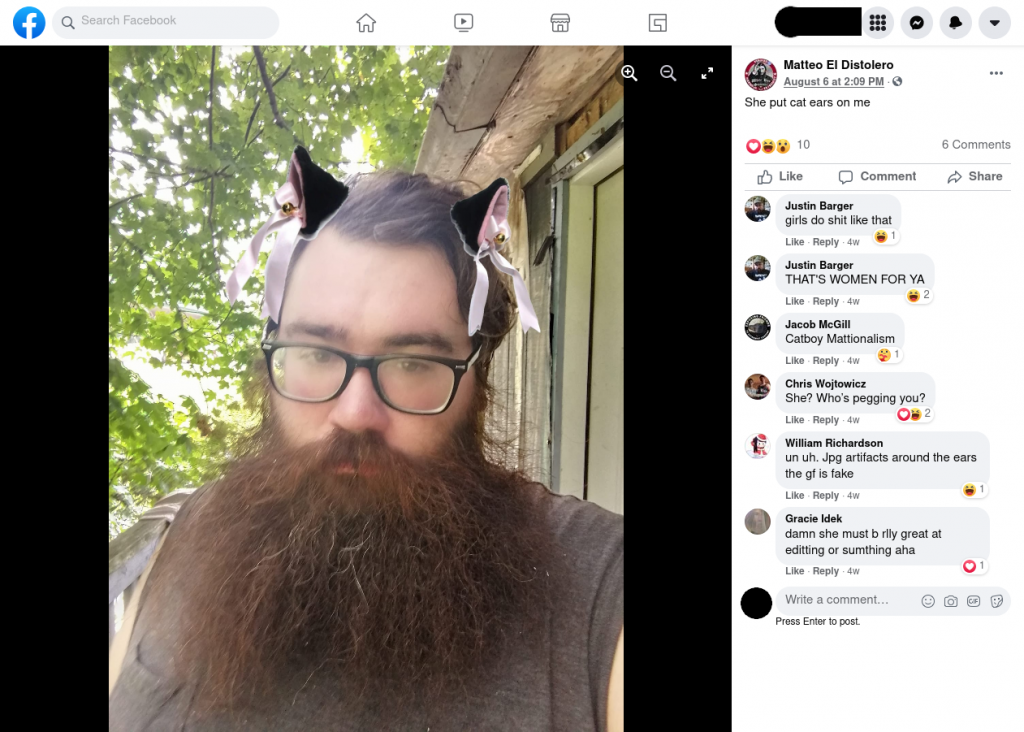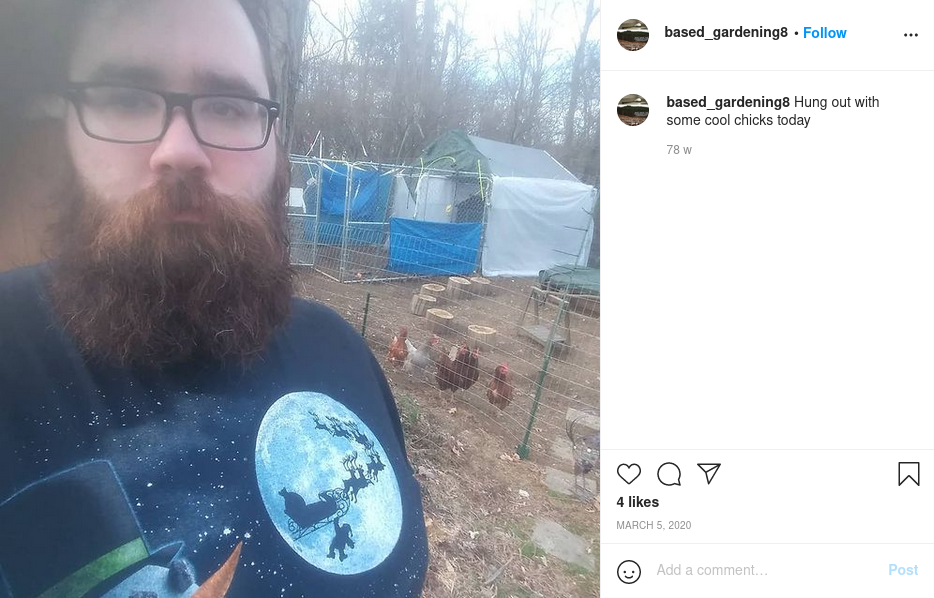 Wonder what he looked like without the beard? We did too. That's why we located his old Myspace profile.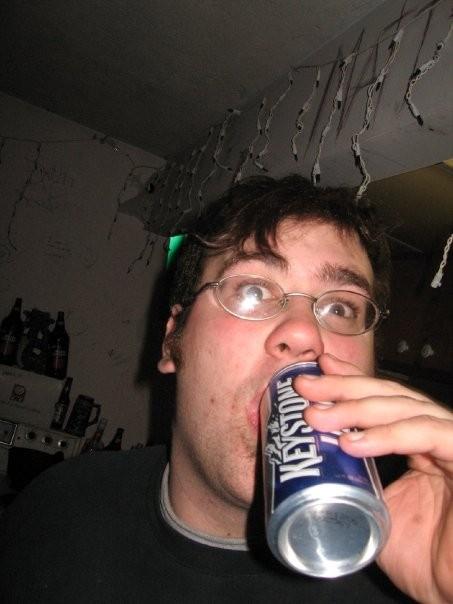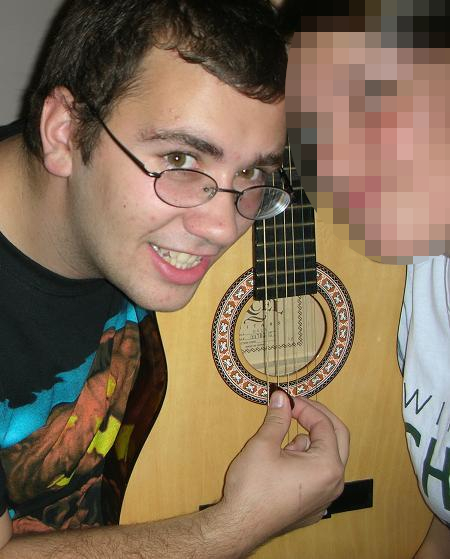 We were left wondering how this fresh-faced, bespectacled youth turned out to be such a toxic neo-Nazi creep. Looking at Mama Distolero's Facebook page, we saw that the apple didn't fall far from the tree.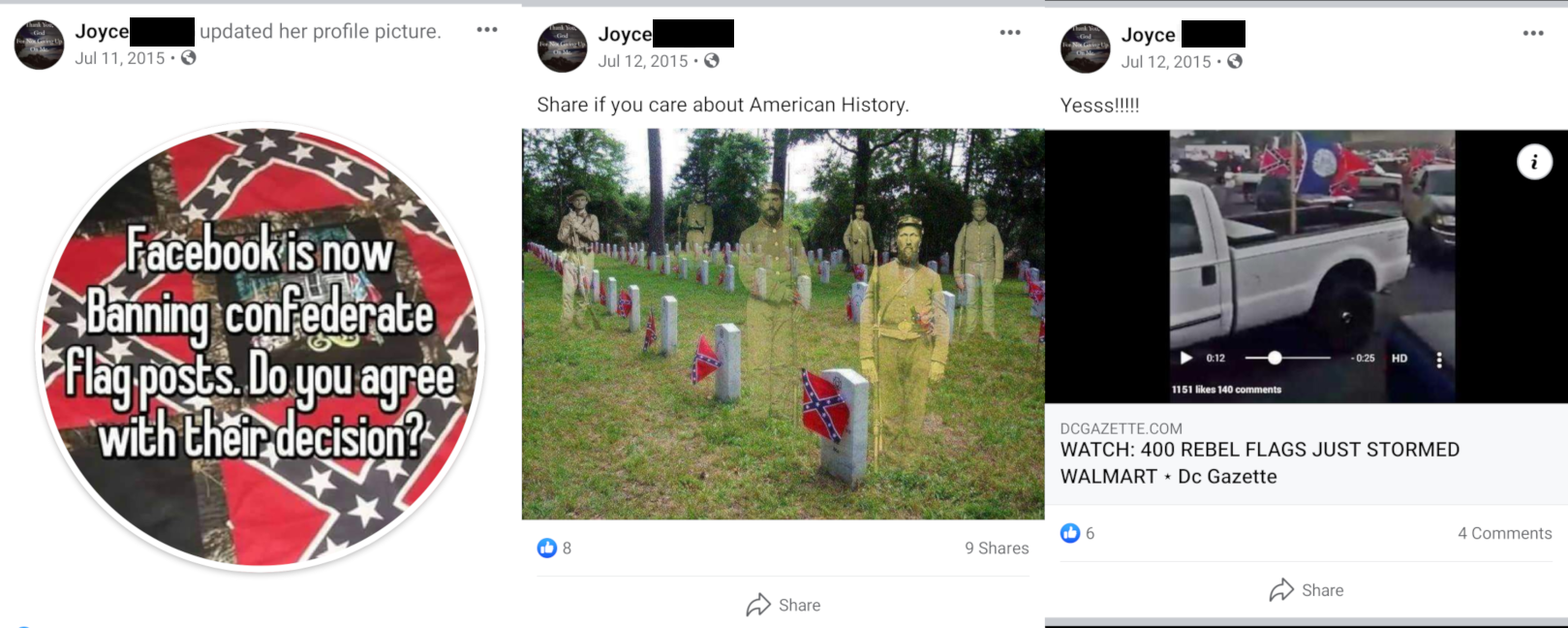 Conclusion
All these neo-Nazi boneheads are connected by a few degrees of separation. We find those connections, join the dots, and chumps like Matthew Marvin Distler can no longer hide behind their aliases and online personas.
By the way, did you know that Distler's neo-Nazi podcast The Skinwalker Tapes is available on Apple Podcasts and Spotify? If you don't like that, let them know!
---