Five days after neo-Nazi James Fields drove his car into a crowd of antifascist and civil rights marchers in Charlottesville, killing one and injuring nineteen, a neo-Nazi University of Nebraska student named Dan Kleves set up a Discord server called "Pony Power," the purpose of which was to gather information on antifascist activists and "dox" them, or expose their personal information. Unicorn Riot reported on the content of these web discussions when an anonymous informant provided leaked chats to them.
Besides Kleves, several other participants of the "Pony Power" server have been identified, like Shandon Simpson, who posted as "Zolatanus" and is an Ohio National Guard soldier who identifies as a neo-Nazi, as reported by Unicorn Riot.
One very active participant who posted as "Lupus_Dei-NC" appointed himself as the main assembler of their dox material and placed this information on paste sites for public viewing. Most of these pages on various paste sites have now been removed, but while they were live they contained the personal information for dozens of supposed antifascist activists. We are pleased to report that we have identified the person behind the "Lupus_Dei-NC" screen name, even though knowledge of his true identity is far from reassuring. We discovered this neo-Nazi with violent ideas and hatred toward Jews, racial minorities and LGBTQ persons is also an active duty soldier in the United States Army.
"Úlfhédnar"
The discovery of "Lupus_Dei-NC"'s identity actually began following the disclosure of the Iron March leak in November 2019, when a database belonging to the neo-fascist website was released, thereby exposing information for thousands of users of the forum. One of those users went by the screen name "Úlfhédnar" and claimed to be a US Army soldier stationed at Fort Bragg, North Carolina. In an introductory post, "Úlfhédnar" explained his political views. He wrote:
Good morning all. I'm here to introduce myself and shed some light as to why I joined. I've gone through a few changes in political outlooks, but I've come to the conclusion that National Socialism is where I finally belong. I began as a nationalist, but began to see that just having pride in your country and your heritage wasn't enough, and economically was explanatory enough, so I became a fascist, and after awhile began to see that those around me didn't view the idea of race as importantly as I did, and that began my change into a NatSoc. I'm a US soldier, 20 years old, and I'm looking to find others who hold the same values and ideals I do; which is hard these days. I've been active in the Generation Identity movement, and other various European and N. American youth groups. Nice to meet you all, I'm sure I'll be here often and hope to get to know a few of you. Warm regards, Loup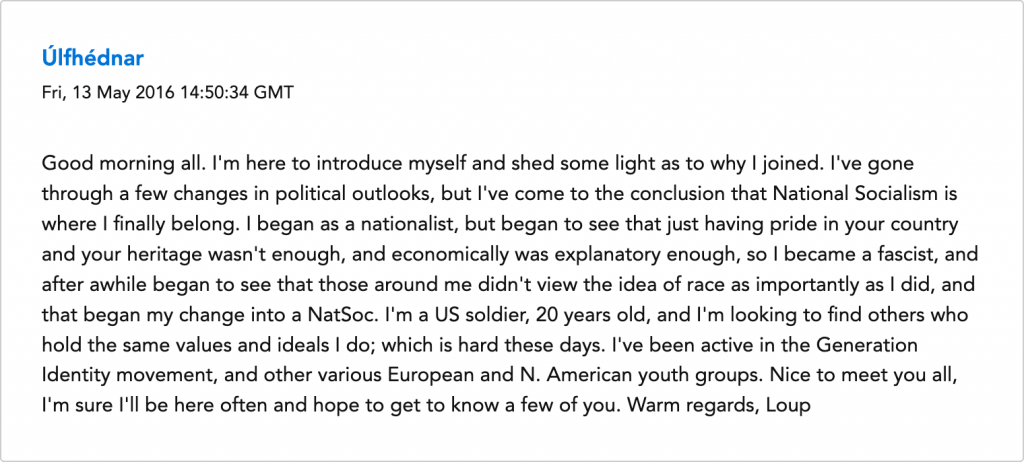 In other posts he wrote about his experience in the military:
US soldier here, if any of you guys considering military service have any questions just pm me; I'd be happy to tell you what I know. As for my experience personally; it's been great for me. I've improved myself physically a great amount, (being paid to workout? Hell yeah) and mentally and spiritually I've only become strengthened in my beliefs. The opportunities presented to you are vast, from learning skills such as self defense, survival, and marketable job skills, you'll really benefit from it. I plan on doing the air assault course here in the next few months as well. Lots of cool stuff you can't do as a civilian

He further disclosed that he was located at Fort Bragg in Fayetteville, NC:


In private messages he provided more information such as his military unit and even a personal phone number, the area code of which corresponds to the Snohomish County area of Washington state:

In a private message to Iron March user "Odin," whom we now know is Atomwaffen Division leader Brandon Russell, now sentenced to five years in prison on federal charges for explosives, "Úlfhédnar" expressed a desire to join neo-Nazi groups: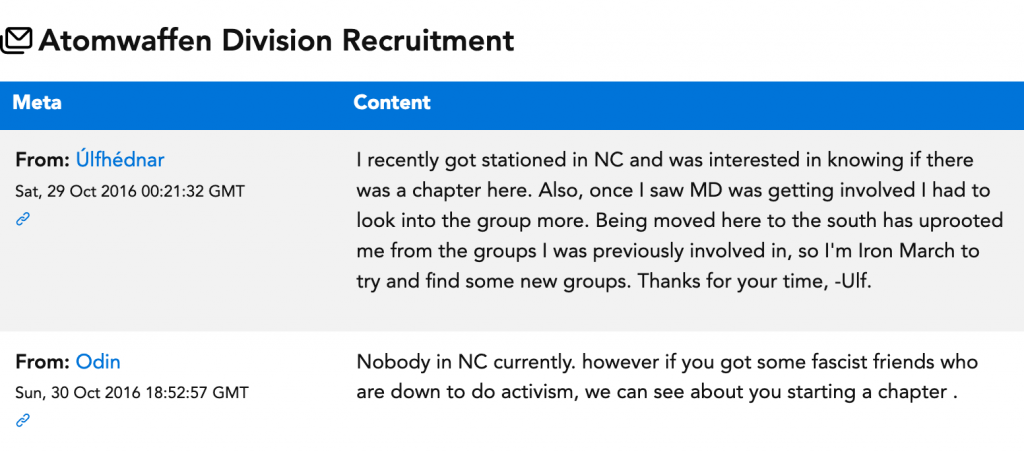 In other private messages "Úlfhédnar" indicated that he had been following extremist groups on the internet for a considerable time. In the message pictured below he sought membership to "MD Vinland," a North American offshoot of the European-based "Misanthropic Division":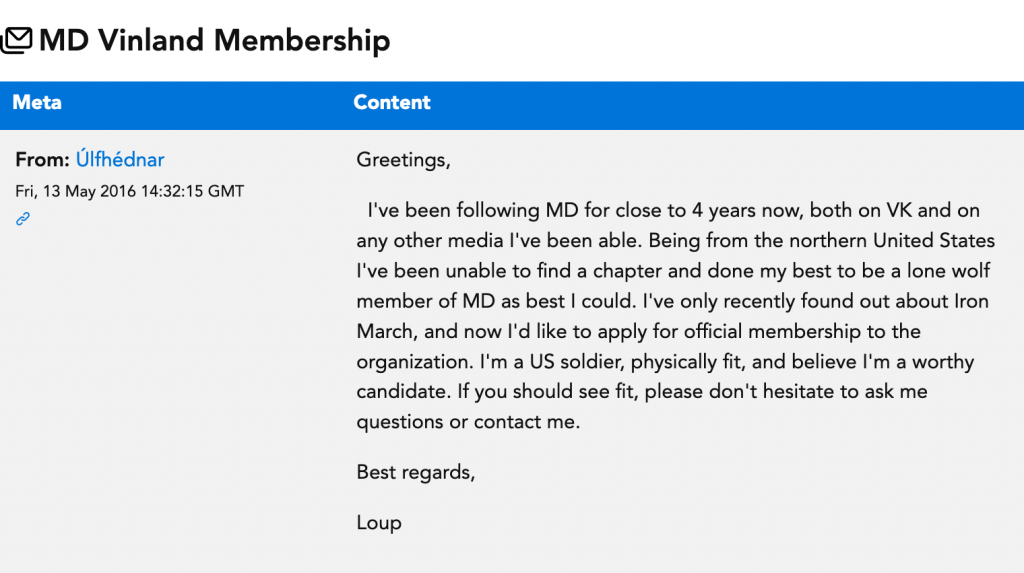 Like other users of the Iron March forum, "Úlfhédnar" never expected the database to be leaked and that his information would be exposed. Because of this leak we learned a major clue to "Úlfhédnar"'s identity: he provided his name in the email he used to register for the site, "vincesalvadalena@yahoo.com." We soon discovered that he was not only "Úlfhédnar" but that he also operated under another name in other prominent leaks of neo-Nazi chats.
"Lupus_Dei-NC"
The Iron March leak occurred in November 2019. Before that, however, Unicorn Riot released leaked neo-Nazi Discord chats, which featured material from 2017 on. In these leaked chats was a user who used the screen name "Lupus_Dei-NC" and who shared many of the same attributes of Iron March user "Úlfhédnar." The similarities were too close to be coincidences. Both were US soldiers stationed at Fort Bragg:
Both claimed to be in a signal battalion. Recalling "Úlfhédnar"'s message on Iron March where he claimed to be in "50th Expeditionary," "Lupus_Dei-NC" states on Discord:

And like "Úlfhédnar," "Lupus_Dei-NC" claims to be from the Pacific Northwest region:
From this information we concluded that the Iron March user "Úlfhédnar" and the Discord user "Lupus_Dei-NC" were the same person. A later post on Discord by "Lupus_Dei-NC" gives us a clue to why he left Iron March:
Vince Anthony Salvadalena
When we researched the name "Vince Salvadalena" we encountered further instances that supported our conclusion that this is the name of the individual behind these two online personas. Public voter registration records point to a VINCE ANTHONY SALVADALENA born on September 18, 1995 with a residential address in SNOHOMISH, WASHINGTON, but with a mailing address of FAYETTEVILLE, NORTH CAROLINA.
Statements by "Lupus_Dei-NC" in the Discord leaks also support our conclusion that Vince Salvadalena is his real identity. At one point he posted a screenshot of group text message from his cell phone to the chat: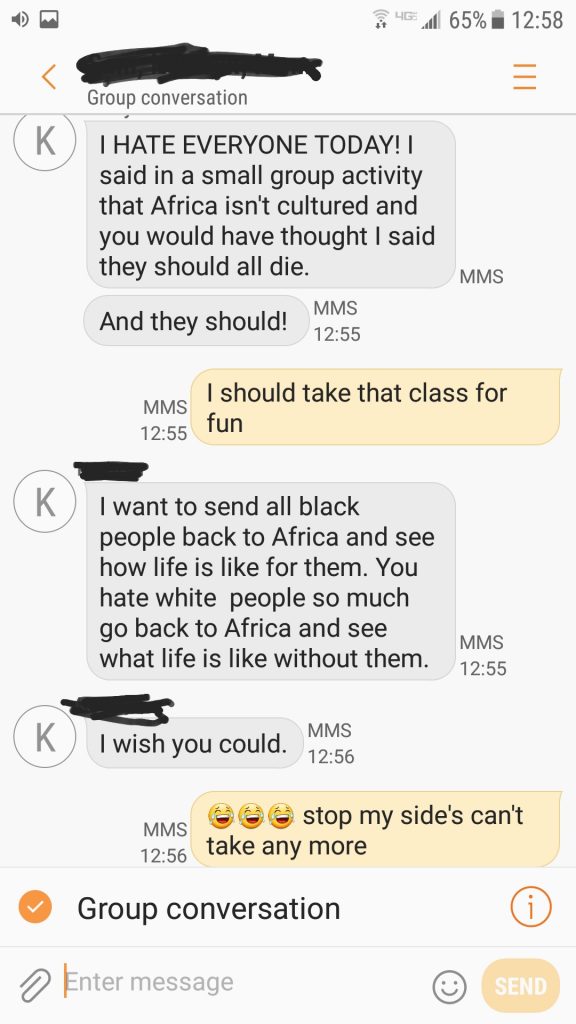 This is consistent with what we know of Vince Salvadalena. He does indeed have a brother who was in the army at the time serving at Joint Base Lewis-McChord in Washington state and who was engaged to be married at the time. The names in the screenshot are visible enough through the poor redactions to make a clear connection.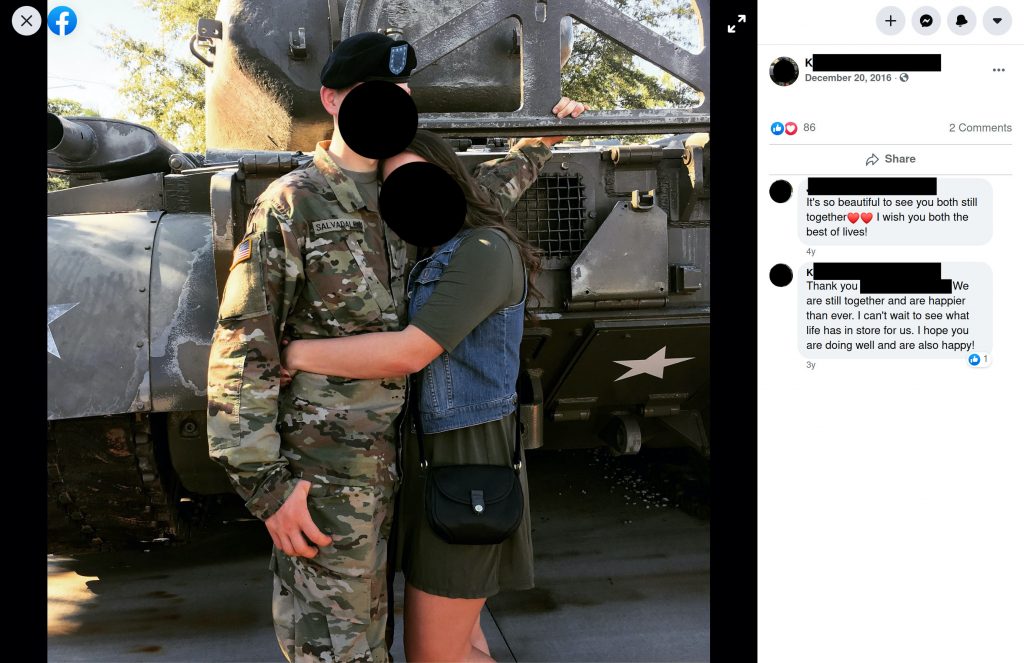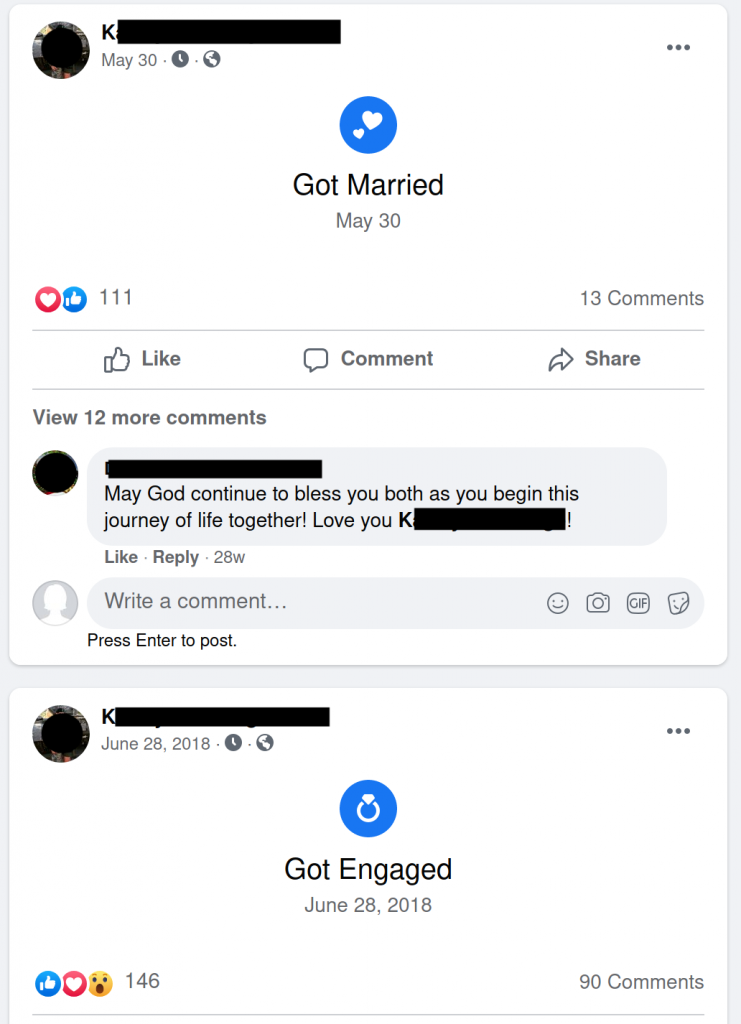 "Lupus_Dei-NC" also stated that he had many family members that were in law enforcement or were first-responders:

We located a program to the 47th Annual Massachusetts Italian American Police Officers Association Awards Banquet (May 23rd, 2015) online and found Vince Salvadalena named as a son of a King County Washington sheriff deputy: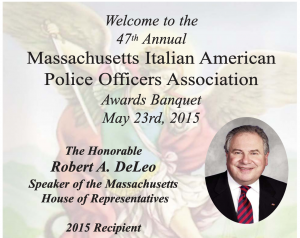 A search through publicly available salary records found that as of 2019 there was indeed a M______ Salvadalena employed by King County as a police officer (deputy).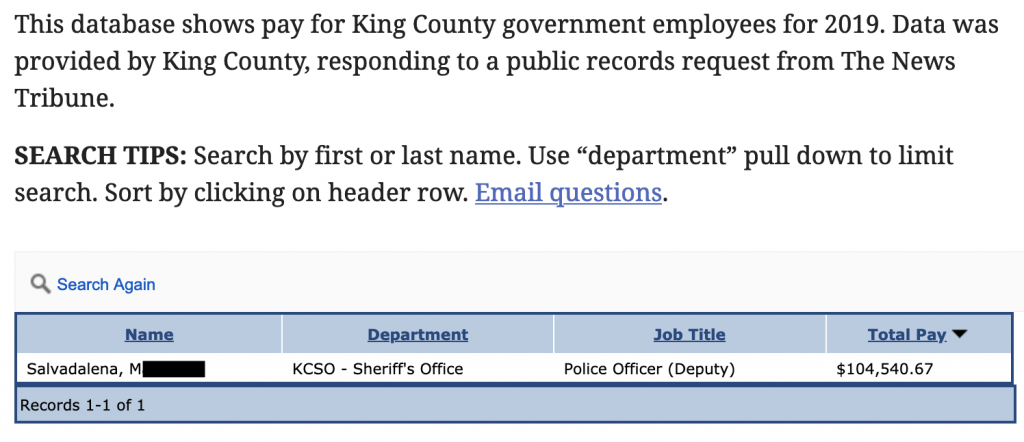 "Úlfhédnar" on the Iron March forum indicated that he was about to begin the army "Air Assault school," a ten-day course of instruction on helicopter cargo transportation, among other things. Statements made later on Discord by "Lupus_Dei-NC" show that he had completed this course.

We found photos on the Facebook page of his unit indicating that he had in fact graduated from the course. [Although these are public posts we have obscured names and faces of uninvolved persons as a matter of course.]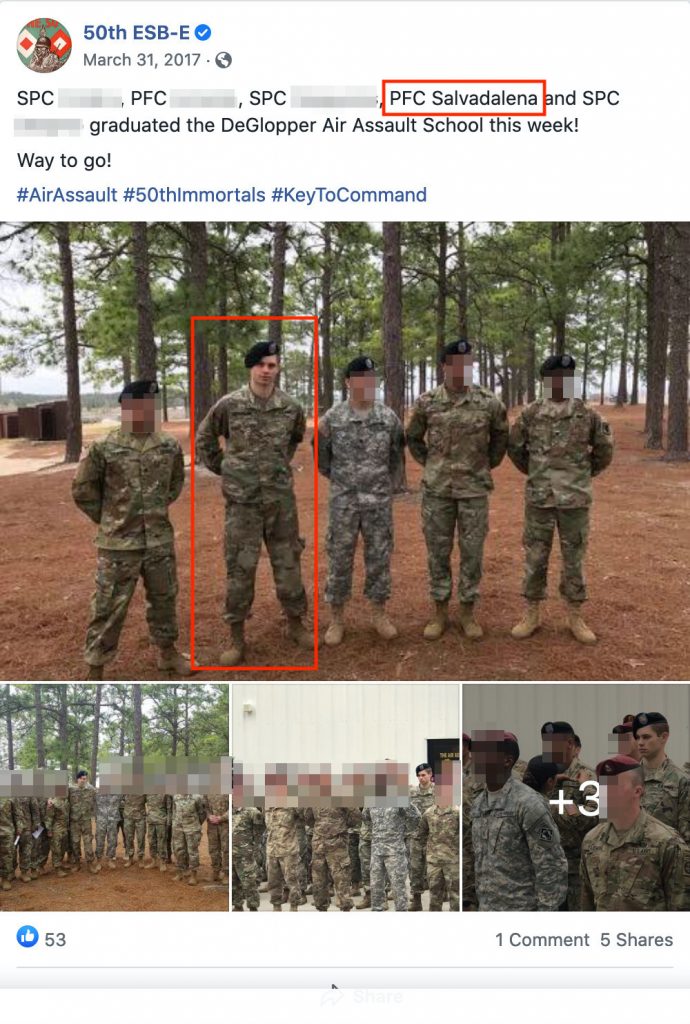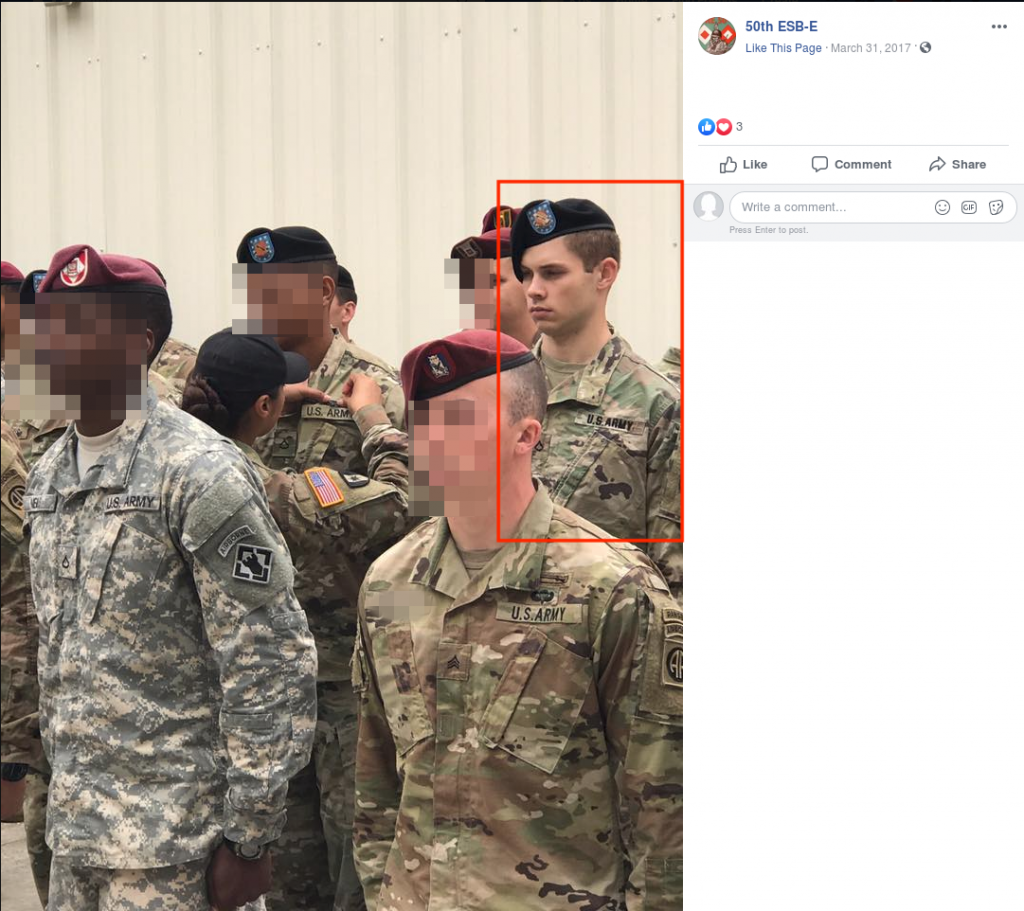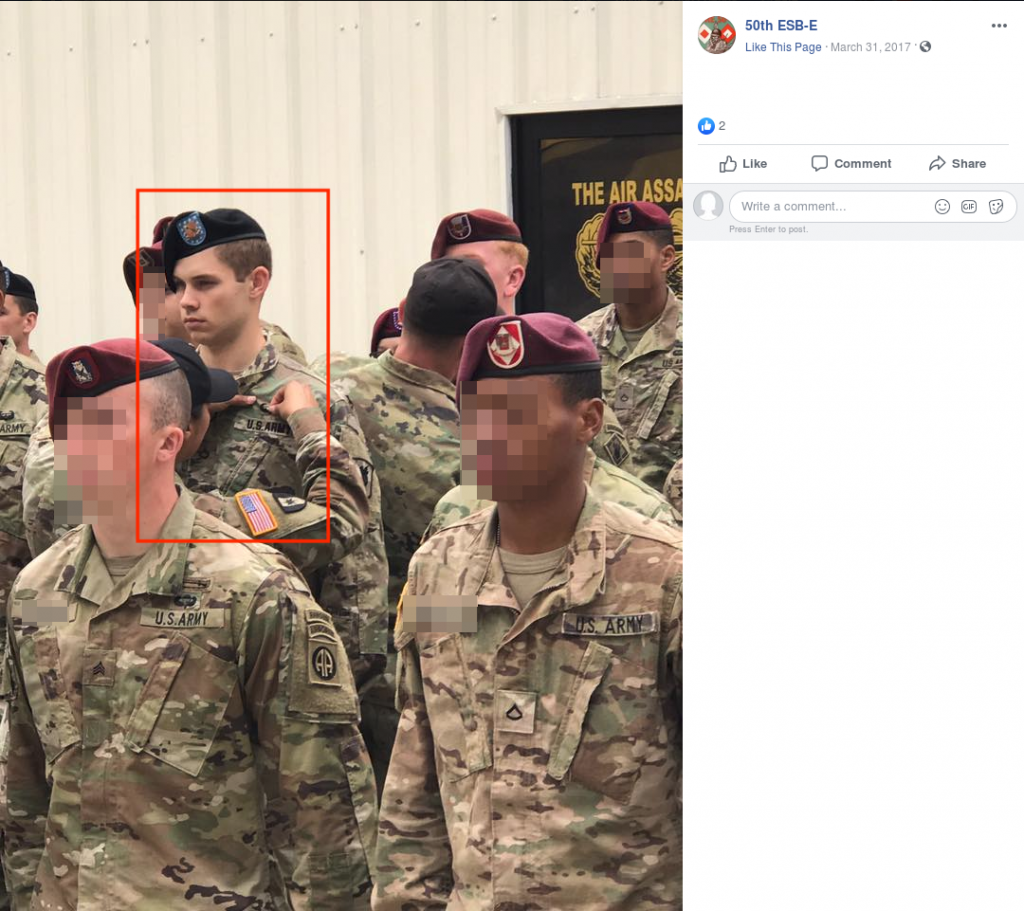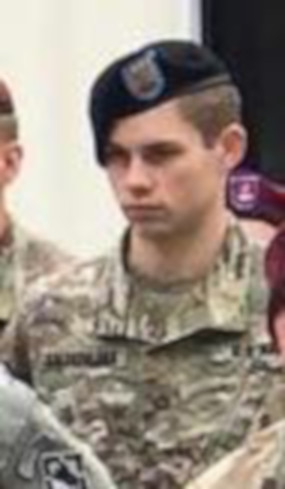 We are confident that we have correctly identified the individual known as  "Úlfhédnar" and "Lupus_Dei-NC."  As "Lupus_Dei-NC" on Discord, Salvadalena's racism and hatred was blatant and extreme.


Pony Power
"Lupus_Dei-NC" was a key participant in the "Pony Power" Discord chat server set up by then University of Nebraska student and known neo-Nazi Dan Kleves, writing under the name "I Am Not A Gerbil." Others in the relatively small (50 users) invite-only chat server were well known neo-Nazis like Dillon Hopper (writing as "White-PowerStroke (Dillon)," founder of the now-defunct Vanguard America and "Timmy Matlock" (an alias; writing as "oxycolton"), a Daily Stormer contributor and friend of Andrew "Weev" Auerheimer.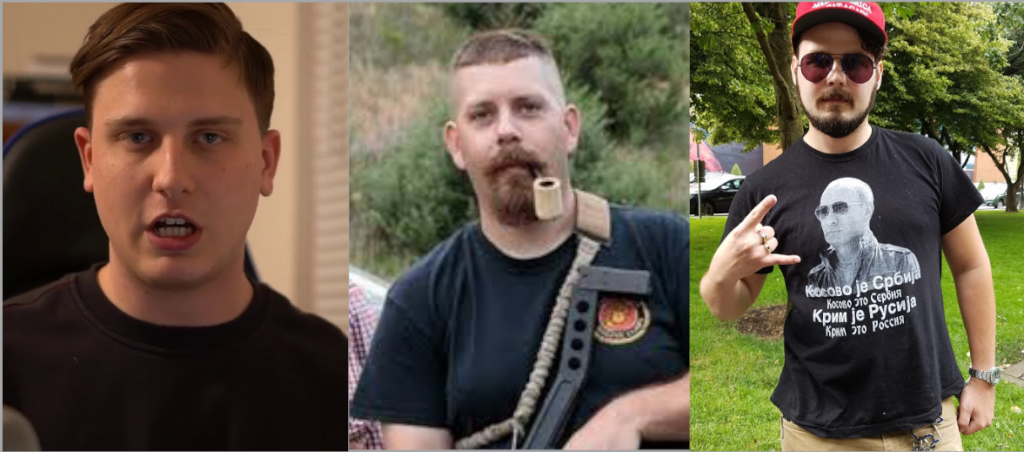 A mentioned earlier, the purpose of the chat server was to dox supposed "antifa" activists and Salvadalena/"Lupus_Dei-NC" took on the role of collecting the information and placing it on various paste sites for dissemination.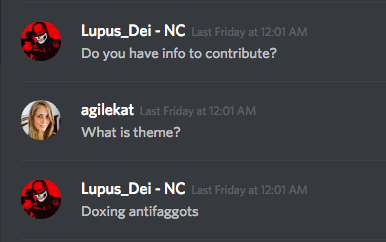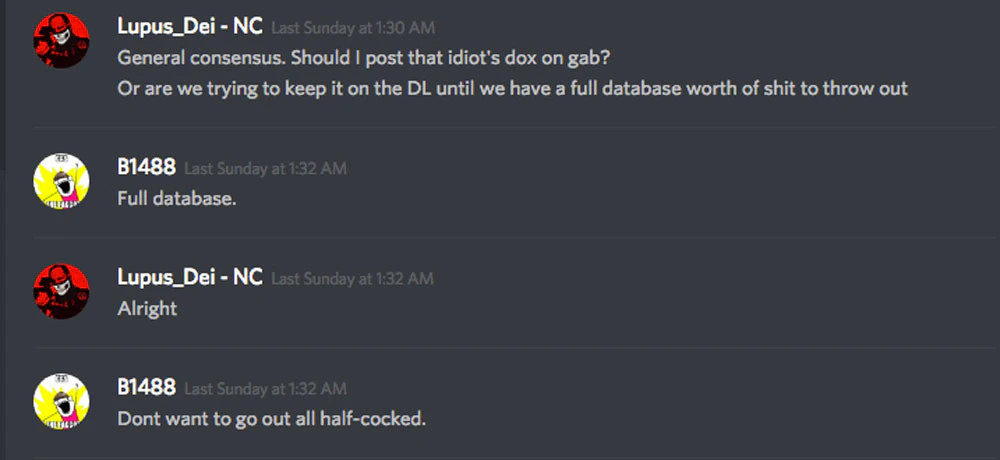 Noteworthy is Salvadalena's chosen profile image, an altered photo of neo-Nazi murderer Anders Breivik wearing a skull mask.
While Kleves was interested in doxing supposed "antifa" in his local Nebraska area, Salvadalena was also keen on identifying activists in his native Pacific Northwest region.

Salvadalena used various paste sites, such as Pastebin, to share this information. Many of the pastes were quickly taken down by the site administrators as violations of their terms of service, but we were able to view one before it was removed and saw that Salvadalena and the others had collected personal information on dozens of persons.  One of these pastes, a screenshot of which is pictured below, featured 579 lines of information.
While the intent appeared to be retaliation for the then-recent exposure of neo-Nazi participants of the Unite the Right Rally in Charlottesville by antifascist activists, Micah Lee of The Intercept points out in his article:
"…there's an important distinction between doxing by neo-Nazis and antifa. Neo-Nazis target nearly anyone who vocally disagrees with their political worldview — which essentially means anyone who isn't a racist white person and is public about their views.

"Antifa activists only target members of hate groups, a small but growing subset of American society that Trump refuses to condemn, responsible for mounting terrorist attacks against mosques, black churches, transgender women, and people of color."
Dox lists such as these compiled by ne0-Nazis, fascists and racists serve only to endanger persons with whom they disagree and may not even be involved in any activism. This danger is amplified when those neo-Nazis are members of the military, as Unicorn Riot found when they reported on Shandon Simpson aka "Zoltanous," another participant in the "Pony Power" chat and a member of the Ohio Army National Guard who was deployed to Washington D.C. to assist the Trump administration's repression of protests.
Vince Anthony Salvadalena is one of those neo-Nazis serving in the US military who is not only a danger to our communities but also a danger to other soldiers in his unit, whom he clearly has no respect for.
Vince Salvadalena's posts on the Iron March forum, the Discord Leaks and in the "Pony Power" server of the Discord Leaks may be browsed via the following links:
Current Status
Since the Discord Leaks and the Iron March forum leak, it appears that Salvadalena has been attempting to keep a low profile, with little to no social media activity. Considering his involvement with white nationalist movements and the fervor of his hate, we think it unlikely that his views have changed since the exposure of these platforms.
At the time of writing Vince Anthony Salvadalena remains an active duty army soldier. He entered active service on September 8, 2015 and may be coming to the end of his enlistment in 2021. In our experience the US armed services have been slow to react to white supremacists within their ranks, so we don't expect that the Department of the Army will be much different. However, we strongly feel that Vince Salvadalena should be removed from service and barred from reenlistment in light of what we have found.
Furthermore, as a soldier whose military occupational specialty is in communications equipment, Vince Salvadalena likely possesses a security clearance of SECRET or higher. If so, this clearance should be revoked in consideration of our findings.
Vince Salvadalena claimed in the leaked chats to be a member of extremist groups, which is a violation of Army policies, specifically Army Regulation 600-20.
We have noted above that Vince Salvadalena's father is a sheriff's deputy in King County Washington. Salvadalena has expressed that he would like to gain employment in law enforcement after his military service.
Needless to say, Vince Salvadalena should not be employed in any law enforcement or public safety capacity.
Please let the US Army know that they have a white nationalist extremist in their ranks and urge them to fix this issue. The US Army Inspector General's online complaint form may be found here.
Other contacts:
Official 50th Signal Battalion (Expeditionary) website
50th Signal Battalion (Expeditionary)
Fort Bragg, North Carolina 28310-5000
Staff Duty number: 910-396-9027
UPDATE:
As of 19 April 2021, Vince Anthony Salvadalena is no longer in active duty service with the US Army. We do not have information regarding the characterization of his discharge. We believe he may have returned to the Snohomish, Washington area.
Vince Anthony Salvadalena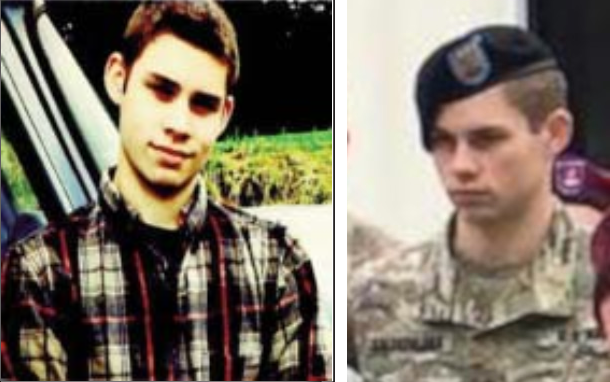 DOB: 18 Sep 1995
Hometown: Snohomish, WA
Last known location: Fayetteville (Fort Bragg), NC.
Last known occupation: US Army, 50th ESB-E, Fort Bragg, NC