THIS POST COMES WITH A VERY STRONG CONTENT WARNING.
Today it is our regrettable duty to introduce 32-year-old Christopher John Andrukaitis aka "Marcus Cicero" of Chelsea, Alabama. He marched with the League of the South at the deadly "Unite the Right" rally in Charlottesville, VA in 2017 and is one of the most vicious Nazis we have ever exposed.
Writing under the pseudonym "Marcus Cicero", Christopher Andrukaitis is also a prolific neo-Nazi propagandist, with hundreds of articles published at The Daily Stormer, Occidental Dissent, Infostormer, etc. in addition to thousands of social media posts. His propaganda is frequently quoted in mainstream media coverage of extremist activities.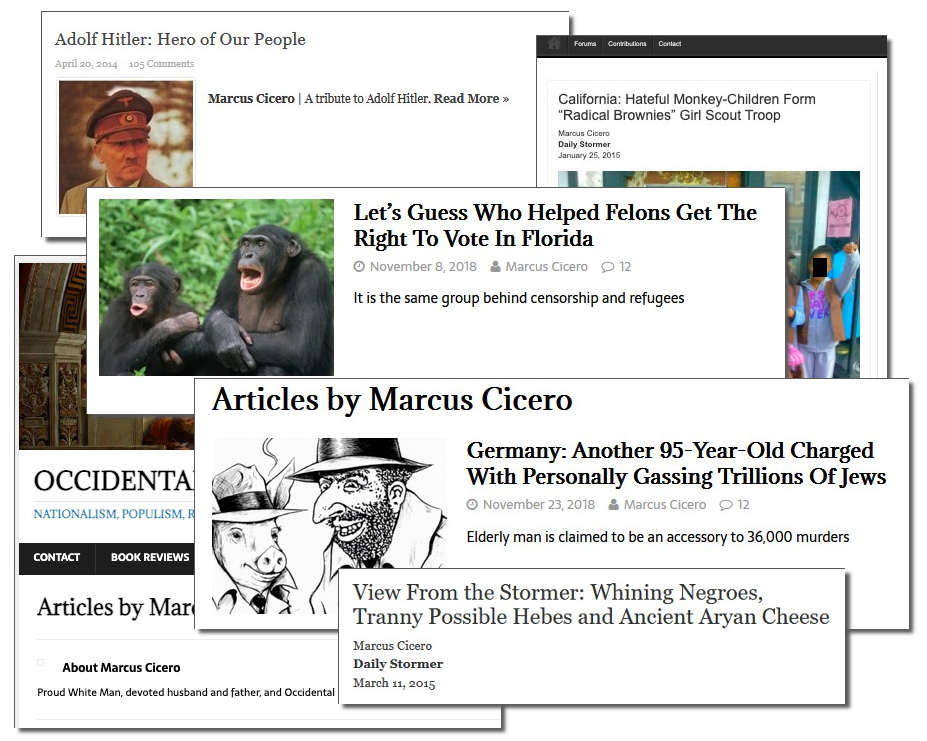 Chris Andrukaitis: Racist, Neo-Nazi, Petty Criminal
Chris Andrukaitis' affiliation with the League of the South was a bit puzzling at first, since he actually hails from Massachusetts, where he has a long and sordid criminal history. He first made national news when he was arrested in 2010 for stealing thousands of dollars worth of video games and selling them on eBay. His accomplice in this scheme was his 65-year-old mother, Luise LaQuerre. The incident was picked up for "weird news" sections at several major media outlets but unbelievably, things got even weirder after that. Christopher Andrukaitis was sentenced to ten months in jail, but local reporting indicates the Andrukaitis mother/son criminal enterprise continued to operate even after he was incarcerated. Meanwhile, his 65-year-old mum got a suspended sentence … which was revoked eight days later, when she was arrested for shoplifting yet more video games from Walmart.
Part of Luise LaQuerre's defence was that she was forced into the scheme by an abusive son. There may even be some truth to that story, as Chris Andrukaitis had been arrested in May of 2008 for stabbing his mother in the head. In addition to being a violent crime, the stabbing was also a violation of the terms of his probation —  he was already facing assault charges stemming from a drug-fueled binge just a few weeks earlier.
Before we feel too sorry for mum, though, we should point out that Chris Andrukaitis claims she is the source of his Nazi radicalisation: "it was my mother (a German immigrant born during the Second World War) that put me onto the JQ almost from the very beginning."[1]

By 2014, Christopher Andrukaitis was one of the main writers for neo-Nazi website The Daily Stormer, where he contributed hundreds of insanely antisemitic and racist articles and podcast episodes. To celebrate Hitler's birthday that year, Andrukaitis wrote an article entitled "Adolf Hitler: Hero of Our People". The article drew flattering parallels between Hitler and Jesus, with Andrukaitis describing Hitler as "the secular savior of the Aryan Peoples". Without his emergence, Andrukaitis reckoned, "the conniving and bloodthirsty Jew would almost certainly have completed his goal of total enslavement of the Earth." The article ends with larcenous nazi weirdo Chris Andrukaitis making a passionate plea to der Führer himself: "If there is such a thing as reincarnation, we need you now more than ever."
In 2015 Andrukaitis brought on a longtime Daily Stormer user with the handle "Crimson Tide" as co-host on a few Radio Stormer episodes. The new co-host became a point of contention, and eventually there was a nasty public falling-out between Andrukaitis and now-fugitive Daily Stormer founder Andrew Anglin.[3]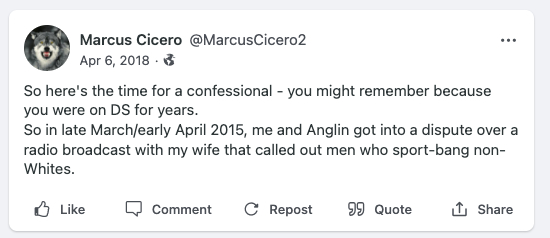 After a Nazi incel freakout in the comment section, a disclaimer from Anglin was added to the most controversial episode, stating that the content did not represent either "the policy of [the] site" or Anglin's "personal belief system." As Anglin explained, "My position on women, very explicitly, is that they should in the modern world remain in the exact same role they were in during the medieval period […] they should not possess 'rights.'" Andrukaitis took the more "progressive" stance that women should not only have the right to be Nazis, they should also be allowed to express their racism and antisemitism publicly. This led to Anglin ousting Andrukaitis from the Daily Stormer staff.[4]
Holly Hollon aka Crimson Tide, neo-Nazi Blogger and Baby-Formula Fence
Andrukaitis quickly launched a website called "Majority Rebellion", which mimicked the Stormer's racist, homophobic, anti-Islamic, and antisemitic content. Crimson Tide was the only other named contributor, and was listed as author on dozens of articles … so let's meet her too! Fleeing his criminal past in New England, Chris Andrukaitis had moved to Birmingham, Alabama and married a divorced mother of one named Holly Amber Hollon. He and Holly soon had a child together, and he also patched things up with his mother, who joined them in Alabama shortly thereafter.
Chris Andrukaitis' wife Holly Hollon is a 39-year-old failed fashion and makeup blogger. As early as 2009, under the handle "SouthernPrincess", she was publishing an anti-Islamic and racist blog entitled "Truth For All Americans."[5]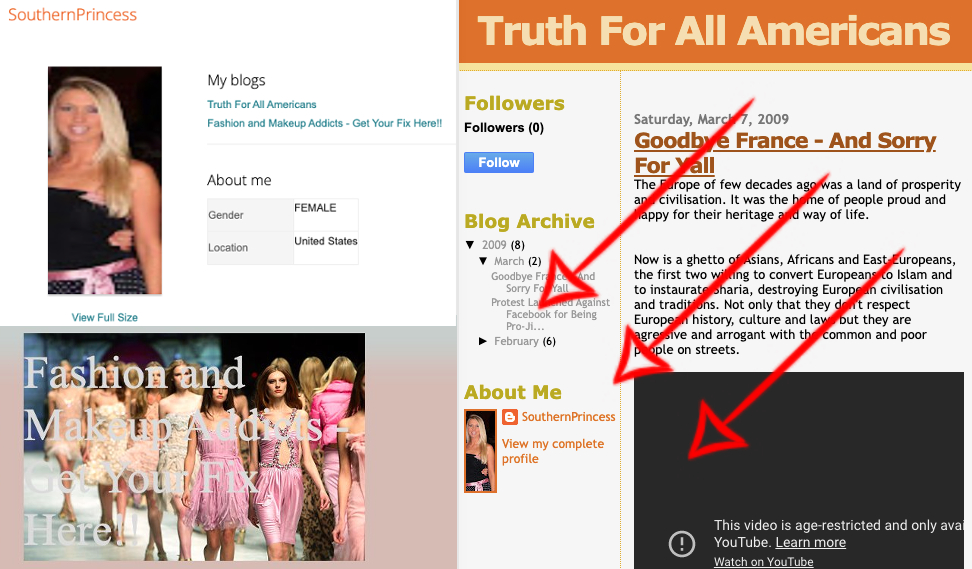 A Flickr account using the handle Hollyh1693 hosts the images used on Holly Hollon's fashion blogs, but it also contains Twitter screenshots confirming that she is the pseudonymous nazi "Crimson Tide."[6]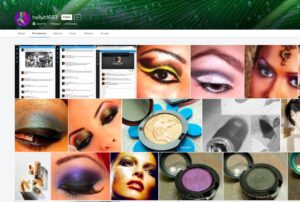 Using the aliases SouthrnPrincess, CrimsonTide, and HollyH1693, she was a prolific troll across numerous websites including The Daily Stormer and Chris Andrukaitis' Majority Rebellion site. Under her legal name, Holly Hollon was a member of at least eighteen different Confederate or otherwise racist Facebook groups including the League of the South, the Alabama Flaggers, the New Confederate Army, and the Oath Keepers. Fun fact: her father Michael Hollon was also a member of the League of the South Facebook group. It is also worth noting that the League of the South often include minor children in their events.
While the League of the South may sometimes attempt to present themselves publicly as merely a "Southern Heritage" group, they are in fact a violent, racist organisation with deep ties to Nazism. They came to the deadly Unite the Right rally prepared for battle and were key instigators in some of the most violent incidents of August 12, 2017. In the Sines v. Kessler trial, League of the South leader Michael Hill waxed enthusiastic about Hitler and admitted under oath that he views Jewish people as "the enemy". A summary of his testimony can be found in this Twitter thread.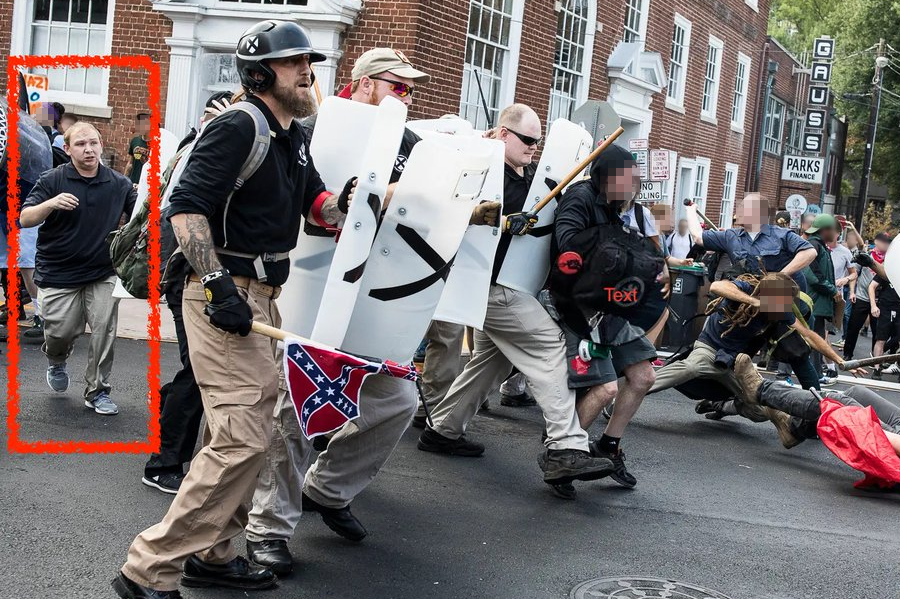 Chris Andrukaitis and Holly Hollon's Majority Rebellion website lasted only a few months. Instead, Andrukaitis became a regular contributor to League of the South-affiliated website Occidental Dissent, authoring more than 500 articles as Marcus Cicero over the next few years. He also wrote for the Infostormer website, whose slogan, "Destroying Jewish Tyranny," is a good indicator of their editorial outlook.
Poking around in Holly Hollon's web history, it quickly becomes apparent that not only is she a longtime racist, she's also involved in some seriously shady business dealings.

Using her HollyH1693 and SouthrnPrincess handles, Holly Amber Hollon posted on various "Black Hat" and "stealth e-commerce" forums seeking counterfeit identity papers and advice on circumventing fraud prevention on eBay, Amazon, and PayPal, which makes sense given what happened next.
On April 28th, 2020, amidst a nationwide shortage of infant formula, the now 75-year-old Luise LaQuerre was arrested for shoplifting formula from a Publix Supermarket in Hoover, Alabama. Waiting in a car outside was her Nazi no-goodnik son Chris Andrukaitis aka Marcus Cicero.[7 (pdf)]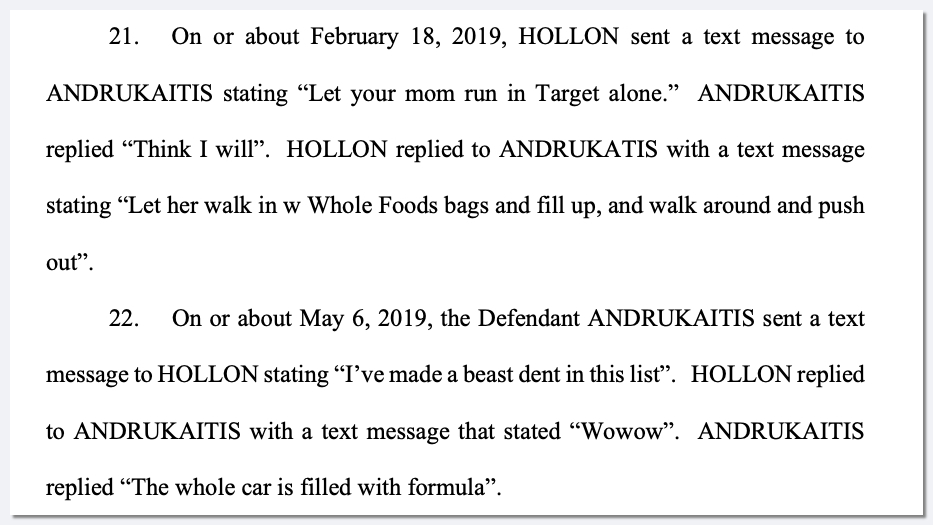 The gang were released pending trial, but over the next few months, septuagenarian shoplifter LaQuerre was captured on video one hundred and forty times stealing baby formula from Walmart while her getaway-driver son waited outside. Chris Andrukaitis and Holly Hollon eventually pleaded guilty to a scheme which involved fencing at least $300,000 in stolen infant formula through their "Sweet Tea Sunshine Shop" storefront on eBay. The maxim "if you see someone shoplifting baby formula, no you didn't" should be waived for these jerks.
Holly Amber Hollon appears in the Federal Inmate Database with a November 2022 release date. It appears that she and Chis Andrukaitis may have received staggered sentences due to childcare issues, but it seems likely Andrukaitis will begin his own bid in the near future.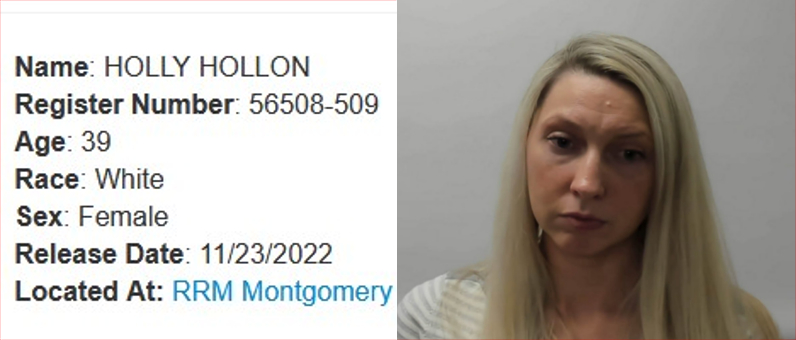 In a vicious cycle of bad parenting and history repeating, violent criminal Nazi Christopher Andrukaitis appears to be trying to radicalise his own young son into violent antisemitism.[8]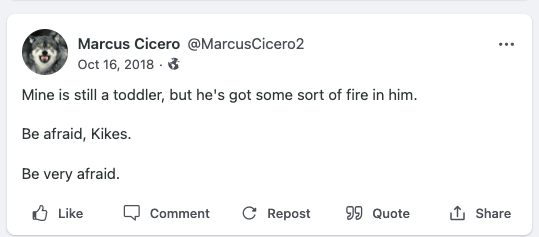 Let's talk a little about the violent racist and antisemitic messages neo-Nazi Christopher John Andrukaitis aka Marcus Cicero has been posting for nearly a decade.
CONTENT WARNING: RACIAL SLURS, ANTISEMITISM
Chris Andrukaitis aka Marcus Cicero, Racist neo-Nazi Propagandist

Chris Andrukaitis aka Marcus Cicero often advocates for violence in conjunction with his racism and antisemitism, with frequent mentions of the "day of the rope" and other explicit references to murder and terrorism.


In 2015, Chris Andrukaitis posted racist mass-murderer Dylann Roof's unexpurgated manifesto on the Majority Rebellion website. While he dismissed Roof as "mentally deranged" and "a bit creepy", he nevertheless declared that the manifesto, when read, "does not come across as all that controversial or fanatical".

Instead of expressing any sorrow for the victims or their families, he affirms the validity of Roof's motives, and laments only that this "lone-wolf fool" has likely hurt the neo-Nazi agenda "due to his idiocy". Still, he found within Roof's manifesto "a respectable understanding of the workings of both Blacks and the Jew, […] truths that nearly every White Nationalist would be able to agree with."
If Christopher Andrukaitis found little to criticise in Dylann Roof, he positively revered Robert Bowers, who murdered eleven worshipers at the Tree of Life Synagogue in Pittsburgh, Pennsylvania in 2018.

He felt that the murderer hadn't made "the wisest decision" but noted that "at the end of the day, I understand what Bowers was feeling" – because, according to Andrukaitis, "the Jews brought this upon themselves". Further, he vowed that if he (Andrukaitis) were President (lol), he would pardon Bowers, make him a "high official" in the Department of Homeland Security, and put up statues of him in Pittsburgh.

Chris Andrukaitis invoked  Bowers repeatedly when threatening people he believed to be Jewish.[23, 24, 25, 26]

Chris Andrukaitis aka Marcus Cicero uses terms like "war of annihilation" and "Total War" to describe the impending violence he advocates.[27, 28]

To nazi psycho Chris Andrukaitis, Bowers' crimes are a model of self-discipline. "In reality, it shows how restrained we are as a race … The Jews should count themselves lucky that hundreds of them aren't gunned down each and every day."[29]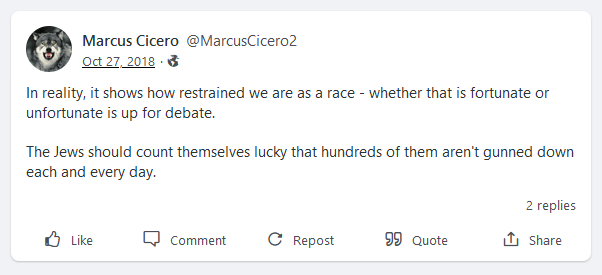 The threat of mass violence and genocide is a constant theme for Chris Andrukaitis aka Marcus Cicero.[30]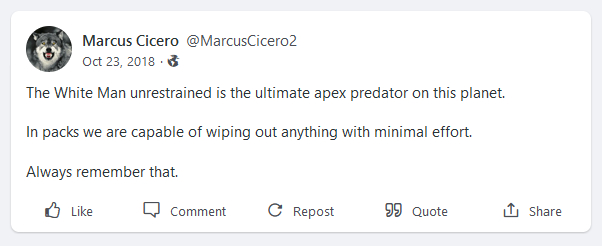 Chris Andrukaitis described the murderous 2019 rampage in Christchurch, New Zealand where fifty-one people died as "true weaponized autism", offering only the mildest caveat: "I would've told him to hold off, although the logic behind his actions was relatively solid."[31]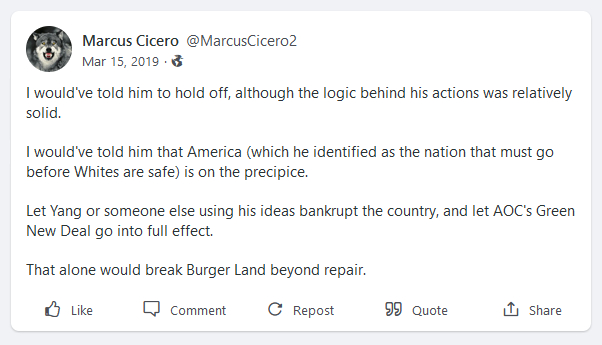 Two days after the deadly "Unite the Right" rally in Charlottesville, Virginia where Heather Heyer was murdered in 2017, Andrukaitis wrote an article about his experience there for Occidental Dissent, glorifying the event as a day where the "White Race" battled in a "struggle against beasts that fill their unholy prayers with calls for our destruction."[32 ]His on-the-ground activity that year also included the nazi rally in Shelbyville, Tennessee, where he marched alongside members of the neo-Nazi Traditionalist Workers Party (TWP) and the National Socialist Movement.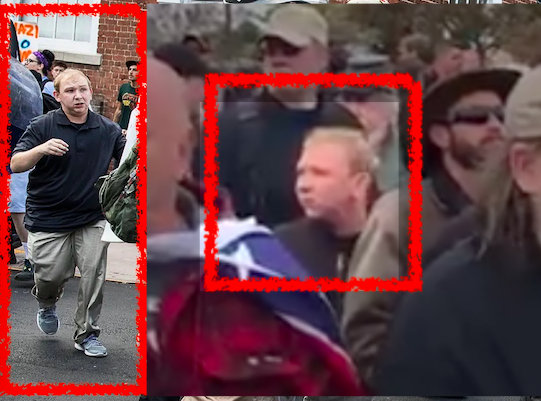 At one point, perhaps due to ongoing legal problems, it appeared that felonious fascist Chris Andrukaitis was attempting to keep somewhat of a low profile. He last published at Occidental Dissent in October 2019, and noted that at that time that he had been away "enjoying family".[33] However, as recently as January 2021, "Marcus Cicero" was appearing on livestreams with neo-Nazis like Matt Parrott and Matthew Heimbach, the former leaders of the now-defunct TWP, and Occidental Dissent's Brad Griffin.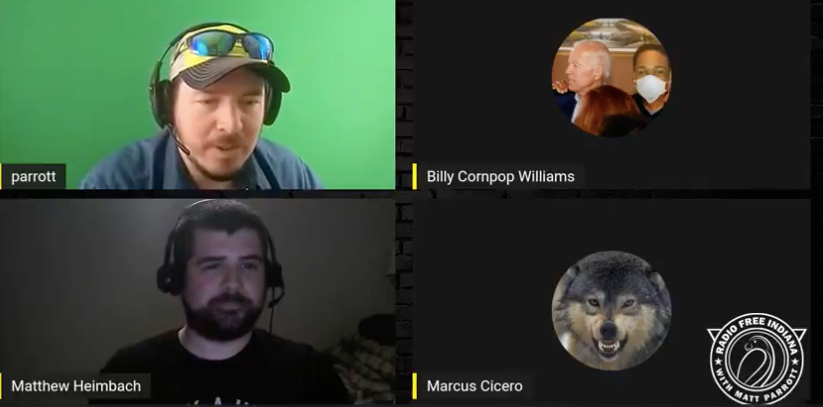 His most recent activity has largely been confined to Twitter, where he has posted thousands of tweets using variations of the handle "PunishedMarcus". His latest account was suspended in January 2022, but he may still be afoot. Any current sightings? Our DMs are open.
Violent neo-Nazi goon Chris Andrukaitis was last known to be working as a manager at Family Dollar in Bessemer, Alabama. Did he really get a fellow employee deported?

Christopher John Andrukaitis aka Marcus Cicero is one of the most viciously racist antisemites we have ever encountered. With his currently incarcerated nazi wife Holly Hollon, antisemitic grifting granny Luise LaQuerre, and two young children at home, the tableau seems not so much a tragedy waiting to happen as one already in progress.