In our last installment we put the spotlight on neo-Nazi nurse Rachel Carter/Allen/Ogden who was one of the co-hosts of the Dream Weavers podcast, a show in which three Hitler-loving Frauen gathered together to complain about minorities, Jews, LGBTQ+ people, liberals and anyone else who didn't meet their standards of racial or moral purity. Rachel Carter/Allen/Ogden also happens to be the wife of neo-Nazi know-it-all "Borzoi Boskovic," whom we identified as a certain Jesse Ogden. The second Dream Weavers co-host was the racist "Pistachio Girl" Emily Youcis, who has already been well-documented and is still up to her neck in racist rubbish. It is the third host that we will put the spotlight on here, Christina Elisabeth Murgo, aka "Jugs," aka "Joan Arden," of New Jersey.
Our own O.G. Anonymous Comrade tweeted about Murgo recently, but Twitter, being the shit show that it is now that Elon Musk has acquired the platform as one of his new toys, flagged several of the posts as violations of their terms of service regarding private information– which they were not. Neither on Twitter nor here do we disclose private information. This is all public stuff about awful people. Someone complained (probably Murgo herself), so we thought we'd memorialize her identification in this blog post. Thanks for giving us the kick in the ass, Christina, and WELCOME TO THE INTERNET!
---
One thing that struck us while we were listening to the Dream Weavers podcast for clues at Anonymous Comrades Collective HQ was the strange familiarity of the somewhat husky voice of the host that called herself "Joan" on the the podcast. Her references to classic movie stars, Sicilian heritage and tattoos further perked up our ears.  Not to mention her mentions of perfume!
As it happens, The Perfume Nationalist, a peculiar and pretentious fascist podcast, had a brief moment in 2019. The show's shtick was to pair a subject (often a classic film) with a brand of perfume and mix it up with a healthy dose of fascist fetishism. The Perfume Nationalist was popular with both the "Bronze Age Pervert" set and the so-called "non-woke" left as embodied in other shows like Red Scare and Cumtown. In fact Red Scare's Anna Khachiyan has been a repeat guest on The Perfume Nationalist and is still a frequent booster of the show and its host, Jack Mason.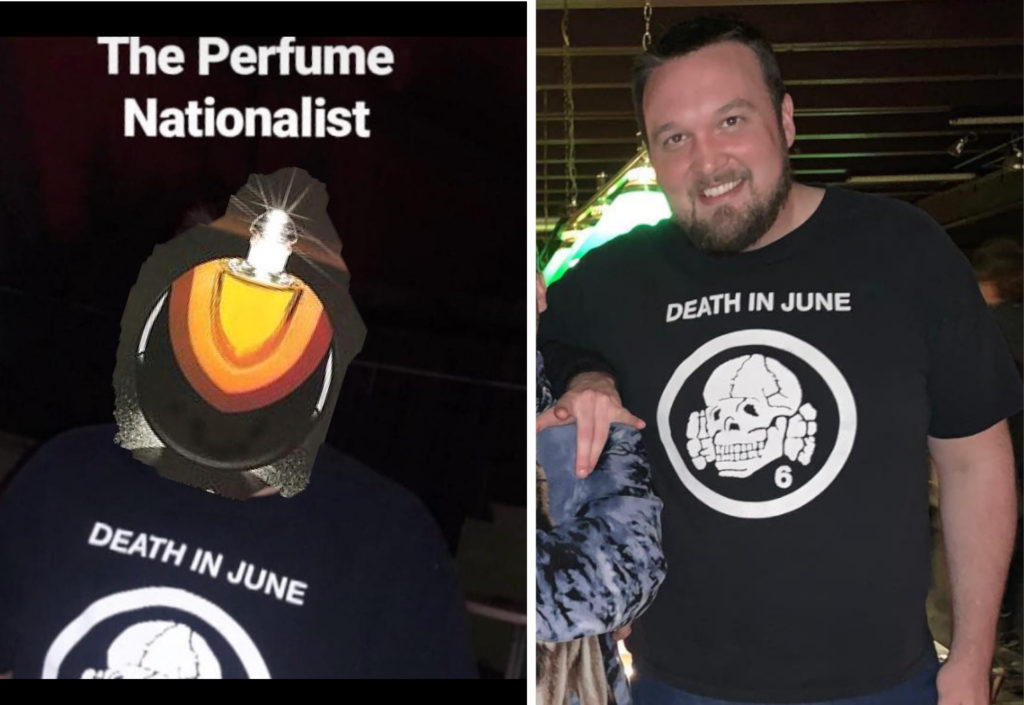 The Perfume Nationalist was a campy, quirky show hosted by the openly gay Jack Mason, his brother, and a female foil co-host who went by the name of "Jugs." The podcast played footsie with fascists, with "Jugs" being much more extreme in expressing her racism and antisemitism. Jugs went by the Twitter handles "@aintsorrie" and "@a_nausea" and self-identified as the "Big tiddie goth gf of the dissident right. Perfumed Fascist. Wignat Mommy." As the show got more popular with higher-profile guests, Jack Mason toned it down, distancing himself from the edgier material. Jugs, however, went full 1488 with guest-spots on Nazi podcasts like Goy Talk and The People's Square with "Eric Striker," aka Joseph Jordan.
"Jugs" got doxed as a result of mean-girl Nazi infighting, and her increasingly mouthy neo-Nazism became a liability to
The Perfume Nationalist
podcast's influencer ambitions. Her last appearance on the show was August 2020.
LOL
at Rachel's husband
Jesse Ogden/Borzoi
appearing as "
@tedwardwang
," one of his frequent previous aliases.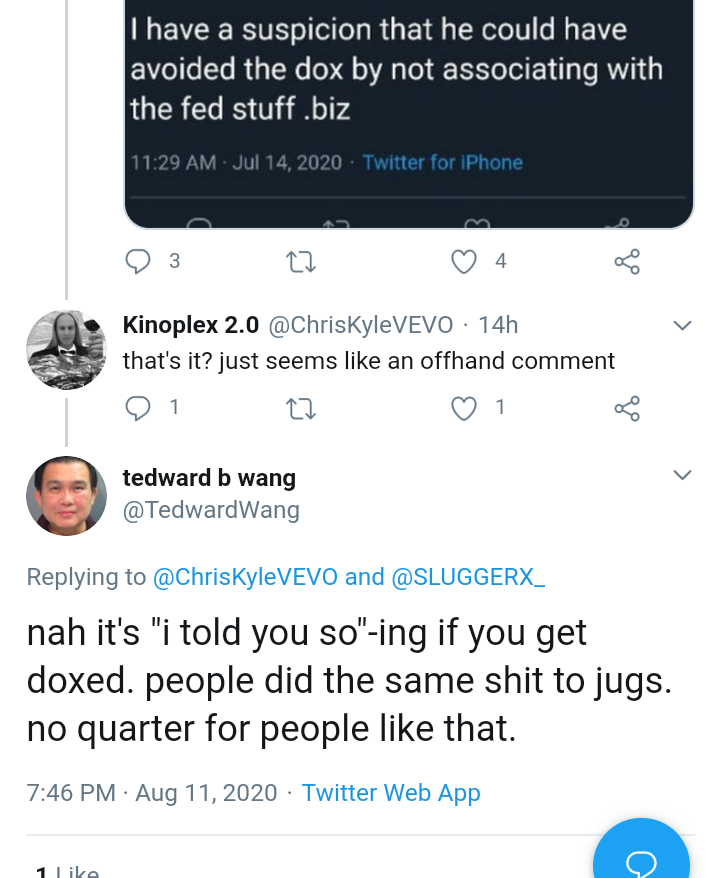 Shortly after her exposure, "Jugs" deleted her Twitter account and seemingly disappeared. When Dream Weavers co-host "Joan Arden" started dropping knowledge of The Perfume Nationalist's talking points, a wave of nostalgia (or should we say @a_nausea?) swept over us! But it wasn't the fragrance of perfume. More like neo-Nazi stench. Let's get a whiff of Nazi podcasting lowlife 32-year-old Christina Elisabeth Murgo of New Jersey, aka "Jugs," aka "Joan Arden."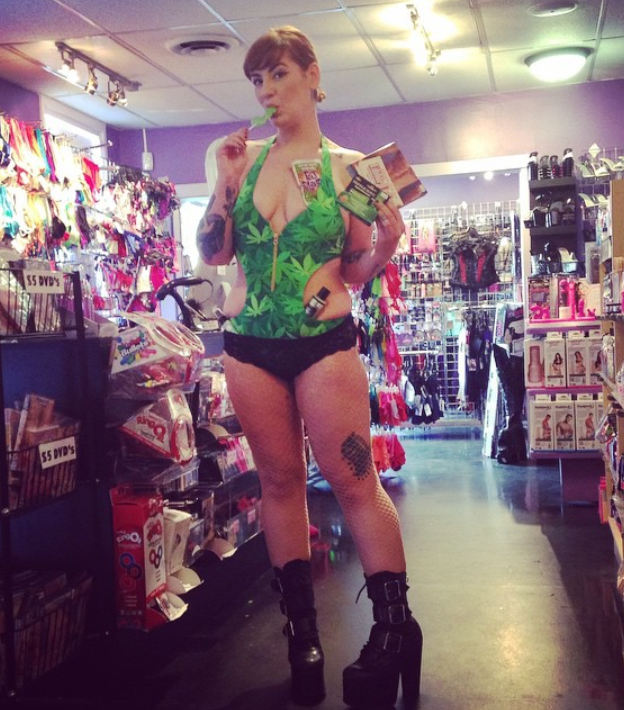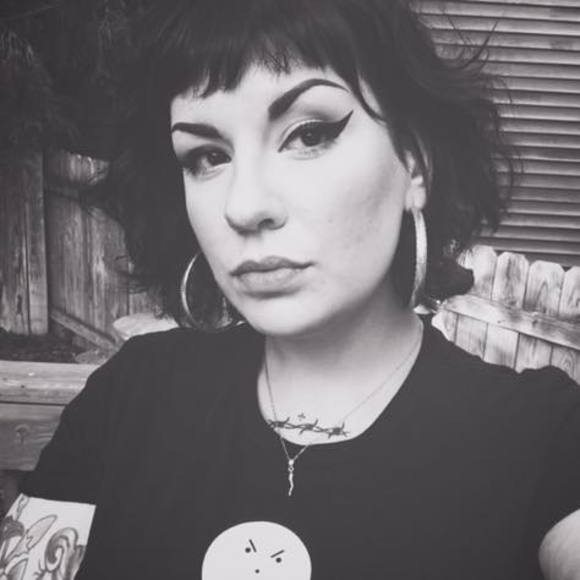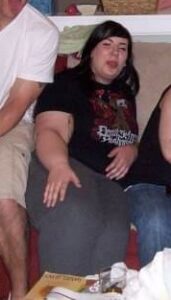 Obviously, we would not base our reporting on a shady, unsubstantiated dox. But our own investigation quickly came to the same conclusions. Thanks to dumbass dirtbag Nazi ex-con and floundering tattooer boyfriend (soon to be baby daddy) Garrett DeFalco for confirming her identity. Garrett DeFalco is a Nazi goon and Holocaust denier who works as a tattoo artist at Hole in the Sky Tattoo in Woodland Park, New Jersey and soon at Crown and Anchor in Point Pleasant. He and Christina "Jugs/Joan" Murgo are having a baby any moment now. I wonder if her Nazi podcast offers maternity leave?
In the past Murgo tried to thread the needle by encouraging Nazi acceptance of gay people in particular. But you would not know it from the LGBTQ+ hate she currently spews on the Dream Weavers podcast. Murgo really is an idiot who does not understand the history of the movement she has embraced and how her gay friends would fare under a real Nazi regime.
On a recent
Dream Weavers
episode, Murgo came to the defense of her old friends and hosts of
Red Scare
, saying that while they are both Jews, "I know they know about the nig*er problem and I know they know about the Jews, especially Anna [Khachiyan]." Given her prior personal connections and insider access, Murgo's comments about
Red Scare
's finances are also intriguing. She said: "I don't believe those are real subscribers. They funnel money. It's a front. That's all that it is." The ties between the so-called "dirtbag" or "anti-woke" left (e.g.
Red Scare
) and fascist fetishists (like
The Perfume Nationalist
) are
well documented
. Genuinely fascist or just irony poisoned? What's the difference?
Red Scare
hosts
Anna Khachiyan
and
Dasha Nekrasova
continuously boost and normalize actual racist and fascist accounts to their massive audience.
Christina Murgo (Joan,) Emily Youcis, and Rachel Carter Allen (Borzette,) the hosts of the Nazi podcast Dream Weavers, are racists, antisemites, and tedious to listen to. We hope their lives are miserable from now on.